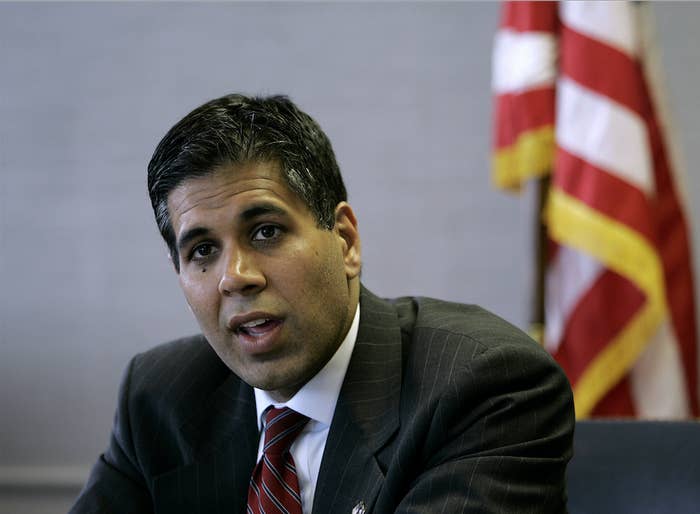 WASHINGTON — Senate Majority Leader Mitch McConnell beat the White House to announcing President Trump's second judicial nomination.
In the midst of the confirmation hearing this week for Trump's Supreme Court nominee, McConnell's office got word from the White House that Trump had selected his first lower court nominee — a judge long supported by McConnell.
Several Kentucky reporters said they received a version of a White House news release from McConnell's office on Monday evening — along with the senator's comments — announcing Judge Amul Thapar as Trump's nominee for a vacancy on the US Court of Appeals for the Sixth Circuit.
But the White House didn't put out a press release on Monday. With no fanfare, the White House announced Thapar's nomination late in the morning on Tuesday. The news release included a brief biography and no statement from Trump. There were some small wording changes between the version that McConnell received and sent out and the release that the White House put out on Tuesday.
BuzzFeed News reported earlier this month that Thapar, who was on Trump's Supreme Court short list, was a frontrunner for the Sixth Circuit seat.

Thapar — a judge on the US District Court for the Eastern District of Kentucky since 2008— has long had support from McConnell, who introduced Thapar at confirmation hearings when he was nominated to the Kentucky district court and, before that, when he was nominated to serve as a US attorney in Kentucky.

McConnell, in a statement, called Thapar "my friend," and said that he looked forward to his confirmation.

While the first nomination of a lower court judge came about under somewhat unusual circumstances, the announcement about Thapar gets Trump's second judicial pick on the board. There are 122 other vacancies on the district, circuit, and other federal courts — excluding the seats that Gorsuch and Thapar would fill if confirmed.
Although the White House's priority as soon as Trump took office was the Supreme Court vacancy left by the death of Justice Antonin Scalia in February 2016, Trump administration officials have begun preparing for lower nominees, seeking some input and receiving recommendations from senators.
Presidents have handled the rollout of their first lower court nominees in different ways. President George W. Bush announced the nomination of his first 11 lower court nominees at a White House ceremony in May 2001. President Obama in March 2009 put out a press release about his first pick, Seventh Circuit Judge David Hamilton, that included a statement from the president and noted the bipartisan support Hamilton had from his home state senators.

Obama was criticized by liberals for not acting fast enough to fill vacancies in his first term when he had a Democratic majority in the Senate, setting the stage for Republicans to successfully block his nominees once they took control. Republicans are hoping Trump learns from that history.
Thapar is one of the 21 people who Trump said during the presidential campaign last year he would consider for the Supreme Court. Thapar made history when he was confirmed to the district court in Kentucky, becoming the first South Asian American judge on a federal district or appeals court.

Lawyers in Kentucky say that Thapar is well-respected and tough to pigeonhole ideologically, although one did describe him as a strict constructionist — a conservative approach to judicial decisionmaking that focuses on the text of a particular law at issue.
Thapar's office declined to comment on Tuesday about the nomination.