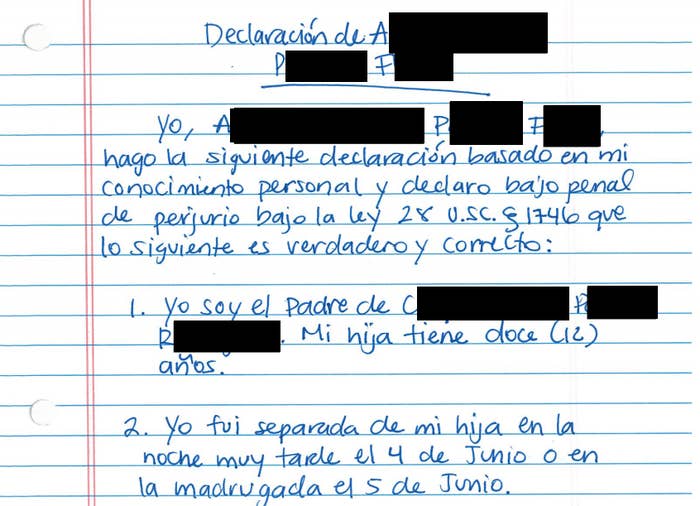 A.P.F., a Honduran asylum-seeker held in immigration detention in Los Fresnos, Texas, has been separated from his 12-year-old daughter since June 5. In a handwritten declaration filed in federal court Friday, he described the experience as "torture."
"I worry about my daughter constantly. I am not able to speak with her directly. I do not know if she is well cared for. I do not know if she has been sick. I do not know if she has been sleeping well or eating well. Not knowing anything about my daughter is torture. I am not able to sleep. I desperately want to be with her," A.P.F. wrote (his statement was written in Spanish and translated into English and was provided by his lawyers).
A.P.F. is one of three immigrant parents currently held in immigration detention who are plaintiffs in a lawsuit filed this week in the US District Court for the District of Columbia seeking to be reunited with their children. A judge agreed to let the parents pursue the case under pseudonyms, so they're only referred to by their initials in court papers.
On Friday, lawyers for the parents filed a motion for a temporary restraining order that would force federal officials to give the parents updates on their children's location and well-being, as well as access to regular phone or video communication while their case is pending. The filing included handwritten declarations from the parents — copies of the originals as well as English translations — explaining to the judge the practical challenges and emotional toll of separation.
E.F., a Guatemalan woman who crossed the US–Mexico border near Presidio, Texas, on May 14, says she was separated from her 9-year-old son the day after they arrived; according to the lawsuit, after crossing the border they sought out immigration officials at a port of entry and asked for asylum. E.F. said in her translated declaration that she had spoken with her son three times, each time for approximately five minutes, since they were separated.
"My son isn't able to give me much information about his circumstances because is too young and too upset to understand what is happening. Every time we talk he only wants to know when he will see me again so it's hard for him to focus on anything else," E.F. wrote. "Each time we have spoken he only cries. In the brief moments where he can speak he tells me he is ok and that he misses me very much."
E.F. wrote that she did not know where her son was located — she believes he is in New York — does not know who is caring for him, and is not sure if she could believe a social worker who told her that her son is healthy. E.F. wrote that her son told her he was experiencing nosebleeds, but hadn't reported it because other children told him that "children who report things get sent to another place."

"I am always thinking of my son. I wake up from my sleep crying because I remember that he was taken from me. I feel so upset and sad when I remember how he was taken from me. I don't understand how someone could take their child away from their mother. I think, 'Don't they have children too? Don't they know the pain I am feeling?' Then I say to myself that God has a plan but I still don't understand why my son was taken," E.F. wrote.
M.G.U., a Guatemalan woman who crossed the border with her three sons — ages 2, 6, and 13 — says she went to a port of entry in California and claimed asylum. According to the lawsuit, the family was held together for two weeks, but after M.G.U. passed an initial "credible fear" determination with an asylum officer, they were separated May 18; M.G.U. is still detained and her children have been relocated.
M.G.U. wrote in her declaration that she has been able to speak with her children by phone two times a week for 10 minutes at a time. But she described problems with the phone connection and wrote that she has to pay to call, and does not always have money to do so.
"When I am able to call, G.V.G. is not able to give me information about his circumstances because he is only 2 years old and too young to communicate how he is. J.V.G. cannot communicate either by phone. He is a child that communicates with emotion and actions so it is difficult for him to communicate how he is. W.M.G. is able to communicate a little, but he is not able to tell me how G.V.G. is because they are only together for one hour each day," M.G.U. wrote, according to the English translation of her declaration.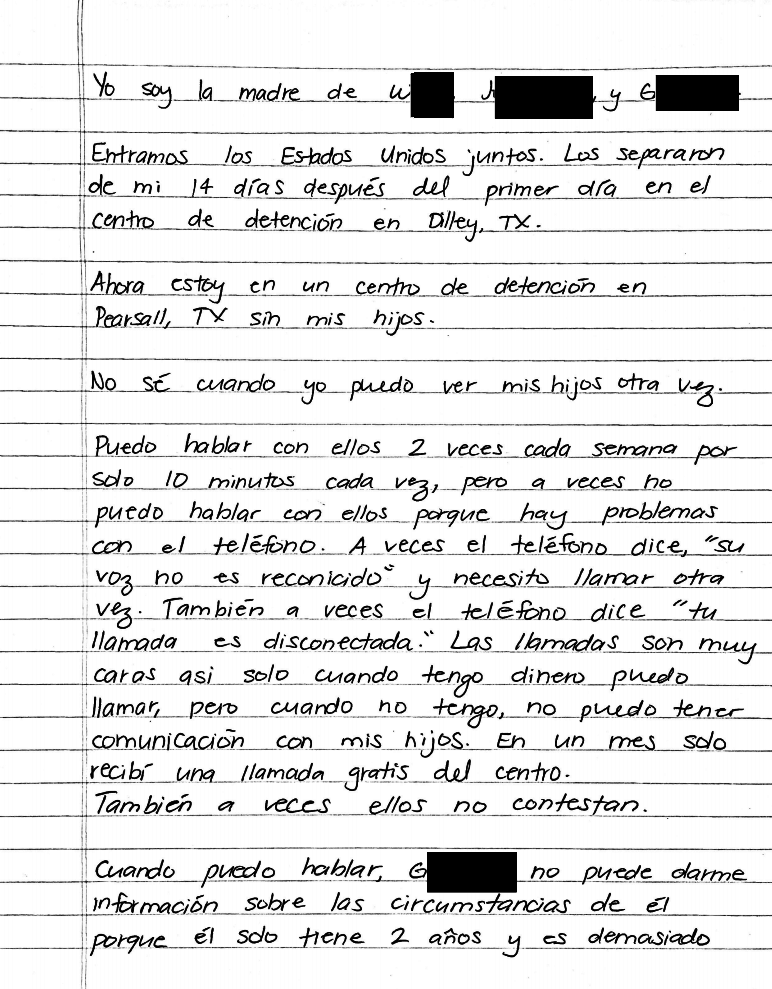 M.G.U. said she was told her children are "fine" but had received no other details.
"I know that they are not 'fine' because they cry a lot, especially J.V.G. [and] G.V.G.. And W.M.G. is always asking 'how is your case' because he wants to be together," M.G.U. wrote.
A Justice Department spokesperson declined to comment on the temporary restraining order request.
One lawsuit challenging family separation has already led to a reunion. A Guatemalan woman, Beata Mariana de Jesus Mejia-Mejia, filed a lawsuit in the DC federal court on June 19 asking to be reunited with her 7-year-old son Darwin. De Jesus Mejia-Mejia was released on bond while her asylum case is pending, and her lawyers filed an emergency motion for a temporary restraining order demanding Darwin's release. At a court hearing Thursday on that motion, a Justice Department lawyer told the judge they would release Darwin, and he was reunited with his mother at Baltimore–Washington International Airport early Friday morning.
The American Civil Liberties Union is pursuing a proposed class action lawsuit in California seeking to reunite families who were separated at the border.
President Donald Trump on Wednesday signed an executive order addressing border separations, but the practical effect of that order remains unclear. A 1997 settlement agreement known as the Flores Settlement Agreement requires the US government to release children from immigration detention — including children who arrived with their parents, according to a 2016 federal appeals court decision interpreting the agreement — within 20 days. Trump's order directed the Justice Department to ask the judge to change the agreement to allow family detentions past 20 days, which the department filed Thursday.
As long as the Flores settlement is intact, and absent any action from Congress, any efforts to reunite families in immigration detention would still be restricted by the 20-day limit. Democratic state attorneys general and immigrant advocacy groups have pledged more legal action as long as the administration continues to separate families.