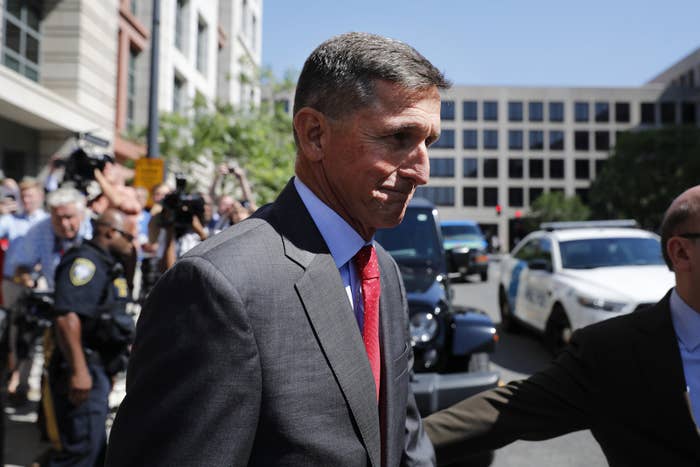 WASHINGTON — Special counsel Robert Mueller is okay with a sentence that doesn't include any jail time for Michael Flynn — the former Trump national security adviser who pleaded guilty to lying to FBI agents in the Russia probe — according to a new court filing Tuesday night.
Flynn is scheduled for sentencing on Dec. 18, more than a year after he first appeared before a federal judge in Washington, DC, to enter his guilty plea. His deal with the government required him to cooperate with Mueller's office, and in Tuesday's filing, prosecutors said Flynn's offense was "serious," but that he deserved credit for accepting responsibility and "substantially assisting the government."
"Given the defendant's substantial assistance and other considerations set
forth below, a sentence at the low end of the guideline range — including a sentence that does not impose a term of incarceration — is appropriate and warranted," prosecutors wrote.
The filing is partly redacted, with prosecutors seeking to inform the judge in secret, at least for now, about the extent of Flynn's cooperation with the government. Sections detailing the investigations that Flynn aided and what exactly he told investigators about communications between members of Trump's transition team and Russian government officials are blacked out. The investigations that Flynn had helped with are "ongoing," the special counsel's office wrote.
One unredacted section refers specifically to Flynn's assistance to the special counsel office's investigation, while another largely redacted section is titled "[REDACTED] Criminal Investigation," suggesting that it may be separate from the Mueller probe.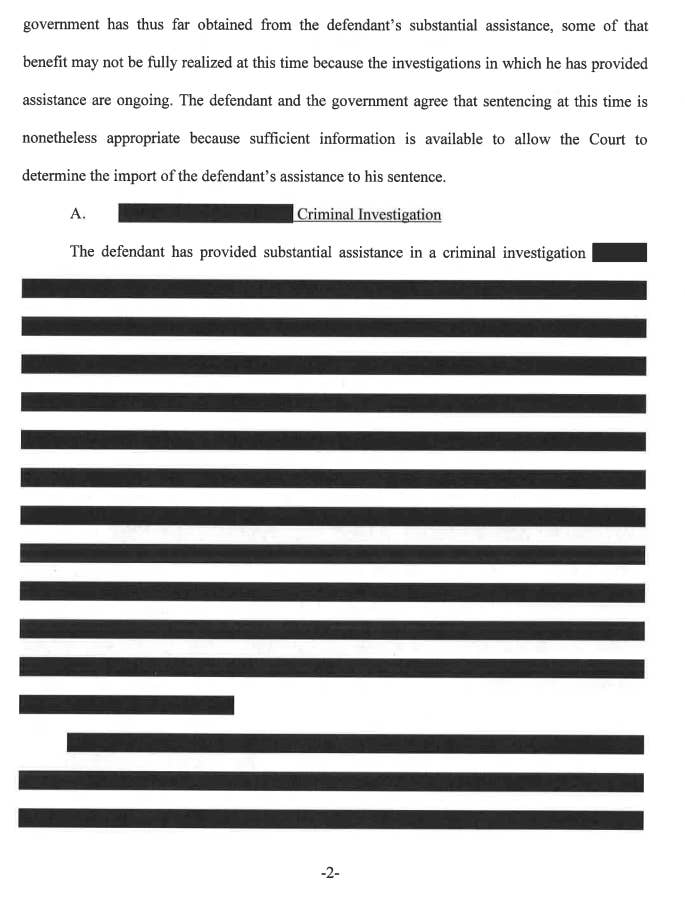 Prosecutors wrote that Flynn "provided firsthand information about the content and context of interactions between the transition team and Russian government officials," but only information that was previously included in charging papers was available in the public version of the memo. Flynn participated in 19 interviews with the special counsel's office or other Justice Department attorneys.

Mueller's office also credited Flynn with agreeing to cooperate early on in the investigation, saying that it "likely affected the decisions of related firsthand witnesses to be forthcoming with the [special counsel office] and cooperate."
Flynn pleaded guilty on Nov. 30, 2017, to a single count of making false statements, a crime that has proven the downfall of other defendants who pleaded guilty in Mueller's investigation so far: former Trump attorney Michael Cohen, former deputy Trump campaign chair Rick Gates, former Trump campaign adviser George Papadopoulos, and Dutch lawyer Alex van der Zwaan, who had ties to Gates and former Trump campaign chair Paul Manafort.

Van der Zwaan and Papadopoulos have already been sentenced and received sentences of 30 days and 14 days in prison, respectively. Mueller's office wrote in Tuesday's filing that Flynn's level of assistance warranted a lower sentence.
Making false statements carries a maximum sentence of five years in prison and a fine of up to $250,000, but per Flynn's plea agreement with the government, his estimated sentencing range is between zero and six months in prison, given his lack of criminal history and cooperation with the government. On Tuesday night, prosecutors separately filed a special motion asking the judge for a sentence below the guidelines; they asked to file supporting information under seal.
Prosecutors wrote that Flynn's case presented both "mitigating and aggravating circumstances." They highlighted his "exemplary" record of military and public service, saying that it distinguished him from "every other person who has been charged" as part of the special counsel's investigation.
"However," prosecutors wrote, "senior government leaders should be held to the highest standards. The defendant's extensive government service should have made him particularly aware of the harm caused by providing false information to the government, as well as the rules governing work performed on behalf of a foreign government."
Flynn is due to submit his own sentencing memo on Dec. 11. He's one of seven people to plead guilty in Mueller's investigation so far, and he'll be the fourth person sentenced to date. His attorney Robert Kelner declined to comment.
The sentencing memo in Flynn's case kicks off a week of highly anticipated court filings by Mueller's office. Special counsel prosecutors are expected to weigh in by the end of the week about new allegations that Manafort lied to federal investigators after signing his plea deal and what sentence they recommend for Cohen.
Flynn and Russia
Flynn served as President Trump's first national security adviser, but he resigned less than a month after Trump took office on Feb. 13, 2017, amid growing scrutiny of his contacts with Russia and whether he'd been truthful with administration officials. In his resignation letter, Flynn wrote that during the transition he "inadvertently briefed" Mike Pence, then the vice president–elect, and others with "incomplete information" about his discussions with the Russian ambassador at the time, Sergey Kislyak.
At a congressional hearing several months later, former acting attorney general Sally Yates testified that she had warned the White House starting on Jan. 26, 2017, that it appeared Flynn had lied about his Russia contacts and that, as a result, the Justice Department feared he could be vulnerable to blackmail by Russia.
Flynn pleaded guilty to telling two sets of lies to FBI agents who interviewed him on Jan. 24, 2017, two days before Yates briefed the White House: First, he falsely told the agents that in December 2016 — as Trump, then the president-elect, was preparing to take office — he did not ask Kislyak to tamp down the Russian response to new US sanctions imposed as a result of Russia's interference in the 2016 election. In fact, according to the government, Flynn did ask Kislyak to not escalate the situation, and Kislyak later told Flynn that Russia would not to retaliate as a result of that request.
Second, Flynn falsely told agents that he did not ask Kislyak to try to delay a vote or vote down a United Nations resolution about Israeli settlements, also in December 2016. According to charging papers, Flynn, at the direction of a "very senior member" of Trump's transition team, did contact Kislyak with that request. Kislyak told Flynn the next day that Russia would not vote against the resolution.
Flynn also admitted to filing false information with the Justice Department about the extent of his work on behalf of the Turkish government, but prosecutors agreed not to separately charge him for that as part of the plea deal. In the Tuesday night filing, prosecutors noted that although Flynn did disclose that he was working on a project in Turkey starting in August 2016, he failed to tell the government that the Turkish government was overseeing it.
"At the time, the defendant was a national security advisor and surrogate for the Trump campaign who opined publicly on foreign policy and national security issues," Mueller's office wrote. "The defendant's business relationship with the Republic of Turkey was thus exactly the type of information FARA was designed to ensure was within the public sphere."
Flynn agreed to fully cooperate with Mueller's office and any other law enforcement agencies. That cooperation could have included turning over all evidence of any crimes that Flynn was aware of, providing information and documents, and testifying before a grand jury.
Flynn has been free since his plea hearing last November, and has made just one additional court appearance since then. On July 10, US District Judge Emmet Sullivan ordered the lawyers in the case and Flynn to give him an in-person update on the status of the case. Flynn's lawyer Robert Kelner said at the time that Flynn was "eager" to be done, but both sides indicated they weren't ready for sentencing yet. Flynn said little at the hearing.
More to come from Mueller
On Friday, prosecutors are due to file a report in federal district court in Washington, DC, about their allegations that Manafort lied to them and to the FBI when he was supposed to be cooperating per the terms of his plea deal. In a Nov. 26 court filing revealing the new claims against Manafort, prosecutors offered little information, only alleging that Manafort had lied about "a variety of subject matters."
Manafort is due for sentencing in his DC case on March 5, although that date could change if it takes longer for the judge to decide if Manafort did, in fact, breach his plea agreement with the government. If the judge concludes that he did, the government would be released from its obligations under the deal, which included advocating for a lower sentence. Manafort's lawyers are due to respond to the government's filing — they could ask for more time to brief the issue and for a hearing before the judge — by Dec. 12.
Also on Friday, special counsel prosecutors will be filing a sentencing memo about Michael Cohen in federal court in Manhattan, where Cohen last week pleaded guilty to making false statements to Congress about the timeline of discussions within the Trump Organization about possible plans for a Trump Tower in Moscow. Prosecutors are expected to offer more details about the extent of Cohen's cooperation.
Cohen's most recent guilty plea came in Mueller's investigation, but he previously pleaded guilty in August to charges brought by the US attorney's office for the Southern District of New York, including campaign finance law violations, tax evasion, and bank-related counts. Federal prosecutors in that case are expected to file a separate sentencing memo this week.
Cohen is due to be sentenced in both cases on Dec. 12. His lawyers filed a sentencing memo on Nov. 30 arguing Cohen shouldn't spend any time behind bars because he had cooperated notwithstanding attacks by Trump.
"In the context of this raw, full-bore attack by the most powerful person in the United States, Michael, formerly a confidante and adviser to Mr. Trump, resolved to cooperate," his attorneys wrote.
Chris Geidner contributed reporting to this story.
This is a developing story. Check back for updates and follow BuzzFeed News on Twitter.‏