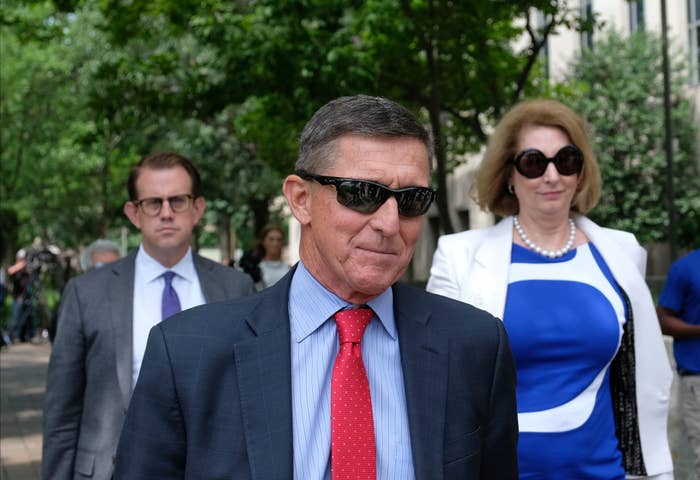 WASHINGTON — A federal appeals court will force a judge to dismiss the criminal case against President Donald Trump's former national security adviser Michael Flynn.
The 2–1 decision on Wednesday from the US Court of Appeals for the DC Circuit is a decisive win for Flynn. He pleaded guilty to one count of lying to the FBI about his contacts with the Russian government shortly before President Donald Trump took office in 2017, but he then changed course to fight the prosecution with the president's support.
Judge Neomi Rao, who authored the majority opinion, wrote that US District Judge Emmet Sullivan's decision to ask for briefing and schedule a hearing to probe the government's decision to drop Flynn's case would undermine the executive branch's "exclusive prosecutorial power." Rao is one of Trump's two appointees to the DC Circuit; Trump has made the appointment of conservative judges a central part of his political agenda during his first term.
Rao wrote that Flynn's case "is about whether, after the government has explained why a prosecution is no longer in the public interest, the district judge may prolong the prosecution by appointing an amicus, encouraging public participation, and probing the government's motives. On that, both the Constitution and cases are clear: he may not."
Judge Robert Wilkins dissented, writing, "It is a great irony that, in finding the District Court to have exceeded its jurisdiction, this Court so grievously oversteps its own."
Federal court rules state that prosecutors have to seek "leave of court" to dismiss a criminal case. Wilkins wrote that the majority's decision would turn that rule into "a dead letter" by cutting off any review by a judge. Noting that the government had actively pursued and defended its criminal case against Flynn until recently, Wilkins wrote that the request to drop the prosecution now was "no mere about-face; it is more akin to turning around an aircraft carrier."
Sullivan's lawyer Beth Wilkinson declined to comment. Normally, the losing side can petition the full appeals court to review a decision, known as en banc review. Given the unusual nature of Flynn's case — it's extremely rare for a sitting judge to be directly involved in defending his actions before an appeals court — it wasn't immediately clear if Sullivan could, or would, do that.

The judges of the court could also decide on their own to take a vote on whether to reconsider the three-judge panel's decision, according to the DC Circuit's rules.
Federal prosecutors — first through former special counsel Robert Mueller's office, and later through the US attorney's office in Washington, DC — had pursued the criminal case against Flynn for more than two years. Flynn pleaded guilty to lying about his contacts with then–Russian ambassador Sergey Kislyak during the transition period after the 2016 election; he also pleaded guilty to lying about whether he had asked the Russian government to take certain actions in response to US foreign policy decisions at the time.

Flynn agreed to cooperate with the government early on, but after changing his legal team in 2019, he not only moved to withdraw his plea but also launched a full-out attack on the legitimacy of the prosecution. It was a strategy that aligned with Trump's criticism of Mueller and the broader investigation into Russian interference in the 2016 election. Trump made clear that he supported Flynn's efforts, leaving open whether he'd grant him clemency if he lost in court.
In May, the Justice Department notified the court that it wished to drop the prosecution altogether, citing new evidence uncovered during a review of Flynn's case ordered by Attorney General Bill Barr. The Justice Department argued that the new evidence — which included notes taken by senior FBI officials who interviewed Flynn in January 2017 about his contacts with Kislyak — showed the interview was "untethered" to a counterintelligence probe into Flynn that the FBI was preparing to close at the time.
When Sullivan refused to immediately grant the government's request and dismiss the case, instead inviting briefing and scheduling a hearing, Flynn petitioned the DC Circuit to step in. Sullivan had scheduled a hearing for July 16. Since the government and Flynn were now on the same side, the judge appointed John Gleeson, a former federal judge, to submit arguments opposing dismissal for the judge to consider.
Flynn's lawyer Sidney Powell and a spokesperson for the Justice Department did not immediately return requests for comment. "WIN in General Flynn's case," DOJ spokesperson Kerri Kupec tweeted with four American flag emojis.
Flynn's case has served as a political proxy for Trump's and Republicans' opposition to the Mueller probe. Senate Judiciary Committee Chair Lindsey Graham released a statement praising the DC Circuit's decision: "Justice. Finally justice. Justice delayed is better than no justice."
During arguments on June 12, Rao, Henderson, and Wilkins had all expressed skepticism about Flynn and the Justice Department's contention that Sullivan lacked authority to probe the government's request to dismiss the case. Henderson said at the time that there was "nothing wrong" with Sullivan holding a hearing before acting on the motion. Rao wrote in Wednesday's opinion that a hearing "may sometimes be appropriate" but couldn't "be used as an occasion to superintend the prosecution's charging decisions."
Rao wrote that Flynn's case did not present the "rare" circumstances that would require additional investigation by the judge. Flynn and the government agreed the case should be dismissed, and there was no allegation that Flynn was the victim of harassment by federal prosecutors. She said the government's request to dismiss the case included "extensive discussion of newly discovered evidence casting Flynn's guilt into doubt."

The government was entitled to a "presumption of regularity," Rao wrote — that there wasn't any clear evidence on the record that would contradict the Justice Department's representations that it no longer had confidence in the criminal case against Flynn. The fact that no prosecutors involved in the case signed the brief, for instance — it was only signed by the then–interim US attorney in DC, Timothy Shea — was "insufficient" to overcome that presumption, the judge wrote.
Rao wrote that Sullivan's decision to appoint Gleeson, who had written an op-ed criticizing the Justice Department's decision to drop the case before his appointment, was a "troubling indication" of Sullivan's "mistaken understanding" of his role in ruling on the government's motion to dismiss.
According to Wilkins, the majority's decision was the first time the appeals court had forced a district judge to rule in a certain way on a pending motion without first giving that judge a "reasonable opportunity" to issue a ruling on their own. Appeals courts generally are hesitant to take up cases before there's a final decision from a lower court judge, and Wilkins wrote that Flynn's situation didn't call for such a "drastic and extraordinary" move.
Wilkins wrote that Rao and Henderson had turned the "presumption of regularity into an impenetrable shield" for the government. If the court was worried that Sullivan was going too far in his review of the government's request to dismiss the case, he wrote, it could give instructions about what was appropriate during a hearing, and then intervene if Sullivan overstepped. But he disagreed that the court should stop a hearing from taking place at all.
He also disagreed that Sullivan was wrong to appoint Gleeson as an amicus, or "friend of the court" brief, to present opposing arguments.
"What is indisputable is that adverse presentation of the relevant issues aids courts in their decisionmaking — indeed, this is one of the foundational premises of our judicial system," Wilkins wrote. "Yet the majority gives this bedrock principle of our legal system no weight or consideration."