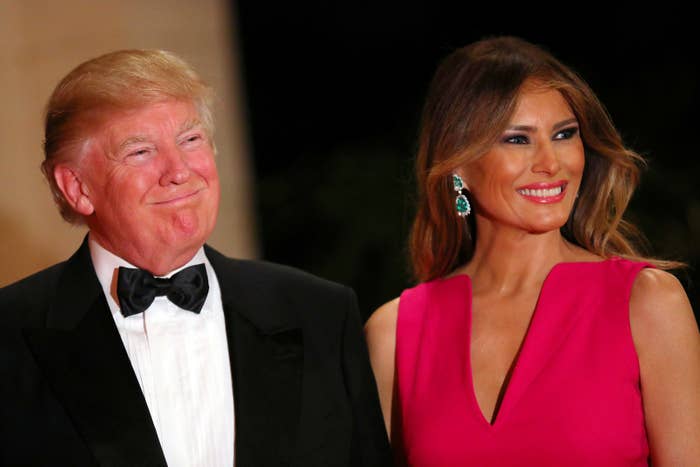 WASHINGTON — Melania Trump has settled her defamation lawsuit against a Maryland blogger who published claims — which Trump denied — that she once worked as a "high-end escort" and suffered from a mental breakdown during the presidential campaign.
Trump's lawyers said in a statement that blogger Webster Tarpley "agreed to pay her a substantial sum as a settlement," but details of the settlement are unknown.
"The First Lady of the United States has settled her lawsuit against Webster Griffin Tarpley of Maryland," attorney Matthew Blackett said in a statement. "Mr. Tarpley has issued the attached retraction and apology to Mrs. Trump and her family, and agreed to pay her a substantial sum as a settlement."
Word of the settlement comes a day after Trump refiled a $150 million defamation lawsuit in New York against Mail Media Inc., which she claims was responsible for publishing a separate article on the Daily Mail's US website that also included allegations that she worked as an escort.
Trump's lawyer, Charles Harder, declined to comment about the settlement. Harder previously represented Terry Bollea, aka Hulk Hogan, in his successful defamation lawsuit against the now-defunct website Gawker. A lawyer for Tarpley was not immediately reached on Tuesday morning.
Tarpley, who published the allegations about Trump on his personal website Tarpley.net on August 2, 2016, issued a retraction and apology that was provided by Trump's lawyers. He had already retracted the article before Trump sued him in September.

A judge in Montgomery County, Maryland, ruled on Jan. 27 that Melania Trump could proceed with her defamation case, rejecting arguments from Tarpley's lawyer that Trump failed to show that he published the article with "malicious intent" or that the claims rose to the level of defamation, since he was just reporting rumors.

Trump originally sued Mail Media as part of the same case against Tarpley. The Maryland judge dismissed Trump's claims against Mail Media, finding that she failed to show the case had enough ties to Maryland for the court there to have jurisdiction. Trump on Monday filed a new version of the lawsuit against Mail Media in New York Supreme Court.

Trump is alleging that because of the Daily Mail article, she suffered "multiple millions of dollars" in economic damages because of the lost value to her brand. The article "impugned her fitness to perform her duties as First Lady of the United States," the complaint states.
Trump "had the unique, once-in-a-lifetime opportunity, as an extremely famous and well-known person, as well as a former professional model and brand spokesperson, and successful businesswoman, to launch a broad-based commercial brand in multiple product categories, each of which could have garnered multi-million dollar business relationships for a multi-year term during which plaintiff is one of the most photographed women in the world," her lawyers wrote in the New York complaint.
According to statements made in court by lawyers in the Maryland case last week, Trump is also suing the Daily Mail's publisher in London.