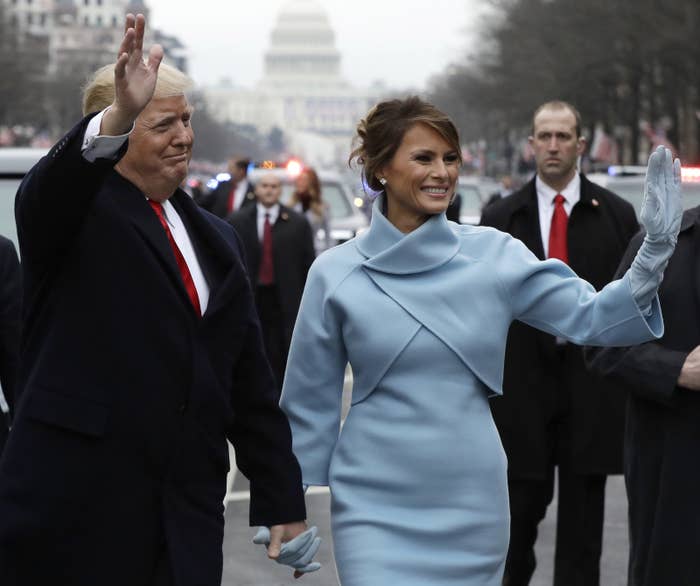 ROCKVILLE, Maryland — Melania Trump can move ahead with a defamation lawsuit against a Maryland blogger who published claims that Trump worked in the past as a "high-end escort" and suffered a "mental breakdown" during the campaign in part because of those allegations, a judge ruled on Friday.
The judge, who announced her decision from the bench immediately after hearing arguments on Friday morning, said Melania Trump spelled out enough of a claim for defamation at this early stage of the case for her lawsuit to proceed.
"There can be no more defamatory statement than to call a woman a prostitute," said Judge Sharon Burrell, who sits in the Montgomery County Circuit Court in Rockville, Maryland.
The blogger, Webster Tarpley, published an article on his website on Aug. 2, 2016, that, among other things, said that it was "widely known" that Melania Trump had worked in the past as a high-end escort. He cited unnamed sources as saying that Trump was "suffering from from a full-blown nervous breakdown" as a result of the escort allegations spreading during her husband's presidential run and was considering leaving the campaign. Trump said in court papers that those claims were all false.
The favorable ruling for the first lady comes at the end of a week that saw President Trump's chief strategist Stephen Bannon characterize the press as the "opposition party" to the administration. Trump has a history of suing or threatening to sue journalists who published negative information about him. He criticized the media throughout the campaign and has continued to accuse reporters of publishing false information since he was sworn in on Jan. 20 — at times repeating his own lies in doing so.

Melania Trump is suing Tarpley on her own, and is represented by private lawyers. She was not in court on Friday. Her lead attorney is Charles Harder, the lawyer who represented Terry Bollea, aka Hulk Hogan, in his successful defamation lawsuit against the now-defunct website Gawker, which shuttered after facing a multi-million dollar verdict. The Gawker suit was financially backed by billionaire Peter Thiel, who supported Donald Trump during the election and is advising the president now.
In urging to have the lawsuit dismissed, Tarpley's lawyer, Danielle Giroux, argued on Friday that Melania Trump's lawyers failed to lay out in the lawsuit that Tarpley acted with "actual malice," a requirement in defamation cases that involve public figures. Burrell rejected that argument, pointing to language in the lawsuit that said Tarpley published the article "while consciously doubting the truth of the claims."

Giroux said Tarpley had a right to report on rumors, even if he didn't know whether they were true. There was a public interest in knowing about allegations against Melania Trump that could affect Trump's campaign, as well as his presidency if he won, Giroux said. Burrell said that the public interest was different for Melania Trump, who was not running for office.
Burrell did dismiss a second claim that Trump brought against Tarpley claiming that he interfered with her business interests.
In the same case, Trump is also suing Mail Media Inc., claiming it was liable for publishing a separate article on the Daily Mail's US website that reported allegations that Trump worked for a modeling agency that also operated as an escort service. Mail Media argues that it wasn't responsible for publishing the article, and that even if it was, the Maryland court shouldn't hear the case because all of the parties and witnesses were from New York or elsewhere out of state.
Harder argued that the Daily Mail website was accessible in Maryland, engaged with readers in Maryland, and that the media outlet was targeting the market in the state. He also said there was evidence that Mail Media did business in Maryland, such as contracting with freelancers. Mail Media's lawyer, Kelli Sager, said that none of that was enough of a connection to the state to give the court jurisdiction.
Burrell didn't rule on Mail Media's request to dismiss Trump's case, saying that she would release a written ruling later.
Both Tarpley and Daily Mail retracted the articles at issue in Trump's lawsuit. Tarpley's lawyer said in court on Friday that Tarpley took the article down because he feared a lawsuit, not because he didn't believe what he wrote.

According to the lawyers on Friday, Melania Trump is pursuing a separate lawsuit in London against the Daily Mail's publisher.