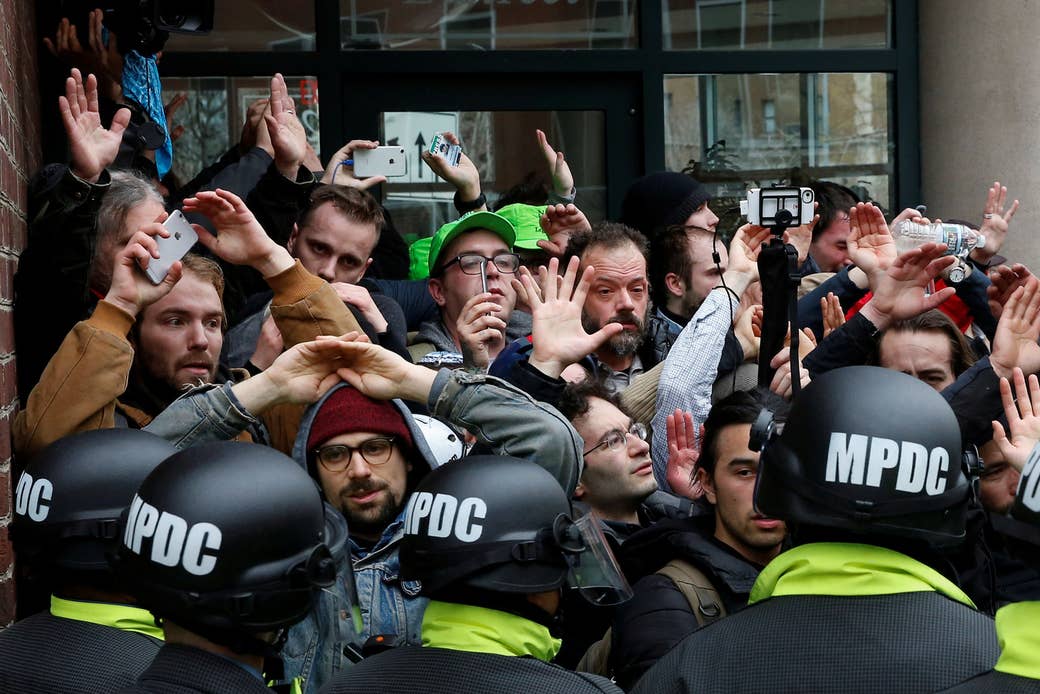 WASHINGTON — Cheney Orr, a photographer, drove down from New York City early in the morning on Jan. 20 to document the events of President Donald Trump's Inauguration Day.
He didn't expect that by the end of the day, he'd be arrested, loaded into a police van, and charged with rioting. And he certainly didn't expect that he would later agree to turn over the contents of his cell phone and cameras to prosecutors in order to get his property back, even as he maintained his innocence.
Orr is one of 16 people — mostly journalists, photographers, and legal observers — arrested on Jan. 20 on a felony rioting charge whose cases have already been dropped by prosecutors. Police seized all phones, cameras, and other electronic devices during the arrests. Some had to wait several weeks for their cases to get dismissed and to get their property back, according to interviews with BuzzFeed News and court documents. Some still don't have their devices. Most don't know if their phones or cameras were searched by police or prosecutors — or whether those prosecutors plan to use the information on the devices as evidence in others' cases.
First Amendment lawyers and legal ethics experts say the fact that journalists and legal observers were caught in the mass arrests on Jan. 20 is troubling on its own. But the seizure and possible search of their phones and cameras adds a whole new layer of legal complexity.
Mass arrests that sweep up journalists — enabling police and prosecutors to collect electronic evidence they might not otherwise have access to — threatens the independence of the press, said Stephanie Lacambra, a staff attorney at the Electronic Frontier Foundation. The EFF has been working with Jan. 20 arrestees to get their phones back.
"If you're made to turn over your phone to law enforcement, they can unmask anonymous sources, they may impede on the relationship you have with some of your sources," Lacambra said. "It will chill people's willingness to come forward."
Legal observers, regardless of whether they're lawyers, separately have an interest in safeguarding notes and photos they take that document interactions between police and protesters, since those might later be used in court. And attorneys also have to worry about their ethical obligation to protect client information stored on their phones and other electronic devices.
"Anytime journalists and legal observers are arrested at protests, it raises troubling First Amendment questions," said Alex Abdo, a senior staff attorney at the Knight First Amendment Institute at Columbia University. "They are there precisely to fill in for the public and when they're arrested too that sends a chill in the community."
More than 200 people have been indicted on a charge of felony rioting in connection with demonstrations in DC on Jan. 20 that at times turned violent. Prosecutors revealed in court papers a few weeks ago that they're attempting to extract data from more than 100 locked cell phones seized during the arrests, including devices that belong to people who were not indicted. The government's court papers don't address whether prosecutors have search warrants to search other electronics that were seized that day, such as cameras.
A spokesperson for the US attorney's office said the search warrants authorizing cell phone data extractions are under seal. He declined to comment about the searches and the handling of electronic devices in individual cases, citing the pending litigation.
"An arm of the police"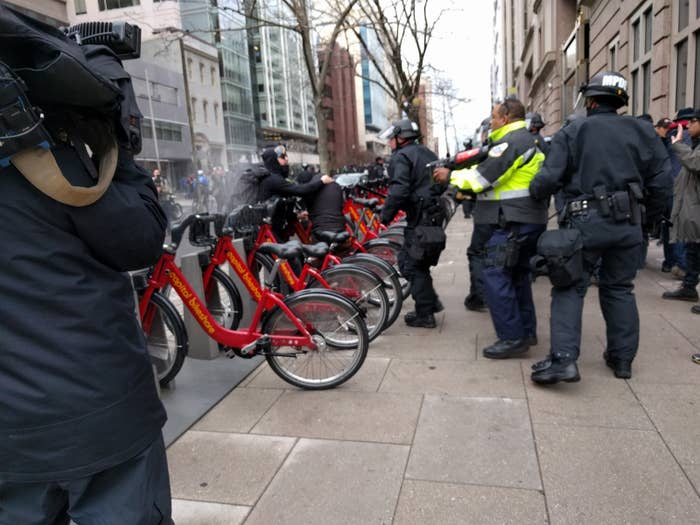 The mass arrest took place during a demonstration in downtown DC that had been promoted as an "anti-fascist" and "anti-capitalist" march. Some participants smashed the windows of stores and cars. Journalists and legal observers — many sporting a neon green hat that identified them as observers — followed them. Police eventually corralled several hundred people at the corner of 12th and L streets, about a mile north of the National Mall, where Trump's inauguration festivities were taking place.
BuzzFeed News interviewed nine journalists, photographers, and legal observers who were arrested at 12th and L and later had their cases dropped. They described a similar series of events: They were instructed to place all of their belongings in a clear plastic bag, including phones and cameras, and then put in a police van to be taken for processing and held in jail overnight. They were released after an initial court appearance on Jan. 21 or in the early hours of Jan. 22, and sent to a police station to retrieve their property. It was then that they learned they wouldn't be getting some or all of their electronic devices back.
Orr said he was carrying three cameras, camera equipment, and a cell phone when he was arrested. As a freelance photographer, he said he couldn't work without his cameras. Soon after his arrest, he agreed to let the government make a copy of the contents of his cell phone and cameras in order to get his property back. He also provided the passcode to his phone. He picked up his cameras about a week after his arrest, and his cell phone was mailed to him a few weeks later. Prosecutors dismissed the case against him on Feb. 21.
"I'm giving them the right to use my pictures as essentially evidence of other people protesting. It's basically making me an arm of the police, which is a bad feeling," Orr told BuzzFeed News. "But I was just in a real shitty spot."
Alexander Contompasis, an independent journalist from Albany who was arrested while capturing video of the demonstrations, said his cell phone and two cameras were seized by police during his arrest. He said it would have been obvious to police that he was a journalist: He was wearing press credentials and had a large shoulder-mounted camera.
"My main concern about the whole thing — that this is going to set the precedent here going forward for independent journalists."
Contompasis's case was dismissed on Feb. 21, but he said he didn't learn he could get his property back until March 1. He doesn't know if any of his cameras or his phone were searched, and has been scared to turn his phone on since he got it back. His cell phone wasn't locked when it was taken by police; prosecutors said in court papers that all the devices they were extracting data from pursuant to search warrants were locked. The government's court papers didn't mention if they had been searching cameras.
"My main concern about the whole thing — that this is going to set the precedent here going forward for independent journalists: Arrest them, get their footage, see what [the government] can use to prosecute," he said.
Another person, who examined his property after he got it back, told BuzzFeed News he suspected the government had at least attempted to access his devices.
Shay Horse, a photographer from New York who was arrested on Jan. 20 and had his case dismissed on Feb. 21, said he learned from his lawyer in mid-March that he could get his cell phone and camera back. Once he did, however, he said he had trouble accessing email on his phone and noticed that settings on his camera had been reset.
Mickey Osterreicher, a First Amendment lawyer and general counsel of the National Press Photographers Association, said that outside of a criminal arrest and a search warrant, prosecutors would have to subpoena a reporter to get access to their photos, videos, or other electronic evidence. The journalist would then have an opportunity to contest the subpoena in court. The search warrant application process, on the other hand, is one-sided — the person whose information is sought doesn't get a chance to contest it, although they can later ask a court to suppress evidence if they believe it was illegally obtained.
"We would normally do everything possible to fight the request to have those images searched and to be used, because journalists don't want to be seen as an arm of law enforcement," said Osterreicher, who represented Orr in negotiating the return of his property.
The Metropolitan Police Department in Washington has a manual for officers about how to handle mass protests and arrests. The latest version, released in December, says that police should "recognize and honor media credentials issued by or officially recognized by" the department. It also says officers should "make reasonable accommodations" to allow the press to use cameras or other equipment as they cover protests.
An MPD spokesperson declined to comment about how police managed the arrests and the seizure of electronic devices on Jan. 20, citing the ongoing litigation.
The MPD and US Park Police are facing a lawsuit in federal court that alleges they used excessive force in responding to the demonstrations on Jan. 20. Lacambra said the Electronic Frontier Foundation is investigating whether to file a class action lawsuit on behalf of people who were arrested and had their electronic devices seized. Several arrestees who got their phones back have sent them to the EFF, which is searching for a forensic analyst to try to figure out if the phones were accessed or searched.
The US Department of Justice has special policies in place about how to handle the seizure and search of evidence from journalists. The US Attorneys' Manual calls for special review by a top DOJ official in most cases when a journalist is the subject of a subpoena or search warrant.
"The Department views the use of certain law enforcement tools, including subpoenas, court orders ... and search warrants to seek information from, or records of, non‐consenting members of the news media as extraordinary measures, not standard investigatory practices," the manual says.
The federal Privacy Protection Act includes protections for journalists against efforts by law enforcement to seize their work, but there are exceptions if the journalist whose property is at issue is suspected of a crime. Gregg Leslie, legal defense director of the Reporters Committee for Freedom of the Press, said that if there was reason to believe that an arrestee on Jan. 20 was a journalist covering the protests, police shouldn't have seized their electronic devices and prosecutors shouldn't have applied for search warrants to search them.
"Kind of a shock"
It wasn't only journalists whose devices were confiscated. Lawyers and nonlawyer legal observers arrested on Jan. 20 whose cases have already been dismissed also described to BuzzFeed News or in court papers how their phones — some containing sensitive and potentially privileged information — were taken by police on Jan. 20. At least one lawyer says he still has not had his phone returned to him.
Diane Akerman is a lawyer with the New York City Legal Aid Society who traveled to Washington on Jan. 20 to serve as a legal observer through the National Lawyers Guild. She declined an interview request through one of her attorneys, but court papers indicate that she was arrested and her cell phone was seized by police.
On Feb. 2, her lawyers asked a judge to order the US attorney's office to return her phone, citing attorney-client privilege concerns. Akerman even offered to make a forensic image of her phone once it was released and provide relevant, non-privileged information to the government if was sought through "lawful means." But Akerman's lawyers wrote that prosecutors nevertheless refused to return the phone.
Akerman's case was dismissed on Feb. 3. The US attorney's office and Akerman's attorney declined to comment about the status of her phone, but there were no other filings in the case.
Alexander Penley, a lawyer in Maryland who said he was serving as a legal observer when he was arrested, said he showed officers his business card as he tried to explain that he was an attorney, to no avail.
Penley's case was dismissed on Feb. 3, but he says he still hasn't gotten his cell phone back. He said he used that phone, which was locked, to communicate with clients, and is worried that any search by the government could intrude on privileged communications.
"It was surprising, because I am accustomed to being a legal observer at protests and generally we have a mutual respect ... between the police and the legal observers, and this was just so different than that," Penley said.
The US Attorneys' Manual has a section about how prosecutors should handle evidence seized from an attorney who is the subject of an investigation. According to the manual, a US attorney or DOJ assistant attorney general has to authorize applications for search warrants for evidence from an attorney. It also instructs prosecutors to develop special procedures to make sure any privileged information is kept secure.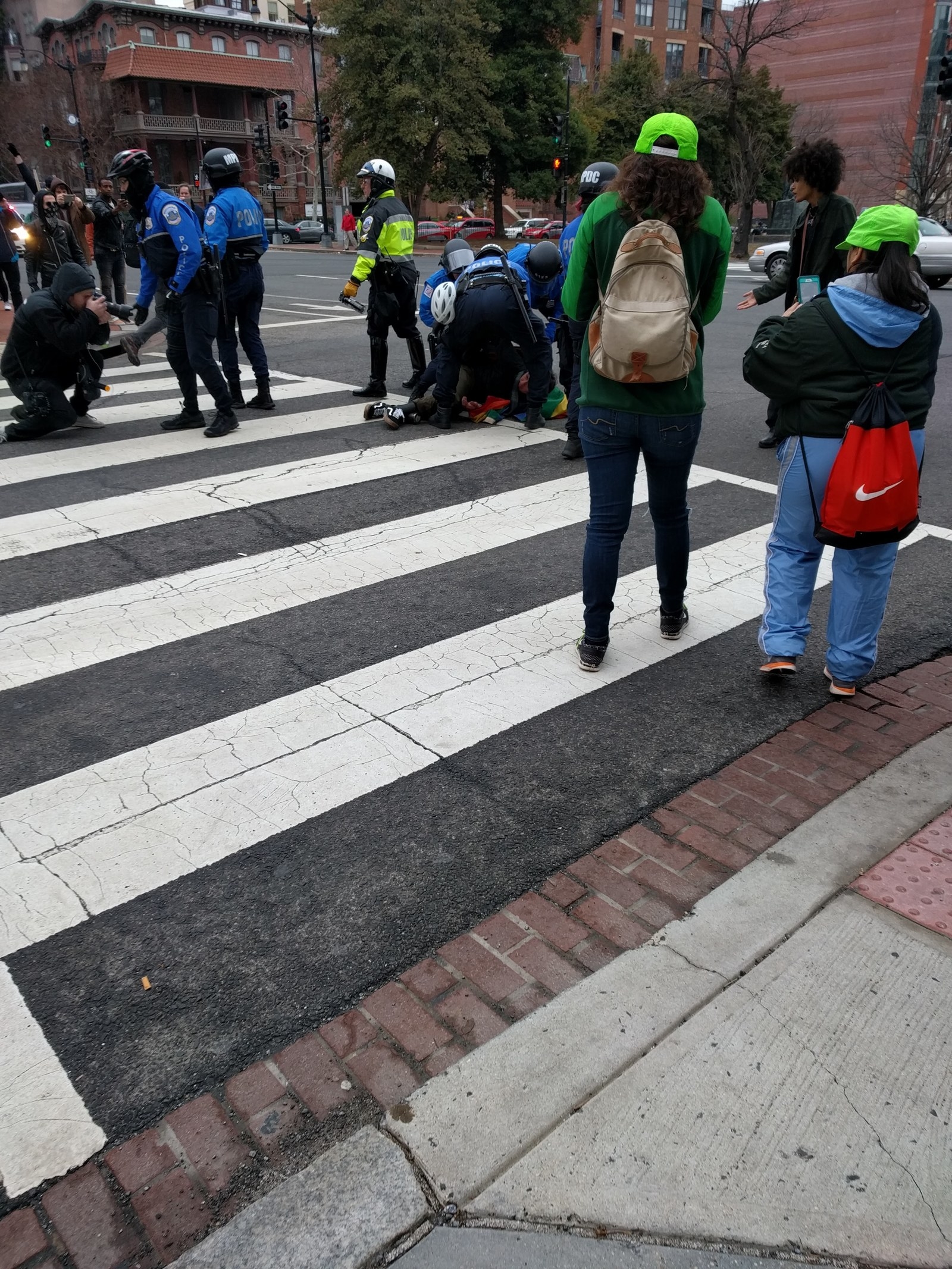 Several legal observers told BuzzFeed News that they were wearing green National Lawyers Guild hats when they were arrested, and that police did not allow them to leave when they identified themselves as such.
Layne Poplin isn't a lawyer, but traveled from her home in North Carolina to volunteer as a legal observer on Jan. 20. She said she was wearing the green guild hat when she was arrested. She and other legal observers also wearing the hats tried to explain to police who they were, she said, with no success.
"It was just kind of a shock," she said.
Poplin's case was dismissed on Feb. 3, and she found out soon after that she could get her phone back. She traveled to DC near the end of March to pick it up, but said she hasn't turned it on yet — instead sending the phone, which was locked when she gave it to the police, to the Electronic Frontier Foundation to try to figure out if anyone accessed it.
Outside Your Bubble is a BuzzFeed News effort to bring you a diversity of thought and opinion from around the internet. If you don't see your viewpoint represented, contact the curator at bubble@buzzfeed.com. Click here for more on Outside Your Bubble.