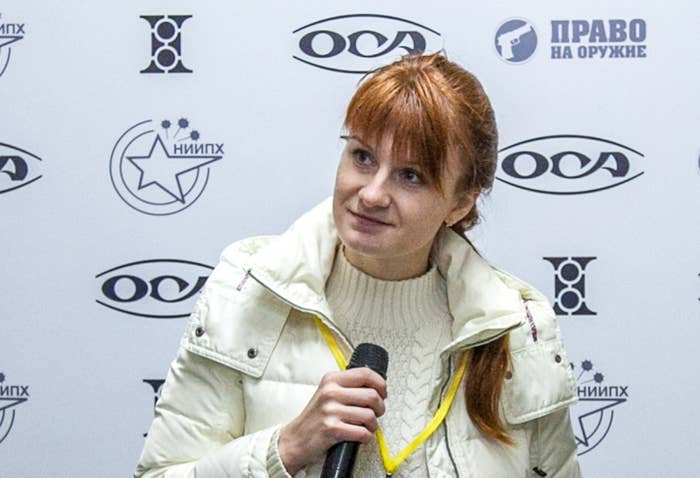 WASHINGTON — Maria Butina pleaded guilty on Thursday to conspiring to act as an agent for the Russian government in the United States, admitting she was involved in efforts to set up informal back channels between US and Russian officials leading up to the 2016 presidential election.
Butina agreed to cooperate with prosecutors as part of her plea deal, and a lawyer for the government said at her plea hearing that her cooperation was "ongoing." The judge won't set a sentencing date until Butina finishes working with the government — the prosecutor asked to update the court on their status by mid-February; the court set a hearing for Feb. 12.
Butina has been in jail since her arrest in July, and appeared in federal district court in Washington, DC, unshackled as she stood before the judge and entered her guilty plea. Wearing a green jail uniform and a white shirt with a large hole in the left elbow, Butina appeared calm as she answered questions from US District Judge Tanya Chutkan, although a few times she got ahead of the judge, giving her answer before the judge finished asking a question. She'll remain in jail while she cooperates.
The judge also for the first time revealed a situation involving Butina's lawyer Robert Driscoll that the judge had been dealing with on a sealed basis until now. Chutkan announced to the courtroom that prosecutors had recordings of calls that Butina made in jail that the government said might suggest Butina was trying to serve as a go-between for the media and her lawyer, who is bound by a court-imposed gag order not to speak with reporters.
The judge had appointed an "advisory counsel" for Butina to advise her on the potential conflict of interest issue presented by the evidence the government said it had — that there was concern her lawyer might have incentive for her to plead guilty to avoid getting in trouble with the court for violating the gag order. Butina told the judge that she waived any such potential conflict, and was "extremely satisfied" with her legal representation. The judge did not make a finding about whether Driscoll violated her order and allowed him to continue handling the case.
A federal grand jury indicted Butina in mid-July on two counts: acting as an agent of a foreign government without alerting the US government, and conspiring to do so. Prosecutors claimed Butina received guidance from a Russian official who tasked her with influencing US foreign policy toward the country; her lawyers from the start denied she was acting as an agent, saying she was just a graduate student. The first charge carried a maximum sentence of 10 years in prison, while the conspiracy charge had a maximum sentence of five years.
Prosecutors agreed to drop the more serious count when she's sentenced. The lawyers estimated that she faced a sentencing range of between zero to six months. As part of the deal, prosecutors could ask the judge for a low sentence, or even no prison time, if they're satisfied with her cooperation. Assistant US Attorney Erik Kenerson did not offer any details about what sort of information they wanted from Butina. Butina acknowledged that as a Russian national, she could face deportation once she finishes serving any prison time she may face.
Butina admitted working with a Russian official and US citizen — both unnamed in charging papers — since at least 2015 to develop a plan to try to influence US policy to the benefit of the Russian government. The Russian official she is accused of reporting to matches the description of Alexander Torshin, a former Russian senator and banking official who is a close associate of Russian President Vladimir Putin and was sanctioned by the US in April. He left his position as deputy governor of Russia's central bank on Nov. 30.
Prosecutors say Butina's American partner — labeled "US Person 1" and known to be South Dakota GOP operative Paul Erickson — helped connect her with prominent conservatives as part of a yearslong influence campaign. He has not been charged with any wrongdoing.
By touting her life story as a Russian gun rights activist from Siberia, Butina became an exotic fixture at conservative events for five years before her arrest. Even before she came to Washington, DC, as a graduate student in 2017, she regularly traveled to NRA conventions with Torshin and Erickson. Through these events she was able to interact with a number of high-profile Republican politicians and activists, including GOP then-candidates Donald Trump, Scott Walker, Bobby Jindal, and Rick Santorum. She also attended the Conservative Political Action Conference and Trump's inauguration, and organized a Russian delegation to the National Prayer Breakfast in 2017.
After her arrest, the Russian foreign ministry launched an online campaign to raise awareness of what they called the unfair persecution of an innocent graduate student who was just interested in US–Russia relations. Official Kremlin social media accounts even changed their profile photos to Butina's face.
In the statement of offense laying out the conduct that Butina pleaded guilty to, the government said that Butina wrote in her initial proposal of the "Diplomacy Project" in March 2015 that during her previous trips to the United States she had "laid the groundwork for an unofficial channel of communication with the next U.S. administration." At the time, she predicted that whoever was nominated by "Political Party #1" — the Republican party, based on descriptions in charging papers and what is known about Butina's activities — would win the 2016 election, and that the "U.S. civil society gun rights organization" — the NRA, again based on the description and what is known about Butina's activities — had influence over that party.
Butina traveled to conferences in the United States and invited "powerful members of the Gun Rights Organization" to Russia, according to the statement of offense. After that visit, Butina wrote the Russian official a message in Russian that was translated as, "We should let them express their gratitude now, we will put pressure on them quietly later."
Butina admitted to organizing "friendship dinners" with influential Americans whom she "believed would have the ear of the next U.S. presidential administration," the government wrote.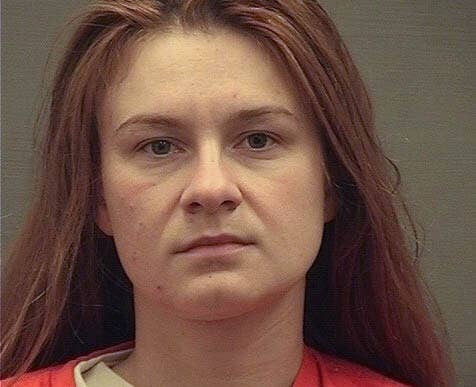 A federal magistrate judge ordered Butina jailed in July after concluding there weren't any release conditions that would satisfy the judge that Butina wouldn't try to flee the country. At the time, the government argued that Butina was "an extreme flight risk" given her lack of ties to the United States, her contacts in Russia, and the fact that she had already been preparing to leave Washington, DC. Prosecutors also said there was evidence Butina had ties to Russian intelligence.
In the two months after her arrest, Russian government officials conducted six consular visits and passed four diplomatic notes to the State Department to press her case, according to a prosecution filing. Russian Foreign Minister Sergey Lavrov also spoke twice to US Secretary of State Mike Pompeo about her incarceration, calling her a political prisoner.
In September, Chutkan rejected a request by Butina's lawyer to reconsider holding her while the case went forward. The defense accused prosecutors of creating a "patina of espionage" even though Butina wasn't charged with spying, and called them out for claiming Butina had offered sex in exchange for a job and then walking that back only after multiple news outlets had focused on it in their reporting.
But Chutkan said she didn't find that circumstances had changed as far as Butina's risk of flight. The judge cited a concern prosecutors raised about the fact that if Butina got into a car with diplomatic license plates, there was nothing the US government could do to stop her from getting on a plane to Russia, which doesn't have an extradition treaty with the United States. The judge also entered a gag order after finding that Butina's lawyer Robert Driscoll had "crossed a line" with his TV appearances.
On Tuesday, Putin said he did not know why Butina had been detained and faced jail time in the US.
"I asked all the heads of our intelligence services what is going on," Putin said. "Nobody knows anything about her."
Butina's lawyers initially fought back against the allegations, but on Nov. 16, the lawyers filed a joint report with the judge saying that they were involved "in negotiations regarding a potential resolution of this matter" — that is, that they were trying to hammer out a plea deal. Two weeks later, they filed another update saying they were still "optimistic" about reaching an agreement.
The next court date was set for Dec. 19, but then the judge abruptly set a conference for Dec. 6. Much of that hearing took place under seal, but during the public portion, Butina's lawyer said they were comfortable canceling the Dec. 19 hearing, and anticipated not needing to pursue a subpoena they'd issued to American University, where Butina had been a student — both signs that a deal was imminent. Driscoll said on Thursday that he did want American University to comply with the subpoena after all, saying documents might prove useful at sentencing. The judge will now have to rule on requests filed by American University students seeking to get the subpoena tossed out.
Later on Dec. 6, the judge issued an order appointing A.J. Kramer, the head of the federal public defender office in Washington, as "advisory counsel" to Butina. The judge didn't explain what prompted that or what Kramer's role would be; Kramer declined to comment at the time.
The judge ruled Thursday that transcripts from the latter part of the Dec. 6 hearing would be unsealed, and BuzzFeed News obtained a copy later in the evening. At the time, Driscoll told the judge that Butina was close to signing a plea deal, but hadn't yet because of the potential issue that had come up about compliance with the gag order.
In discussing whether the hearing should be sealed, Chutkan noted that she previously agreed to seal requests to transport Butina from jail to the US attorney's office, since "the possibility of a defendant's cooperation is always something that is sensitive." The judge didn't say at the hearing how many times Butina may have met with prosecutors. She initially pushed back on keeping information about Butina being close to a deal under seal, noting the parties had already disclosed that they were negotiating, but agreed after the lawyers explained it was tied up in the gag order issue.
Kenerson told the judge that in recorded phone calls from jail with a reporter, Butina made references to someone who shared Driscoll's first name — Kenerson said they didn't know for sure that she was talking about Driscoll — and that raised concern that she might be acting as a go-between. Kenerson also said other inmates had reported that Butina told them to talk to the media on the advice of her lawyer.

Driscoll said Butina had been talking to a journalist she was friendly with, and that he told the reporter they couldn't use post-gag order conversations in any reporting (Driscoll didn't name the journalist, but referred to them as a "he.") Driscoll did not address the government's other claim about Butina asking fellow inmates to talk to the press. Driscoll asked to keep the issue sealed because "having this all out in public both disparages the defendant and counsel, at least some." The judge agreed to keep it sealed, at least until it was resolved.
UPDATE
This story has been updated with information from an unsealed transcript of the Dec. 6 hearing in Maria Butina's case.