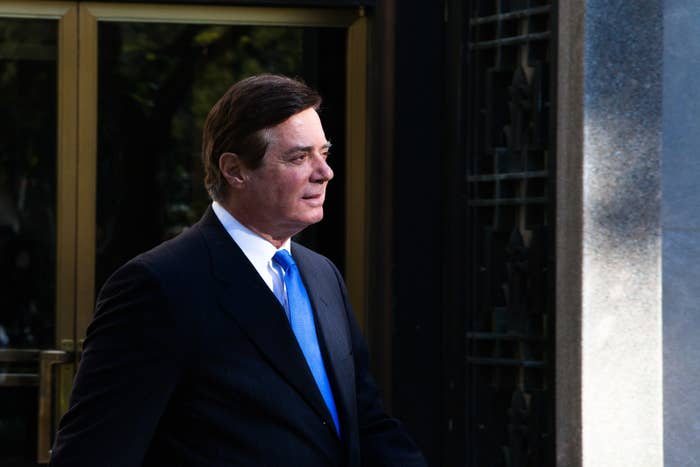 Paul Manafort's lawyers argued in court papers on Thursday that Manafort isn't a flight risk, arguing that he could not hide and is one of the "most recognizable people on the planet" and disputing claims made by special counsel Robert Mueller's team that Manafort might try to flee the country.
Manafort's lawyers want a judge to continue a $10 million bond imposed on Monday after Manafort and his longtime associate Rick Gates pleaded not guilty to a 12-count indictment, but they want the other condition of home confinement lifted. The $10 million bond, along with a condition that Manafort not commit any other crimes in the meantime, "will more than suffice," his lawyers wrote.
"Apparently, the Government Memorandum seeks to persuade this Court that Mr. Manafort is a serious risk to simply up and leave his wife of almost 40 years, his two daughters, and his grandchildren, so that he can live the rest of his life on the lam. This is an imagined risk; it is not real," Manafort's lawyers wrote.
At a hearing Thursday afternoon, US District Judge Amy Berman Jackson scheduled another hearing for Nov. 6 to decide whether Manafort and Gates can be set free until their trial. Until then, the two men will remain on home confinement, subject to $10 million and $5 million bonds, respectively. Jackson chided the lawyers for failing to file clear requests concerning release conditions before Thursday's hearing, and said she wouldn't rule on the issue until she saw specific written pleadings.

The judge did agree that Gates could temporarily leave his home over the weekend to attend his children's sporting events. Both Gates and Manafort are also currently under GPS monitoring.
Manafort's lawyers noted in their written filings that one of his former attorneys learned in August that prosecutors planned to indict Manafort, and that he subsequently traveled overseas — and came back to the United States, notwithstanding the imminent criminal charges.
"Given the substantial media coverage surrounding Mr. Manafort and this investigation, it is fair to say that he is one of the most recognizable people on the planet today. Query where such an individual could even hide?" his lawyers wrote.
Jackson did say in court that she had concerns about whether Manafort and Gates posed flight risks, given statements made by prosecutors earlier in the week. In court papers on Tuesday, lawyers on Mueller's team wrote that they planned to ask the judge to impose "substantial" bail conditions if Manafort and Gates went free while the criminal case is pending. The two men posed "serious" flight risks, prosecutors wrote, pointing to their substantial assets, the severity of the charges, their history of travel and ties to foreign actors, and "their history of deceptive and misleading conduct."
Offering a preview of their defense, Manafort's lawyers wrote in the response papers on Thursday that the weight of the evidence had been "embellished" and that the facts laid out in the indictment suggested tax crimes but none of the charges were tax-related. As for the claims that Manafort failed to register as a lobbyist for foreign entities, "it is far from clear what activity triggers a requirement to file," his lawyers argued.
The indictment doesn't address Manafort's work as Trump's campaign manager in 2016, but Manafort's lawyers still pointed out in a footnote that his work for Ukrainian clients ended several years before the campaign.

Jackson told the lawyers on Thursday that she planned to impose a gag order blocking them from making "prejudicial" public statements about the case, unless she's persuaded otherwise. The judge said the publicity surrounding the already high-profile case had been "fueled" by statements from the lawyers involved and she admonished them that the criminal trial was "not a public relations campaign."

Jackson said that she expected the lawyers to do their talking in the courtroom and in written filings, and "not on the courthouse steps." The judge gave the lawyers until Nov. 7 to file any opposition to the gag order.
Kevin Downing, one of Manafort's attorneys, delivered a statement to reporters on Monday outside the courthouse following Manafort and Gates' arraignment before a federal magistrate judge in the US District Court for the District of Columbia. Downing called the charges "ridiculous" and said that prosecutors were applying a "novel" theory of law.
The 12-count indictment, which includes charges of money laundering, failing to report foreign bank accounts, failing to register as a lobbyist for foreign entities, and making false statements to the Justice Department, doesn't address Manafort's role as the Trump campaign chairman. But Downing in his remarks to reporters earlier this week also addressed special counsel Robert Mueller's broader investigation into Russian collusion.
"President Donald Trump was correct: There is no evidence that Mr. Manafort or the Trump campaign colluded with the Russian government," Downing said.