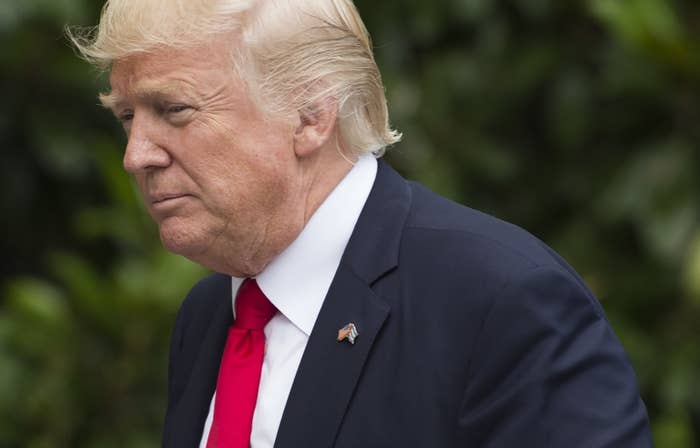 At a Senate hearing last week for one of President Trump's judicial nominees, John Bush, the harshest criticism came from an unexpected source: a Republican.

As expected, Democrats on the Senate Judiciary Committee pressed Bush about his controversial writings as a pseudonymous conservative political blogger, including his comments comparing abortion to slavery, and posts about President Obama's Kenyan heritage. Republican members largely came to his defense. But when it was Sen. John Kennedy's turn to speak, a Louisiana Republican, who has been in office for just five months, had no questions for Bush. He had only one thing to say.
"Mr. Bush, I've read your blogs," Kennedy said, shaking his head. "I'm not impressed."
This break in the ranks presents an opportunity for civil rights and liberal advocacy groups that oppose Bush's nomination to the US Court of Appeals for the 6th Circuit, and who are still stinging from President Trump's success in getting Justice Neil Gorsuch confirmed to the Supreme Court. It's harder to get the public excited about lower-court nominees, but these groups are hoping to build on momentum from opposition to the Gorsuch nomination to help block lower-profile nominees like Bush.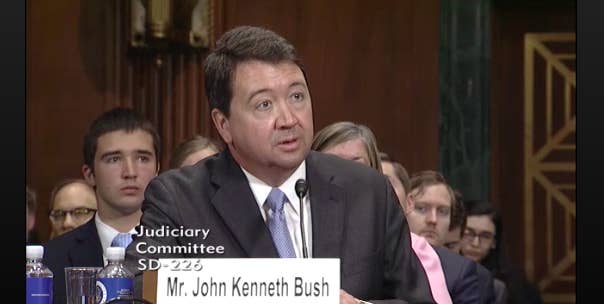 NARAL Pro-Choice America on Monday launched a six-figure campaign against Bush, BuzzFeed News has learned, buying online ads that will air in Arizona, North Carolina, Iowa, South Carolina, and Texas — the home states of several Republican members of the Senate Judiciary Committee. The ads highlight Bush's blogging, with an unseen narrator saying that Bush "couldn't contain his hateful political opinions." The group is also investing in phone networks to call committee members.
"It didn't end with Gorsuch, it only began there. It's our responsibility to make sure that these folks aren't going through without a fight," Sasha Bruce, NARAL's vice president for campaigns and strategy, told BuzzFeed News. "We actually think that this one is winnable because [Bush] is so abhorrent for so many reasons."
Bush, a lawyer in private practice in Kentucky, wrote for years under the pseudonym "G. Morris" on the blog Elephants in the Bluegrass. Many of the hundreds of posts he wrote from 2007 to 2016 were about Kentucky politics — he is a longtime supporter of Senate Majority Leader Mitch McConnell, who introduced him at the Judiciary Committee hearing — but some touched on subjects of national interest.
In one post frequently cited by Democrats and left-wing groups, Bush wrote that slavery and abortion were the "two greatest tragedies in our country." He wrote of the 2016 election that "Democrats are trying to win with the same game plan as in 2008, only substitute woman for Black," and linked to an article about President Obama's Kenyan heritage that was published on a website known for pushing the "birther" conspiracy theory.
Bush told the committee that blogging was an act of "political expression," and that, in hindsight, there were things he wrote that he wished he could have phrased another way. He said that if he were confirmed, he would follow Supreme Court precedent, including Roe v. Wade, which he called an "important" decision.
"I will not bring politics to the bench," he said.
Raising awareness
No other Republican was as critical of Bush as Kennedy, but North Carolina Sen. Thom Tillis did say he had "concerns" about Bush's blogging. He asked if Bush believed that impartiality on the bench was an aspiration or an expectation.
"[Impartiality] is an aspiration," Bush said. "I will do my best to be impartial."
That was not the answer that Tillis was looking for.
"I actually have a concern with someone who thinks that impartiality is aspiration. I think it's an expectation," Tillis said.
Notably, the lone member of the Senate Judiciary Committee whom Bush directly criticized in his blog posts, Texas Sen. Ted Cruz, wasn't at the hearing. During the Republican National Convention last summer, Bush, who supported Trump's nomination, wrote on the blog that Cruz was a "sore loser" and had exercised "poor judgment." A spokesperson for Cruz did not return a request for comment.
Bush declined to comment after the hearing. The committee is expected to vote on his nomination in the next few weeks.
Republicans control the Judiciary Committee by a majority of 11–9. A tie or even a failure to get a majority of votes in favor of Bush wouldn't stop the nomination from moving forward to the full Senate — it could be reported out "negatively" if a majority of members voted against it — but it would send a signal to the White House that the nomination could be in trouble.
A spokesperson for Kennedy did not immediately return a request for comment on Monday about how the senator plans to vote.

Democrats and advocacy groups opposed Trump's first lower-court nominee, Judge Amul Thapar, who was confirmed to the 6th Circuit in late May, but they didn't marshal the same level of resources that are going into the anti-Bush campaigns.
NARAL has released two online ads — one that generally criticizes Bush's blogging, and one directed at Cruz, comparing his backing of Bush to his endorsement of Trump during the presidential campaign after Trump had called him names on the campaign trail. "Get a spine, Ted," the narrator says at the end of the ad.
Nan Aron, president of Alliance for Justice, another liberal advocacy group, said that she expected her organization and others to go to "great lengths" to raise public awareness about Bush's nomination if it moved out of committee — circulating opposition research, putting together social media campaigns, and reaching out to constituencies across the country to urge them to call their senators.
"He clearly did not prove himself a worthy candidate for a lifetime judgeship," Aron said. "I'm assuming Republicans are going to have to think long and hard before confirming someone whose demeanor, judicial temperament, and insensitive and coarse remarks place him at the very fringes of ideology."
Bruce said that her organization is hoping to channel NARAL members' general frustration with the Trump administration into action. She noted that the states covered by the 6th Circuit — Kentucky, Michigan, Ohio, and Tennessee — have recently adopted or are considering more restrictive abortion laws.
"We're in a unique space this year where people are so eager to be pointed in the direction of a fight that will be meaningful against this administration," she said.