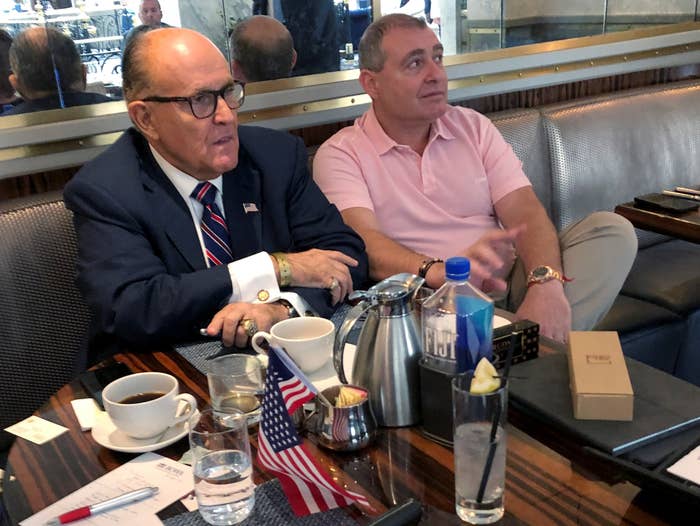 WASHINGTON — Lev Parnas and Igor Fruman, two key figures in House Democrats' impeachment inquiry who worked with Rudy Giuliani in an effort to gather damaging information about Joe Biden, were arrested as they were about to board a plane at Dulles airport near Washington, DC, a spokesperson for the US attorney's office in Manhattan confirmed Thursday morning.
The two men were charged with conspiring to skirt federal laws that prohibit foreign nationals from contributing to US campaigns, according to the indictment, which was first published by the New York Times. They're accused of entering into "secret agreements" to hide the scheme from candidates and federal regulators, laundering foreign money into the campaigns through various corporate identities, and using "straw donors" to make the contributions.

The indictment does not name Giuliani or President Donald Trump, and doesn't directly refer to efforts by Parnas and Fruman to convince Ukrainian prosecutors to probe unsubstantiated claims that Biden improperly used his position as vice president to oust a Ukrainian prosecutor who had investigated a company where Biden's son Hunter Biden was a board member. The charging papers did say that at one point they had lobbied a member of Congress at the request of "one or more Ukrainian officials."
Parnas and Fruman had one-way tickets to fly out of the US, and were arrested at Dulles airport at around 6 p.m. on Wednesday night, US Attorney for the Southern District of New York Geoffrey Berman told reporters Thursday afternoon. The Wall Street Journal reported that they had planned to fly to Vienna, Austria.
"As alleged in the indictment, the defendants broke the law to gain political influence while avoiding disclosure of who was actually making the donations and where the money was coming from," Berman said. "They sought political influence not only to advance their own financial interests, but to advance the political interests of at least one foreign official, a Ukrainian government official who sought the dismissal of the US ambassador to Ukraine."

Giuliani, who was also headed to Vienna Wednesday night according to the Atlantic, declined to comment. Trump said repeatedly Thursday that he did not know Parnas or Fruman, despite photographs of them together. "I don't know those gentlemen. Now it's possible I have a picture with them because I have a picture with everybody," he said.
Two other defendants, Andrey Kukushkin and David Correia, a longtime business partner of Parnas, were also indicted for allegedly working with Parnas and Fruman "in schemes to violate the federal campaign finance laws by repeatedly using straw donors and foreign money," Berman said. Kukushkin was arrested in San Francisco Wednesday night, but Correia is not yet in custody, Bill Sweeney, the assistant director in charge of the FBI's New York field office, said Thursday.

"These allegations are not about some technicality, a civil violation, or some error on a form. This investigation is about corrupt behavior, deliberate lawbreaking," Sweeney said.

The arrests come after a year-long campaign by the two men to turn up information in Ukraine that would be helpful to Trump in the 2020 campaign. The effort, directed by Giuliani, included arranging meetings between the former mayor and prosecutors to find incriminating evidence on the Bidens, as BuzzFeed News reported in July.
Democrats had asked Parnas and Fruman to voluntarily comply with a request for documents about their overseas efforts and to appear for depositions in the House's impeachment inquiries into Trump. Dowd told the committees involved in making those requests that his clients would not cooperate, and they did not produce the documents by the Oct. 7 deadline set by Democrats.
On Thursday afternoon, House Democrats announced that they had issued subpoenas to Parnas and Fruman to provide the records by Oct. 16 and to testify at a later date. BuzzFeed News reported Wednesday that the committees planned to subpoena the two men if they continued to fail to comply with congressional investigations.

A senior Justice Department official speaking on background said that Attorney General Bill Barr was briefed on the ongoing investigation into Parnas and Fruman shortly after he was confirmed in February. He was made aware that they were going to be charged and has been supportive of the case, the official said.

Although the case is being handled by prosecutors in New York, Parnas and Fruman made their first court appearance on Thursday afternoon in federal court in Alexandria, Virginia. A federal prosecutor from New York, Nicolas Roos, initially told the federal magistrate judge that they were discussing a bail package that was potentially acceptable to both sides, but Parnas and Fruman needed more time to go over the terms. The duo are being temporarily represented by Kevin Downing and Tom Zehnle, who previously served as lawyers for former Trump campaign chair Paul Manafort.

Parnas and Fruman didn't speak during the initial hearing or address the charges, aside from responding that they did not need interpreters when the judge asked.
Later Thursday, the judge approved a bail package for Parnas and Fruman that will require them to each pay a $1 million bond before they are released and will keep them in home detention with GPS monitoring. Under conditions of the bail agreement, they will only be able to travel to the Southern District of New York and the Southern District of Florida and will need permission from the court to do so. They must also have a third party agree to be responsible that all of those conditions are met.
Roos said the government was satisfied that those conditions would address the flight risk. Downing said their passports were seized by the government and that Parnas and Fruman have no travel documents. US Magistrate Judge Michael Nachmanoff approved the bail package, given the agreement between the two sides, but told the lawyers on Thursday that he was "reluctant" to do so given the lack of information in the record before him at the time.
Parnas and Fruman will remain in custody until the release conditions are met and can be processed by the court, which the judge warned can take time. Downing told reporters after the hearing he didn't expect Parnas and Fruman to be released today, but declined to comment otherwise.
The two men were booked into the Alexandria Detention Center late Wednesday evening and then released to federal law enforcement on Thursday morning, according to a spokesperson for the Alexandria sheriff's office.
The Wall Street Journal first reported the arrests and the nature of the charges.

Parnas and Fruman, who were born in Ukraine and Belarus respectively, have donated hundreds of thousands of dollars to Republican campaigns and worked with Giuliani to push Ukraine prosecutors to investigate Biden and, more broadly, allegations that Ukraine tried to interfere during the 2016 presidential campaign on behalf of Democratic candidate Hillary Clinton, as previously reported by BuzzFeed News.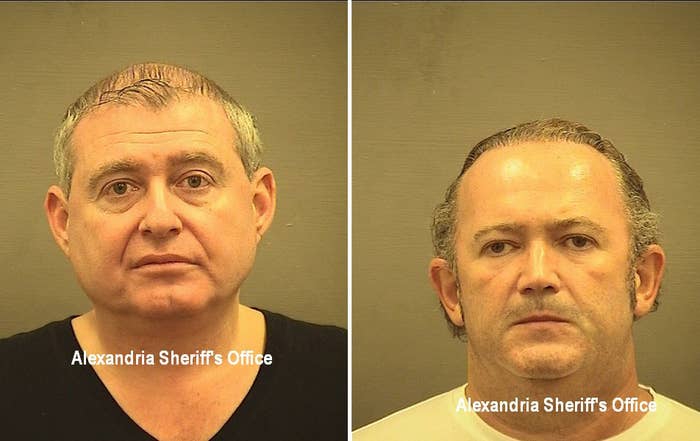 According to the indictment, Parnas and Fruman had "no significant" history of political donations before around March 2018, at which point they set up a limited liability corporation called Global Energy Producers (GEP) to conceal their identities while making hefty campaign contributions.
That same month, Parnas appears to have received the first of two five-figure payments from Ballard Partners, a Florida lobbying firm that has become a powerhouse in Trump's Washington. Bank records obtained by BuzzFeed News show Parnas received a $22,500 wire from Ballard in March and a second payment for the same amount in September. Ballard has previously said the September payment "has nothing to do whatsoever with Mr. Parnas's reported efforts related to Ukraine." On Thursday, a source familiar with the arrangement told BuzzFeed News the payments were "finder's fees" for Parnas having referred a lobbying client to Ballard.
The sequence of events that led to the questionable campaign contributions began in May 2018, when $1.2 million was wired to a company controlled by Parnas — Aaron Investments 1. That money originated from a mortgage that Fruman took out last year against an oceanfront condo he owned in South Florida, BuzzFeed News has reported.
Parnas and Fruman then made a $325,000 donation to "an independent expenditure committee," the indictment says. The committee, though not named in the document, is America First Action — a super PAC which donates to pro-Trump candidates — according to records obtained and reporting by BuzzFeed News.
The indictment says Parnas and Fruman falsely reported that the contribution came from Global Energy Producers, their gas export company, when it actually came from the mortgage money that Fruman generated, and that the money "never passed through the GEP account."
On May 17, the day America First Action received the contribution, the PAC's director of development emailed Parnas with a donor form for him to complete. "Can you fill out this form for how you want the contribution listed?" Joseph Ahearn asked. He received the completed form, which listed Global Energy Producers as the contributor and Parnas as a point of contact, less than three hours later.
Kelly Sadler, a spokesperson for America First, told BuzzFeed News on Thursday that Ahearn was following "our standard procedures to request a completed donor form, which requires the donor to affirm the name of the true contributor. We reported the information provided by the donor to the FEC, as required by law."
The next morning, Ahearn received an email about the donation from Bulldog Compliance, a firm that helps PACs ensure they follow campaign rules and appears to have been working for America First. The email asked for "any information regarding the donor" and provided information from the PAC's bank about the $325,000 wire. Though a note on the transaction referenced Global Energy Producers, the money was listed as coming from Aaron Investments. It's unclear how or if Ahearn responded to the email.
"They concealed this stuff from us. We had no idea about any of this," according to a person close to America First. "There was no way for us to know that it was not on the up-and-up."
Indeed, the indictment says Parnas and Fruman "concealed the scheme from the candidates, campaigns, federal regulators, and the public by entering into secret agreements, laundering foreign money through bank accounts in the names of limited liability corporations, and through the use of straw donors [...] who purported to make legal campaign contributions in their own names, rather than in the name of the true source of the funds."
But pressed on the fact that America First knew the wire had come from Aaron Investments, Parnas's company, and not Global Energy Producers, the source close to America First said, "we are as surprised as everyone else is."
Asked whether America First will return the money, the source said the PAC would like to, but cannot do so until the issue is resolved in court. "There are competing claims on the funds, and so it's not clear where the money even goes back to," they said.
Ahearn appears to have started emailing with Parnas about the donation on May 1, the same day Parnas met with Trump in Washington. That day, Ahearn sent Parnas the form and instructions for wiring the donation.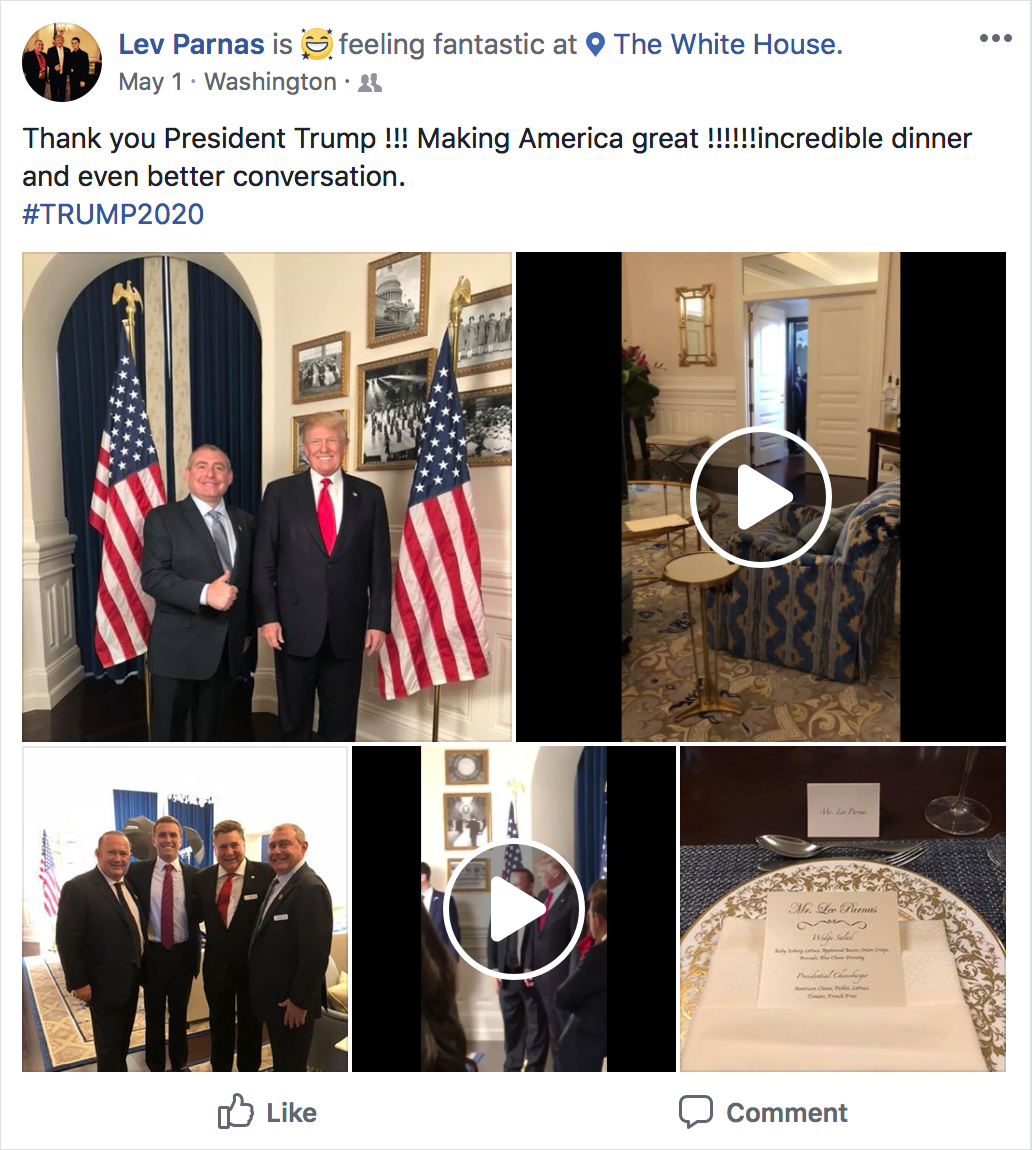 "Got it will text you when I send it," Parnas replied.
"You're the best," Ahearn said. "Let me know when you can chat this week too. Lot to review."
In one of a series of interviews with BuzzFeed News in June, Parnas said he and Fruman made the political contributions to advance Global Energy Producers.
"We've got a business. We just want to get recognized," he said.
But the indictment says that at the time of the political donations, the company "had no income or significant assets," and that Parnas and Fruman "intentionally reported that the contributions came from GEP to hide from creditors the fact that they had access to funding, and to conceal from the public and the FEC their involvement in making these contributions." At the time, Parnas was facing court judgments for nearly $1 million in personal debts, including hundreds of thousands he owed an investor for a Hollywood movie that was never made.
The indictment says that when press reports about the political donations first surfaced, someone working with Parnas said to him, "This is what happens when you become visible ... the buzzards descend." Parnas replied, "That's why we need to stay under the radar."
The Campaign Legal Center, a nonprofit watchdog group, first targeted the $325,000 contribution in a complaint filed with the Federal Election Commission last year, alleging the donation was illegal because it failed to disclose the true source of the money. The nonprofit sent its complaint to the FEC and the Department of Justice to review for civil and criminal violations.
"This is the outcome we wanted," Brendan Fischer, an attorney for the group, said Thursday. "As we documented last summer, this pair bought access by laundering political contributions through shell corporations."
"As the indictment acknowledges, Fruman and Parnas made their illegal contributions to buy influence with political candidates to advance their own financial interests and the political influence of at least one Ukraine official," Fischer added.
The indictment does not name the other candidates and political committees that allegedly received illegal contributions from Parnas and Fruman. In the summer of 2018, for instance, prosecutors alleged that the two men committed to raising $20,000 for an unidentified sitting member of Congress — the indictment does say it was a man — and around that time asked for the congressman's help in getting the then–US ambassador to Ukraine, Marie Yovanovitch, removed. Yovanovitch is scheduled to appear for a deposition before Congress on Friday.
BuzzFeed News first reported in July that Parnas and Fruman met last year with then–US Rep. Pete Sessions to discuss getting rid of Yovanovitch. The ambassador had been critical of Ukraine's anti-corruption efforts, which she believed were inadequate, and clashed with the country's top prosecutor at the time, Yuriy Lutsenko. Parnas said he told Sessions that Yovanovitch had been disloyal to Trump; soon after the meeting, Sessions contacted Secretary of State Mike Pompeo to recommend firing her.
In a statement Thursday, Sessions said he could not confirm that he is the congressman mentioned in the indictment, but added, "I will vigorously defend myself against any allegations of wrongdoing."
Sessions denied any knowledge of the scheme and quoted from the indictment: "defendants concealed the scheme from the candidates, campaigns and federal regulators." Sessions acknowledged that he met with Parnas and Fruman on multiple occasions, first to discuss energy issues, but said he took no "official action" after the meetings. He said he wrote the letter to Pompeo after "several congressional colleagues" told him that Yovanovitch was disparaging Trump.
"My entire motivation for sending the letter was that I believe that political appointees should not be disparaging the President, especially while serving overseas," Sessions said.
Florida Gov. Ron DeSantis, who was also not named in the indictment, told the Miami Herald Thursday that he would return a $50,000 campaign contribution from the pair. The Herald reported earlier that Parnas hosted two fundraisers for DeSantis in 2018, including one that was headlined by Donald Trump Jr. A DeSantis spokesperson called the allegations against the duo "troubling."
The indictment also alleges that Parnas and Fruman conspired with codefendants Correia and Kukushkin to funnel money from an unidentified "foreign national" to various unnamed politicians and candidates to get support for a new recreational marijuana business the men planned to launch from a company set up in Nevada.
The indictment says the foreign national sent Fruman $1 million in the fall of 2018, and that the four men then used some of the money "to attempt to gain influence and the appearance of influence with politicians and candidates." Notwithstanding the donations they allegedly made, the business venture never happened, according to the charging papers.
John Dowd, a lawyer representing Parnas and Fruman in connection with the congressional impeachment investigations, did not immediately return requests for comment on Thursday morning.
Miriam Elder and Paul McLeod contributed to this report.