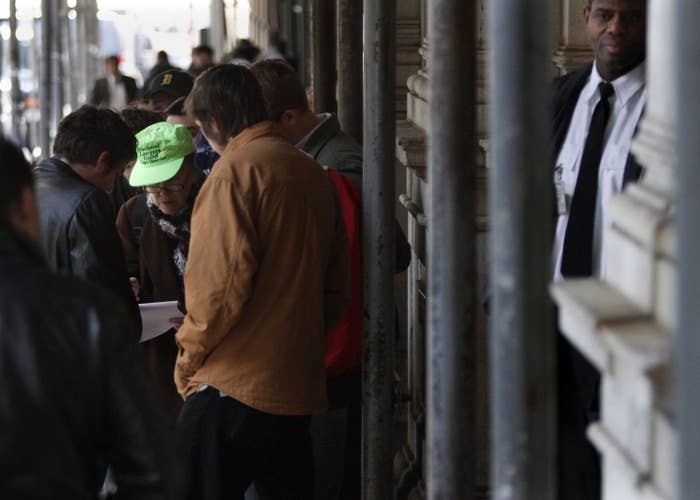 WASHINGTON — More than 250 lawyers, law students, and other volunteers from across the United States are planning to fan out across Washington, DC, during President-elect Donald Trump's inauguration weekend to document arrests and potential abuses of protesters — and to go to court if needed.
After two relatively conflict-free inaugurations during the Obama years, tens of thousands of demonstrators are expected to descend on DC to protest Trump. The National Lawyers Guild, a progressive bar association, is organizing the 250-plus legal observers, and the guild and other lawyers are running "know your rights" trainings and fielding phone calls from protesters about the types of activities that will, or will not, lead to arrest.
Ann Wilcox, a lawyer in Washington and veteran legal observer at mass demonstrations, estimated that about half as many observers and legal support volunteers were deployed during President George W. Bush's inaugurations in 2001 and 2005.
There's been an outpouring of interest since the election from lawyers who want to pitch in, said Mark Goldstone, a lawyer in Washington who represents protesters and has worked as an observer. The volunteers this year include lawyers who have never worked on protest cases or First Amendment law but want to support the demonstrations, he said.
"The legal community is coming out in a way that I have never seen," Goldstone said.
Legal observers don't intervene in arrests, provide legal advice, or participate in protests. Their job is to take notes and record video or audio of whatever is happening on the ground. That documentation can be used in court if protesters are arrested or bring civil rights lawsuits against law enforcement, and observers are sometimes called in to testify as witnesses.
Lawyers will be standing by to answer calls from protesters if there are arrests. They'll track protesters as they're processed by police and provide free representation in court if cases go that far. Some protesters have vowed to try to block inauguration attendees from entering security checkpoints, or to otherwise disrupt the day's festivities, setting up potential clashes with police.
"We're going to try to help as many folks as we have the resources to do, but it is hard to predict, in particular this year, what it's going to look like," said Jeffrey Light, a lawyer in Washington working with the anti-Trump protest group DisruptJ20. Light will spend inauguration day at his office, working with about 20 volunteers to handle calls from protesters in shifts.
Maggie Ellinger-Locke, a lawyer in Washington and National Lawyers Guild coordinator, said the guild will send out observers at the request of certain groups. She declined to identify the protesters asked for legal observers on Friday, but confirmed that the organizers of the Women's March on Saturday had asked for them.
Lawyers expect the Women's March, which is permitted, to be quieter in terms of encounters with law enforcement than some of the demonstrations planned for inauguration day.
The National Lawyers Guild has been organizing legal observers at mass demonstrations since 1968. Guild lawyers and volunteers typically wear lime green hats, making them recognizable in a crowd. Ellinger-Locke said volunteers at Trump's inauguration will be wearing the hats, or green arm bands or t-shirts.
DisruptJ20 has been mostly open about its plans for Friday, which include blockading checkpoints and staging demonstrations at locations around downtown Washington. They have permits for some, but not all, of their activities. Light said he has been training DisruptJ20 protesters about the legal issues that come with staging a demonstration in DC — what happens after an arrest, who the local prosecuting agencies are, and what's legal and illegal during a demonstration — but he isn't involving in their planning decisions. He won't tell a protest group that they can or can't do something.
"There have been cases around the country where planners, not necessarily lawyers, but planners in various capacities have been charged with conspiracy, and I want to stay far clear of anything that looks like that," Light said.
Light worked with protesters during the 2001 and 2005 inaugurations, and said that one element that's different now is the fear of clashes between between anti-Trump protesters and Trump supporters. Given the tenor and outbursts of violence at some of Trump's rallies during the campaign, Light said he and other lawyers are prepared to provide legal support on that front as well.
There's been a flurry of legal activity over the past two weeks as demonstrators protested at confirmation hearings in the US Senate for Trump's cabinet nominees. Goldstone said that at least 50 protesters have been arrested so far and are due in court for an initial appearance the week after the inauguration. Goldstone has nicknamed it the "festival of resistance."
"People are coming out into the streets in unprecedented numbers and organizing and sitting in and getting arrested," Goldstone said.