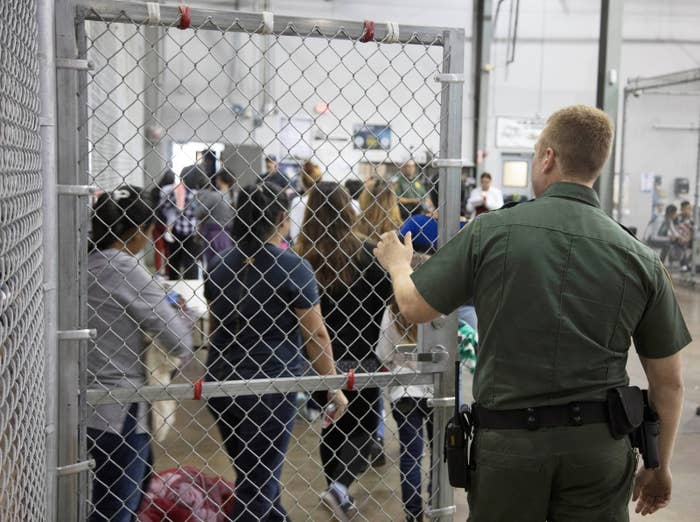 As the Trump administration faces growing public and political backlash over the separation of families at the US–Mexico border, another front is opening up in the courts.
A Guatemalan woman who crossed into the United States in May seeking asylum filed a lawsuit Tuesday in federal court in Washington, DC, challenging her separation from her 7-year-old son. The case is believed to be the first lawsuit challenging family separations since Attorney General Jeff Sessions announced a "zero tolerance" policy in April, directing US Attorneys Offices to pursue all alleged illegal entry cases referred by the US Department of Homeland Security.
Lawyers for the woman, who is no longer in federal custody, filed an emergency motion Tuesday night seeking a temporary restraining order that would require federal authorities to release her son from detention. "No one, except a parent, can fully
understand the anguish Ms. M. has suffered, and continues to suffer, at the loss of her child," her lawyers wrote.
New York Gov. Andrew Cuomo announced Tuesday that New York planned to file a "multi-agency lawsuit" against the administration alleging family separations are unconstitutional; no case has been filed yet.
Under the zero tolerance policy, the Trump administration has been separating children from their parents. According to the Department of Homeland Security, nearly 2,000 children have been separated from their parents in the first six weeks; as BuzzFeed News reported yesterday, immigration authorities do not have plans to immediately reunite families after criminal illegal entry cases are resolved.
The American Civil Liberties Union is separately pursuing a proposed class action in federal court in California challenging the separation of families in immigration detention. That case was filed in March, before the zero tolerance policy was announced, but the ACLU is seeking a nationwide preliminary injunction to stop separations while families are in immigration detention, absent a finding that a parent is unfit or poses a danger to the child; the ACLU has asked for an order that would apply to separations that occurred after the zero tolerance policy was announced.
In McAllen, Texas, a federal magistrate judge is weighing whether to order the government to reunite families after a parent has been sentenced in a criminal illegal entry case to the time they've already served in jail, and are now in immigration detention. The next hearing in that case — a criminal case involving a Guatemalan woman who pleaded guilty to illegal entry and was sentenced to time-served — is scheduled for June 21.
The latest lawsuit, filed in the US District Court for the District of Columbia, is not a class action — it only seeks relief for the plaintiff, Beata Mariana de Jesus Mejia-Mejia, and her son, referred to as "D.M." But a ruling against the government could fuel other similar lawsuits going forward. The lawsuit was first published by DailyMail.com; the complaint is not publicly available via the court's online docket, but was later provided to BuzzFeed News by a representative for de Jesus Mejia-Mejia.
According to the lawsuit, de Jesus Mejia-Mejia and her son crossed the US–Mexico border on May 19, arriving in Arizona; they did not enter the country through an official port of entry. When they were approached by border agents, de Jesus Mejia-Mejia says she told them she was seeking protection from the US government because of "severe violence and threats of death" she and her son had experienced in Guatemala, including from her husband. Sessions earlier this month issued a decision restricting immigration judges from granting asylum to victims of domestic violence; it was not immediately clear how this could affect de Jesus Mejia-Mejia's case.
De Jesus Mejia-Mejia and her son were initially detained together, according to the lawsuit, but two days later they were separated. De Jesus Mejia-Mejia claims she tried to object and was given no explanation for the separation. The child "was screaming and crying and did not want to be taken away from his mother," de Jesus Mejia-Mejia's lawyer wrote in the complaint.
De Jesus Mejia-Mejia was never indicted on criminal charges, according to the lawsuit. The day after passing her initial "credible fear" screening by an asylum officer, de Jesus Mejia-Mejia says she was allowed to speak with her son by phone, and she heard him crying. De Jesus Mejia-Mejia was released from detention on bond June 15, but has not been reunited with her son; according to the lawsuit, he is believed to be held at a facility in Phoenix managed by the Office of Refugee Resettlement, which oversees the immigration detention of children. (De Jesus Mejia-Mejia received bond assistance from immigration bonding company Libre by Nexus, and her attorney works for a law firm funded by Nexus Services Inc., which is Libre by Nexus' parent company; Libre by Nexus is currently suing BuzzFeed News.)
De Jesus Mejia-Mejia's lawyers are arguing that the separation violates the Fifth Amendment's due process protections — the ACLU is making a similar argument in its case in California — as well as international agreements that the United States has signed.
Representatives of the Department of Homeland Security and Office of Refugee Resettlement declined to comment.

UPDATE
Updated with information about Libre by Nexus' involvement in the DC case.
UPDATE
Updated with information about the status of a criminal case in McAllen, Texas.
UPDATE
Updated with information about a motion for a temporary restraining order filed in de Jesus Mejia-Mejia's case.
UPDATE
Updated with additional information about de Jesus Mejia-Mejia's lawsuit.