Lawsuit Accuses Baton Rouge Police Of Excessive Force During Protests Over Alton Sterling's Death
Protesters say they were unlawfully arrested during peaceful demonstrations after Alton Sterling was fatally shot in an altercation with police in Baton Rouge, Louisiana.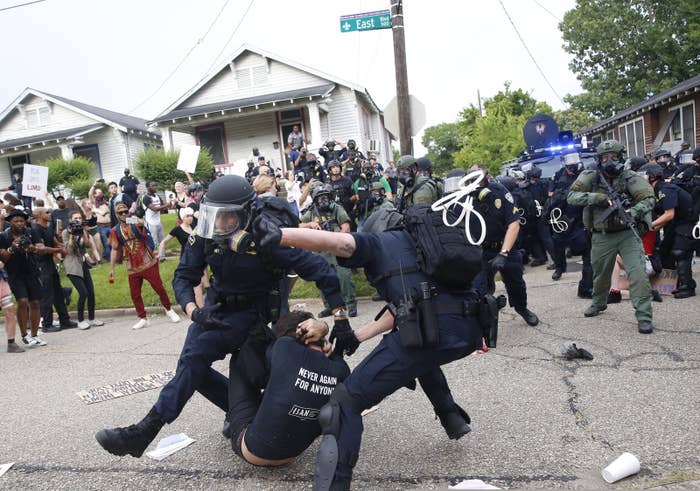 Protesters and reporters arrested during demonstrations in Baton Rouge, Louisiana, after the fatal shooting of Alton Sterling in 2016 filed a lawsuit on Sunday, accusing police of excessive force and civil rights violations.
Mass demonstrations broke out in Baton Rouge after Sterling, a 37-year-old black man, was killed on July 5, 2016, during an altercation with two white Baton Rouge police officers. According to local prosecutors, 185 people were arrested during protests that took place over the following week.
The plaintiffs suing Baton Rouge and other Louisiana law enforcement agencies include 13 people who said they were protesting peacefully when they were arrested on July 10, 2016, and two reporters who said they were arrested while covering the demonstrations.
"Armed officers in riot gear and gas masks, flanked by an armored vehicle and a military-grade acoustic weapon, descended on peaceful protestors who were standing on private property," William Most, a lawyer for the plaintiffs, said in a statement to BuzzFeed News. "The police arresting you for speaking out against the police is the very thing the First Amendment is supposed to prevent."
The lawsuit, filed in the US District Court for the Middle District of Louisiana, accuses police of giving confusing orders to protesters before making arrests. The plaintiffs said they had complied with orders to get out of the street by moving to the lawn of a woman who gave them permission to be on her property. Officers then gave orders to disperse, according to the lawsuit, but the protesters said they were surrounded and couldn't leave.
Police moved in and made mass arrests, sweeping up not only protesters but journalists and legal observers as well, according to the complaint. The plaintiffs accused officers of throwing people to the ground and pinning them down as they handcuffed them with plastic zip ties.
Several days after the demonstrations, the East Baton Rouge District Attorney's Office announced it would not prosecute approximately 100 of the 185 people arrested on misdemeanor charges. The status of the remaining cases was not immediately made clear.
The two journalists who joined the lawsuit said they were taking photos and documenting the protests when they were arrested. One reporter with the Juvenile Justice Information Exchange said that after she identified her occupation, an officer said, "Fuck you, journalist."

The lawsuit accuses police officers of First Amendment violations, false arrests based on prewritten "boilerplate" affidavits, excessive force, and causing emotional distress, among other claims. The lawsuit also claims that the alleged violations were the result of policies and practices within the law enforcement agencies. The plaintiffs in the suit are seeking unspecified monetary damages, as well as a court order halting the police policies and practices at issue.
The Baton Rouge Police Department and the Louisiana State Police declined to comment on the suit. Other agencies named in the suit, including the East Baton Rouge Parish Sheriff's Office, the Louisiana Sheriff's Association, and the Baton Rouge city and parish governments did not respond to BuzzFeed News' request for comment.
In the immediate aftermath of the July 2016 protests in Baton Rouge, the American Civil Liberties Union and other civil rights lawyers filed a lawsuit accusing Baton Rouge law enforcement agencies of violating protesters' constitutional rights. The plaintiffs dismissed the case later that year after reaching a "memorandum of understanding" with Baton Rouge officials outlining the rights of protesters at future demonstrations.
The latest lawsuit comes two months after the US Department of Justice announced that it had closed its investigation into Sterling's death, and that no federal criminal charges would be brought against the officers involved.
According to the Justice Department's findings, released in May, the officers involved in Sterling's death were responding to a 911 caller who said he was threatened by a black man, wearing a red shirt and selling CDs, who had pulled a gun out of his pocket. When police responded to the scene they saw Sterling, who matched the caller's description.
A struggle ensued between Sterling and the officers after he did not comply with an order to place his hands on the hood of a car, the Justice Department said. As the officers tried to pin him down, one yelled that Sterling was reaching for a gun, and then shot him three times in the chest. When Sterling continued to move, the same officer shot him three times in the back. One of the officers removed a loaded revolver from Sterling's right pocket.
Two witnesses reported that Sterling's right hand — an officer had been kneeling on his left arm — was not in his pocket, but the Justice Department prosecutors investigating the case found inconsistencies in those accounts.
Sterling's death was one of a series of police-involved fatalities in recent years to have spurred nationwide protests against police violence and a national dialogue about race relations and police practices.
On Friday, a police officer who was injured in an ambush shooting in Baton Rouge last year filed a lawsuit against Black Lives Matter and individual activists, accusing them of inciting violence against police.

A demonstration last week marked the one-year anniversary of Sterling's death. According to police, seven people identified as members of the New Black Panther Party — a black separatist group described by the Southern Poverty Law Center as a "virulently racist and anti-Semitic organization" — were arrested during a clash with police.
UPDATE
Updated with information about attempts to contact Baton Rouge and Louisiana law enforcement agencies about the lawsuit.