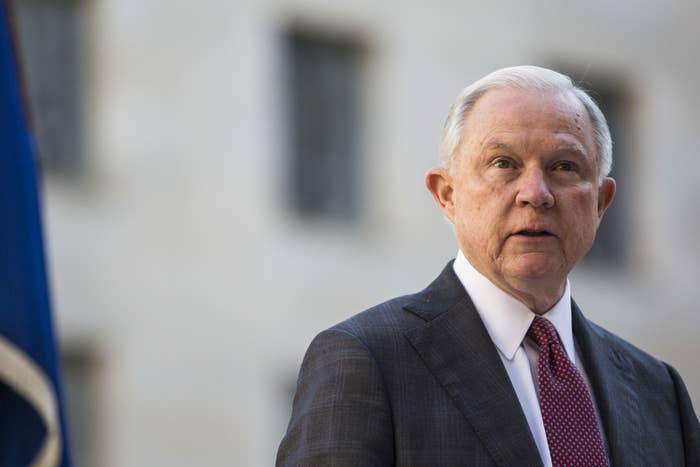 Attorney General Jeff Sessions called for a "national re-commitment to free speech on college campuses" Thursday, saying the Justice Department would begin entering into campus free speech cases.
Sessions sharply decried American universities for suppressing free speech, saying they had wrongfully created ideological "echo chambers" and allowed protesters to shut down speakers they disagreed with using threats of violence.
His speech comes days after President Trump sharply criticized NFL players who kneel during the national anthem, calling them "sons of bitches" and demanding the league fire them.
"The president has free speech rights too," Sessions said of the controversy, defending Trump. "Of course, the players aren't, subject to any prosecution, but if they take a provocative act then they can be condemned, and the president has a right to condemn them."
As Sessions spoke Tuesday, students and faculty at Georgetown Law School filled the steps of the building outside, saying they had been prevented from attending Sessions' speech and asking questions of Trump's top justice official.

"Freedom of thought and speech on the American campus are under attack," Sessions told a small crowd of students that had been hand-picked by a campus group, the Georgetown Center for the Constitution, to attend the speech.
Sessions skewered incidents that erupted last year at Middlebury University and the University of California at Berkeley, singling out protesters who he said were "now routinely shutting down speeches and debates across the country in an effort to silence voices that insufficiently conform with their views."
He drew a comparison between protestors at Middlebury and the "detestable Ku Klux Klan," saying their wearing of masks was a "common tactic" used by the KKK. Middlebury protestors shut down a conversation last year with the scholar Charles Murray, who wrote a much-criticized book on racial differences in IQs.
Sessions said the Justice Department would file a brief supporting a campus Christian group whose speech he said had been suppressed at a Georgia college, and that it planned to enter into other campus free speech cases. DOJ attorneys filed a statement of interest on Thursday in the case that Sessions was referring to, backing the claims of two students at Georgia Gwinnett College who said they were unconstitutionally blocked from speaking and distributing literature about religious subjects.
A speaker told protesters outside, who held signs calling Sessions a "snowflake," that dissenters were being "confined to a free speech zone" during Sessions' speech. "An opportunity to express our freedom of speech today was taken from us," the speaker said. "So we're taking it back."
Information provided to BuzzFeed News showed that students had been disinvited from attending the speech, something a Georgetown Law spokeswoman said had been because of an error.
Spokeswoman Tanya Weinberg said in an email that the school had followed a policy allowing the hosting organization — in this case, the Center for the Constitution — to determine the guest list for events. The room where the attorney general spoke Tuesday was only partially filled, with dozens of seats sitting empty in the wings and balcony.
A group of faculty echoed protests by NFL players over the weekend, taking a knee directly outside the auditorium where Sessions spoke in what they said in a letter was a protest against "chilling of speech" by Sessions and the the Trump administration.
The faculty letter decried Trump's "hypocrisy" in denouncing the protests by NFL players, as well as Sessions' decisions to prosecute a woman who allegedly disrupted his confirmation hearing, and a demand for information about protests against Trump on Inauguration Day.
Alicia Plerhoples, one of the Georgetown Law professors who signed the letter of protest, told BuzzFeed News in an email that more faculty have been signing onto the letter since it first circulated. The letter was first reported by the Huffington Post.
"We are not protesting his free speech; our colleague had every right to invite him to speak. We are protesting against his and the Trump Administration's views on free speech," she said.
This is a developing story. Check back for updates.