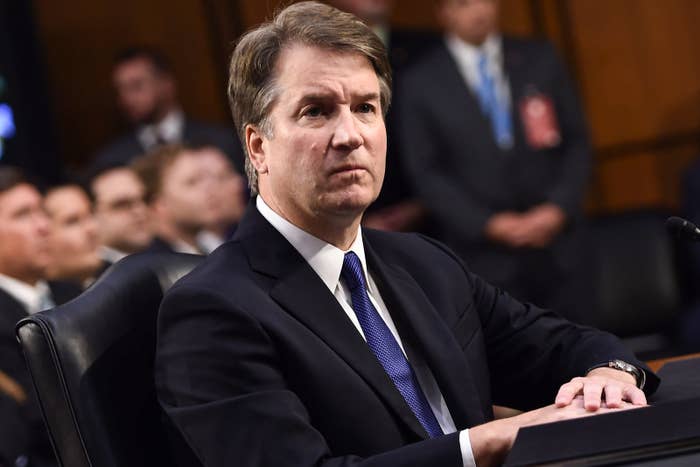 US Supreme Court nominee Judge Brett Kavanaugh's confirmation hearing began with chaos on Tuesday, with Democratic senators unsuccessfully arguing to delay the hearing and protesters causing commotion before being removed by police.
Senate Judiciary Committee Chair Chuck Grassley was just a few words into opening the hearing when Sen. Kamala Harris jumped in to ask about the production the day before of 42,000 pages of documents related to Kavanaugh's tenure in the White House under former president George W. Bush.
One by one, Democrats argued they hadn't been given enough time to go through the voluminous paper record of Kavanaugh's career, including the latest production of documents, or to review the Trump administration's decision to withhold 100,000 Bush-era documents as privileged.
"What is the rush? What are we afraid of?" Sen. Cory Booker asked.
When opening statements did finally begin, Democrats laid out the legal questions they would be focused on in the coming days — including his views on Roe v. Wade; the role of conservatives on the Supreme Court in siding with corporate interests in closely divided cases; and Kavanaugh's role as Trump's nominee, both in terms of the nominee's views on executive power and the legal questions surrounding the president.
Unless Republicans decide to oppose Kavanaugh, however, Democrats don't have the votes to block Kavanaugh from being confirmed. While Kavanaugh's hearing was underway, Arizona Gov. Doug Ducey announced he would appoint former senator Jon Kyl to temporarily fill the late senator John McCain's seat in the US Senate; Kyl has been serving as Kavanaugh's "sherpa," guiding him through meetings with senators in the weeks after the nomination was announced.
The fight over documents has given Democrats fodder to argue for delays, but it's up to Grassley to decide how to run the committee proceedings. During the first part of the hearing, Sen. Richard Blumenthal repeatedly made a motion to adjourn the hearing. Grassley said that request was out of order. When Democrats asked to go into executive session to consider Blumenthal's motion, Grassley said that request, too, was out of order. Grassley said he would give Democrats time to speak, but warned that it can get "pretty boring" to hear the same thing over and over again.
An hour and a half after Harris's initial interruption, the hearing appeared to be back on track, with Grassley and Sen. Dianne Feinstein delivering their opening statements.
President Donald Trump lashed out at Democrats late in the day as the hearing was wrapping up, tweeting that the proceedings "are truly a display of how mean, angry, and despicable the other side is."
Kavanaugh sat quietly at the witness table as the senators argued among themselves. At Grassley's invitation, he briefly introduced his family amid the Democratic objections. At the end of the day, he delivered his opening statement, thanking the 65 senators who met with him leading up to this week's hearings and praising Trump for his "careful attention to the nomination process and by his thorough consideration of potential nominees."

"Our independent judiciary is the crown jewel of our constitutional republic. In our independent judiciary, the Supreme Court is the last line of defense for the separation of powers, and for the rights and liberties guaranteed by the Constitution," Kavanaugh said in his prepared remarks.
Throughout the morning, protesters in the gallery yelled out and were then removed from the room. According to US Capitol Police, 61 people were removed from the hearing room on Tuesday and charged with disorderly conduct. Nine people were also removed from the Dirksen Senate Office Building for what police described as "unlawful demonstration activities," and charged with crowding, obstructing, or incommoding. Both crimes are misdemeanors under local law in Washington, DC, and have a maximum sentence of 90 days in prison.
During one such disruption during the hearing, Sen. Orrin Hatch said the "loudmouth" should be removed from the room.
"Mr. Chairman, I don't know that the committee should have to put up with this type of insolence that's going on in this room today," Hatch said.
Democrats have opposed Kavanaugh's nomination since even before he was announced as President Donald Trump's pick to replace retired Justice Anthony Kennedy, pointing to the fact that special counsel Robert Mueller's investigation into Trump's campaign is ongoing. Leading up to the hearing, Democrats and Republicans have sparred over how Senate Republicans, the White House, and the Justice Department have handled the collection and dissemination of records from the years that Kavanaugh spent in the Bush administration.
Sen. Patrick Leahy, a former chair of the judiciary committee, said in his opening remarks that the events surrounding Kavanaugh's hearing were "not only shameful, it's a sham."
"I never thought the committee would sink to this," Leahy said. "In fact, he shouldn't be sitting in front of us today. He should be sitting in front of us only after we've completed a review of your record ... In critical ways the committee is abandoning its tradition of exhaustively vetting Supreme Court nominees."
Over objections from Democrats, Grassley made a request to the George W. Bush Presidential Library, which is part of the National Archives and Records Administration, for records from Kavanaugh's time in the White House Counsel's office from 2001 to 2003, but not from when Kavanaugh served as staff secretary to the president from 2003 to 2006, when Kavanaugh was confirmed to the US Court of Appeals for the DC Circuit.
Grassley said that documents had been withheld for previous Supreme Court nominees because senators agreed it wouldn't be appropriate to ask for them, such as records from Justice Elena Kagan's time working for then-senator Joe Biden, from Justice Ruth Bader Ginsburg's time as a lawyer for the American Civil Liberties Union, and Justice Sonia Sotomayor's time in private practice. It can't be that the ACLU and the Senate "receive more protections than the president of the United States," Grassley said.
Democrats have countered that Kavanaugh's tenure in the White House, including his role in controversial events throughout the Bush administration, is relevant to vetting his record. Sen. Sheldon Whitehouse noted there hadn't been an official assertion of executive privilege by Trump regarding more than 100,000 pages being withheld from the committee, so the Senate couldn't review if the decision to withhold documents was appropriate.
As for the Monday production of 42,000 pages, Grassley said the Republican committee staff had already gone through all of them by 11 p.m. that evening. Sen. Sheldon Whitehouse said by his math, that would mean staffers read 7,000 pages per hour, which would be "superhuman."
Whitehouse, a lawyer, said he would be "hard-pressed" to find a court that wouldn't grant a request to postpone a hearing when one side did a "document dump" on the eve of trial. That prompted Sen. John Cornyn, a former judge, to retort that Democrats would be held in contempt if they acted this way in court, which prompted Leahy to respond, "Oh, come on." Cornyn, though, said the hearing was being conducted by "mob rule."
Later, in his opening statement, Sen. Dick Durbin responded to Cornyn's comment, saying of the morning's commotion, "What we've heard is the noise of democracy. It is not 'mob rule.'"
Grassley seemed to take umbrage at the notion that he was losing control of the hearing, noting that Democrats had praised him for his "fair" handling of Justice Neil Gorsuch's confirmation hearing last year.

"This is something I've never gone through before in 15 Supreme Court nominations," Grassley said.
As the opening statements finally got underway, the ranking Democrat on the committee, Sen. Dianne Feinstein, made clear the central focus that the future of Roe v. Wade will play in the Democrats' questioning in coming days — detailing Kavanaugh's opinion in the recent case about an undocumented minor's effort to secure an abortion and describing her own experience as a woman dealing with laws before the Supreme Court's landmark 1973 ruling.
Sen. Ted Cruz, however, said that "Democratic obstruction" was based on efforts to "relitigate" the George W. Bush administration through their attempts to secure records from Kavanaugh's service in the Bush White House and, more importantly, to "relitigate the 2016 election" — in which, he said, the Supreme Court, and specifically filling Justice Antonin Scalia's seat, was a key focus of the campaign.
Whitehouse in his opening remarks made clear that he would be focusing on both substantive and process-oriented questions in coming days, detailing 5-4 votes of the Supreme Court in which the conservative justices — the "Roberts Five," as he put it — sided with corporate interests and the key role the the Federalist Society has played in Trump's selection of justices.
When Sen. Lindsey Graham had his turn — the last senator to go on Tuesday — he pushed back against Democrats for their focus on Kavanaugh's background, saying, "This is shaping up to be the hypocrisy hearing, and that's hard to do in the Senate in today's time, to be hypocritical."
Specifically, referencing President Bill Clinton's nominees, Graham said, "[I]t didn't bother anybody for Clinton to nominate [Stephen] Breyer while he was under investigation. ... Didn't bother any of y'all that Ted Kennedy's staff person was his pick. It didn't bother me either, because that's who I expect you to pick. This is ridiculous. You're one of the best choices any Republican could make."
Sen. Cory Booker suggested Trump had chosen Kavanaugh because of the judge's past writings on presidential power and whether presidents should be shielded from criminal and civil legal action while in office. Booker noted that Kavanaugh was a late addition to Trump's shortlist of Supreme Court candidates — Kavanaugh was one of five names added in November — at a time when special counsel Robert Mueller's investigation was well underway.
Before Kavanaugh spoke, he was introduced by former secretary of state Condoleezza Rice and Sen. Rob Portman — both former colleagues in the Bush administration — as well as veteran appellate litigator Lisa Blatt. Blatt, a self-described "liberal Democrat" who said she voted for Hillary Clinton and considers Justice Ruth Bader Ginsburg a hero, said she nevertheless supports Kavanaugh's nomination.
"If it were up to me, Justice Ginsburg would have all nine votes, but that's not our system, and the reality is, that the presidency and the Senate are in Republican hands," Blatt said. "Judge Kavanaugh is the best choice that liberals could reasonably hope for in these circumstances."
The hearing will continue Wednesday with questions from the senators.