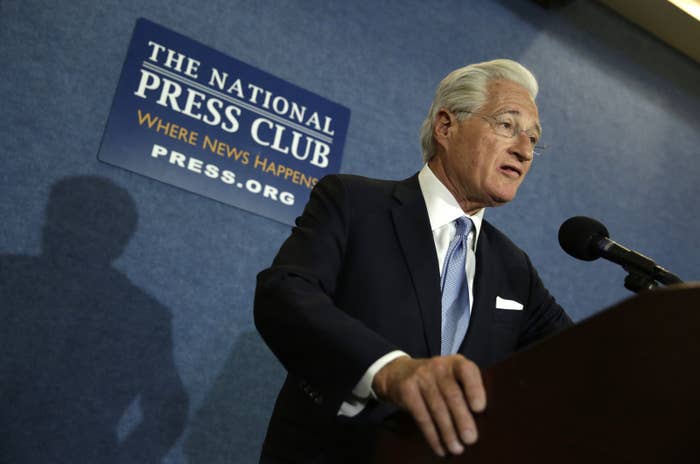 President Donald Trump's personal lawyer, Marc Kasowitz, plans to file a misconduct complaint against James Comey for asking a friend to release the contents of memos documenting Comey's conversations with the president to the press, a source close to Trump's legal team told BuzzFeed News on Friday.
Kasowitz intends to file a complaint with the Justice Department's Office of the Inspector General within the next few days, the source said. Kasowitz will also submit a letter to the Senate Judiciary Committee about Comey's testimony and "other matters," the source said.
In testimony on Thursday before the Senate Select Committee on Intelligence, Comey described taking notes about a series of one-on-one conversations he had with the president over the course of several months. After he was fired in early May, Comey said he arranged for a friend, a professor at Columbia Law School later confirmed to be Daniel Richman, to share the contents of at least some of the memos with the press.
Comey said that at least some of the notes — including a memo that described a Feb. 14 conversation in which the president allegedly talked about the investigation into former national security adviser Michael Flynn and said he hoped Comey could "let this go" — did not contain classified information. He testified that he decided to share the memo after seeing the president tweet about the possible existence of tapes of their conversations.
"I woke up in the middle of the night on Monday night, because it didn't dawn on me originally that there might be corroboration for our conversation. There might be a tape," Comey said. "And my judgment was, I needed to get that out into the public square. And so I asked a friend of mine to share the content of the memo with a reporter. Didn't do it myself, for a variety of reasons. But I asked him to, because I thought that might prompt the appointment of a special counsel."
In a statement on Thursday in response to Comey's testimony, Kasowitz accused Comey of leaking "privileged information" to the press. Kasowitz did not elaborate on why he believed the memos would have been covered by executive privilege. The White House announced on June 5 that Trump would not invoke executive privilege around Comey's Senate testimony, although that was before Comey's prepared remarks, which discussed his memos, were released on June 7 in advance of the hearing.
"We will leave it the appropriate authorities to determine whether this leaks [sic] should be investigated along with all those others being investigated," Kasowitz said.
The inspector general's office investigates fraud, waste, and other misconduct by Justice Department employees, including those at the FBI — and it can investigate employees and officials who are no longer working for the department. The inspector general's office doesn't have the authority to hand down punishment, but can submit its findings to relevant offices across the Justice Department. If it finds evidence of illegal activity, the inspector general's office can present the case to prosecutors, who would decide whether to proceed with a criminal case.

There's already been some pushback on Kasowitz's privilege claim. Stephen Vladeck, a national security expert and professor at the University of Texas School of Law, wrote in a Washington Post op-ed that executive privilege is a "powerful protection" against the forced disclosure of executive branch communications.
"Executive privilege is an important shield to protect the president's power. It is not a sword, though. So where a current or former government employee wants to cooperate and turn over the requested information, the privilege itself won't — and can't — stop him or her," Vladeck wrote.