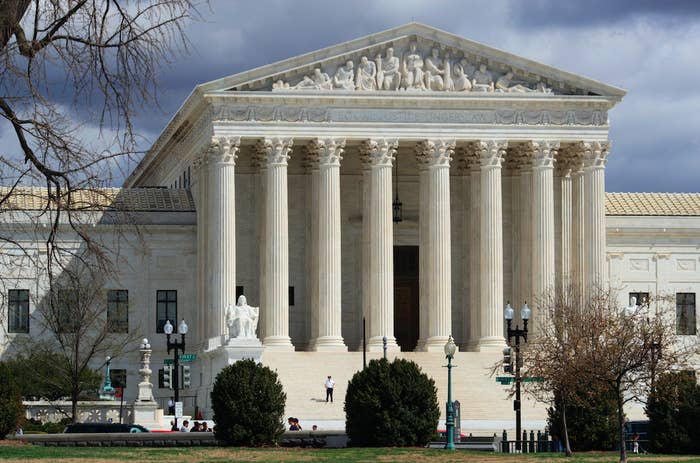 WASHINGTON — On Oct. 1, 1984, Catherine Fuller was killed in an alley a few blocks from her home in northeast Washington, DC. More than a dozen people were indicted in connection with the murder, and — more than 30 years later — the US Supreme Court heard arguments over whether prosecutors withheld information from the defense that could have changed the outcome of the trial.
Arguments on Wednesday focused on the facts of the Fuller case, with the justices delving into the finer points of the evidence, but the case could result in a decision with broader implications for how courts decide if prosecutors violated their obligation to turn over favorable information to defendants in criminal cases.
Prosecutors must turn over information that could help a defendant. But it's up to prosecutors to decide what evidence falls under that umbrella. And when defendants later accuse prosecutors of failing to meet that obligation, they also have to show that the evidence could have changed the outcome of the case, which can be difficult to prove. A federal appeals judge wrote in an unrelated case in 2013 that there was an "epidemic" of prosecutors violating their disclosure obligations, which stem from the 1963 Supreme Court decision Brady v. Maryland.
Fuller's murder in 1984 received extensive news coverage at the time. The prosecution's theory at trial was that a gang of young men and women forced the 48-year-old Fuller into an alley, fatally beating her and also sodomizing her with an object that police never recovered.
Eight of the 13 people indicted in connection with the murder were convicted of first-degree murder at trial, three others pleaded guilty to lesser charges, and two were acquitted. The eight defendants convicted of first-degree murder maintained their innocence over the years, and the seven who are still alive pressed challenges, eventually making their way to the Supreme Court. All but one are still in jail — although even he has continued to press his challenge while on parole.
The justices on Wednesday focused on the argument that prosecutors wrongly withheld information from defense lawyers about another man, James McMillan, who was seen in the alley around the time that Fuller's body was discovered and was reportedly acting in a suspicious manner. McMillan carried out violent robberies in the same area shortly after Fuller was killed.
The justices probed how much of a difference it would have made if defense lawyers argued an alternative perpetrator theory at trial that centered on McMillan. Justice Ruth Bader Ginsburg asked why it would matter that McMillan had a criminal history when some of the defendants did as well. John Williams, arguing for the defendants, said that McMillan's criminal history was more on-point because they involved violent attacks on middle-aged women in the same neighborhood.
Justice Anthony Kennedy questioned the logic of McMillan staying around the alley if he was Fuller's killer.
"If you commit a murder, you don't hang around for an hour," Kennedy said.
Williams replied that McMillan was not "shrewd and sophisticated."
"Criminals are not clever," he said.
Justice Samuel Alito Jr. said it seemed like a "pretty substantial burden" for the defendants to convince a jury to accept an alternative perpetrator theory and conclude that the multiple witnesses who testified about a group attack were lying. Williams replied that there was "a reasonable probability that the jury would have had reasonable doubt," which is the standard.
Deputy US Solicitor General Michael Dreeben told the justices that they could have "confidence in these convictions." The evidence supporting the theory of an alternative perpetrator was weak and speculative, he said, and prosecutors at trial put forward multiple witnesses who testified about a group attack, even if the details of their accounts differed at times.
Ginsburg said there was no way to know how a jury would have reacted to the information about McMillan. The standard, she said, was not whether a jury would believe it, but rather if they could believe it. Dreeben replied that even if the evidence gave a juror some reasonable doubt, that was not the same as undermining their confidence to the point of rejecting the group attack theory.
Justice Elena Kagan wondered why there weren't more uninvolved witnesses, given that the attack took place near a busy street in the afternoon. Dreeben said police did their best to search for witnesses, but he suggested that "community fear" probably kept people from coming to the police.
It was "regrettable" that there weren't more witnesses, Dreeben told Kagan, but frequently in criminal cases the only people who know what happened are those involved.