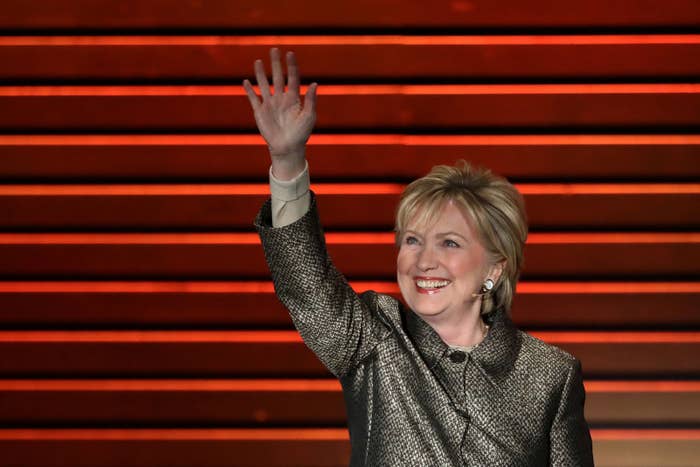 Six months after Hillary Clinton lost the election, the Trump Justice Department is carrying on the Obama administration's fight to block access to records about her use of private email and mobile devices when she was Secretary of State.
A handful of lawsuits seeking Clinton's emails or government records related to the controversy are still ongoing, and DOJ has continued to argue that some information — redacted sections of Clinton's emails with David Petraeus, for instance, and records of discussions at the State Department about Clinton and her staff's use of personal devices for government business — should stay secret.
These cases put the Justice Department at odds with Judicial Watch, a conservative government watchdog group that has aggressively pursued public records cases against the State Department in connection with the Clinton email controversy. Judicial Watch attorney James Peterson told BuzzFeed News that they had hoped the Trump administration would take a different approach in handling the remaining cases, but they haven't seen any change so far.
"We were hopeful that there would be improvement — as of yet, there has not," Peterson said. "But we're still hopeful."
A Justice Department spokeswoman did not return a request for comment. Attorney General Jeff Sessions said during his confirmation hearing in January that he would recuse from any investigation into Clinton's emails, in light of his criticism during the campaign of her use of a private server. His response didn't explicitly address whether he'd recuse from civil cases related to the email issue. If Sessions is recused, that would put Deputy Attorney General Rod Rosenstein in charge of the public records cases.
Clinton isn't the only Obama-era official whose use of private email is now the Trump administration's problem in the public records arena. DOJ is still litigating over access to former Homeland Security Secretary Jeh Johnson's private email account, and the Department of Defense earlier this month got hit with a new case seeking information about former Defense Secretary Ashton Carter's use of private email.
At a hearing in federal court in Washington earlier this week, a DOJ lawyer argued that Judicial Watch's request for records relating to Johnson's use of private email for official government business wasn't specific enough, and would prove burdensome to fulfill. The lawyer said Johnson found emails in his account that were likely federal records, and the government hoped to negotiate a resolution with Judicial Watch, but he reiterated the department's opposition to the group's request.
The continuity in the Justice Department's handling of the Obama-era Freedom of Information Act cases could be explained, at least in part, by the fact that the Trump administration hasn't issued new guidelines about how agencies should handle public records requests, said Margaret Kwoka, a FOIA expert and professor at the University of Denver Sturm College of Law.
Previous attorneys general set the tone on FOIA at the start of new administrations by issuing a memorandum outlining their approach, Kwoka told BuzzFeed News. Obama's first attorney general Eric Holder did that in March 2009, and President George W. Bush's first attorney general John Ashcroft did it in October 2001. Sessions has yet to issue such a memo.
Aaron Caplan, a FOIA expert and professor at Loyola Law School, said in an email to BuzzFeed News that DOJ's position in these cases may also be driven by a desire to "maximize governmental privacy," even if it aligns the Trump administration with the interests of the president's former opponent; chants of "lock her up" at Trump rallies last year were rooted in Trump's criticism of Clinton for using a private email server.
"In this particular instance, the instinct for greater governmental secrecy benefits a political opponent of the administration, but the instinct against releasing requested information seems consistent with the administration's overall approach to information policy," Caplan said.
"There's no reason for the Trump administration, any more than the Obama administration, to refuse to take action on releasing Clinton emails."
The Justice Department has filed court papers in several cases since Trump took office in January opposing efforts by Judicial Watch and other groups to get information about Clinton's emails and the broader controversy.

On April 24, lawyers for the government asked a federal judge in Washington to dismiss a case brought by Judicial Watch and another conservative group, Cause of Action, trying to force the Justice Department to take legal action to recover all emails sent to or from Clinton when she was secretary of state. The case was moot, the government said, because there was no reason to believe any additional action would uncover more emails.
DOJ disputed that there were still potential gaps in information that previous searches would have missed, such as emails sent to or from Clinton's BlackBerry before she started using the private clintonemail.com domain; the FBI already tried to search for those, DOJ said. Peterson told BuzzFeed News that Judicial Watch will oppose the motion to dismiss the case.
In March, the Justice Department filed papers defending the State Department's decision to redact information in copies of emails between Clinton and Petraeus that were otherwise made public. DOJ claimed that the deliberative process privilege shielded information in the emails about possible appointees to the State Department and interactions with foreign heads of state.
The Justice Department in that case also defended withholding records about a security clearance investigation of Bryan Pagliano, the former State Department employee who set up Clinton's private email server.
And in February, a few weeks after Trump's inauguration, the Justice Department filed papers continuing to defend the State Department's decision to redact information from documents about Clinton and her staff's use of mobile devices for government business.
Judicial Watch had argued that because the information related to possible government misconduct, it shouldn't be exempt from public disclosure. DOJ countered in its February filing that the fact that State Department officials discussed what electronic devices Clinton and her staff could or could not use wasn't misconduct that could overcome the privilege that shields some records about governmental decisionmaking from the public.
"Plaintiff has provided no evidence that demonstrates that the redactions were related to discussions about violations of the law as opposed to general discussions about secure use of mobile devices," a DOJ lawyer wrote.
Peterson said that even though Clinton lost the election, Judicial Watch will continue to pursue the FOIA cases that are still pending.
"From our perspective, there's no reason for the Trump administration, any more than the Obama administration, to refuse to take action on releasing Clinton emails or Jeh Johnson emails or anything else," he said.