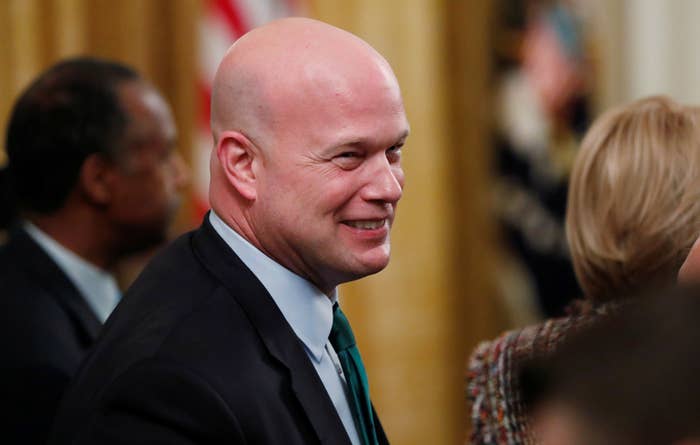 WASHINGTON — More than 400 former Justice Department officials and attorneys have signed a statement saying they're "disturbed" by President Donald Trump's appointment of Matthew Whitaker as acting attorney general.
The list of signatories includes more than 300 former career Justice Department employees who served under both Democratic and Republican administrations, according to Protect Democracy, a government watchdog group involved in organizing the effort. It also includes political appointees, mostly appointed by Democratic presidents.
"Because of our respect for our oaths of office and our personal experiences carrying out the Department's mission, we are disturbed by the President's appointment of Matthew Whitaker to serve as Acting Attorney General," the statement signed by former DOJ officials and attorneys reads. "Mr. Whitaker has not been confirmed by the Senate, his qualifications to be the nation's chief law enforcement officer have not been publicly reviewed, and he has not been fully vetted for any potential conflicts of interest."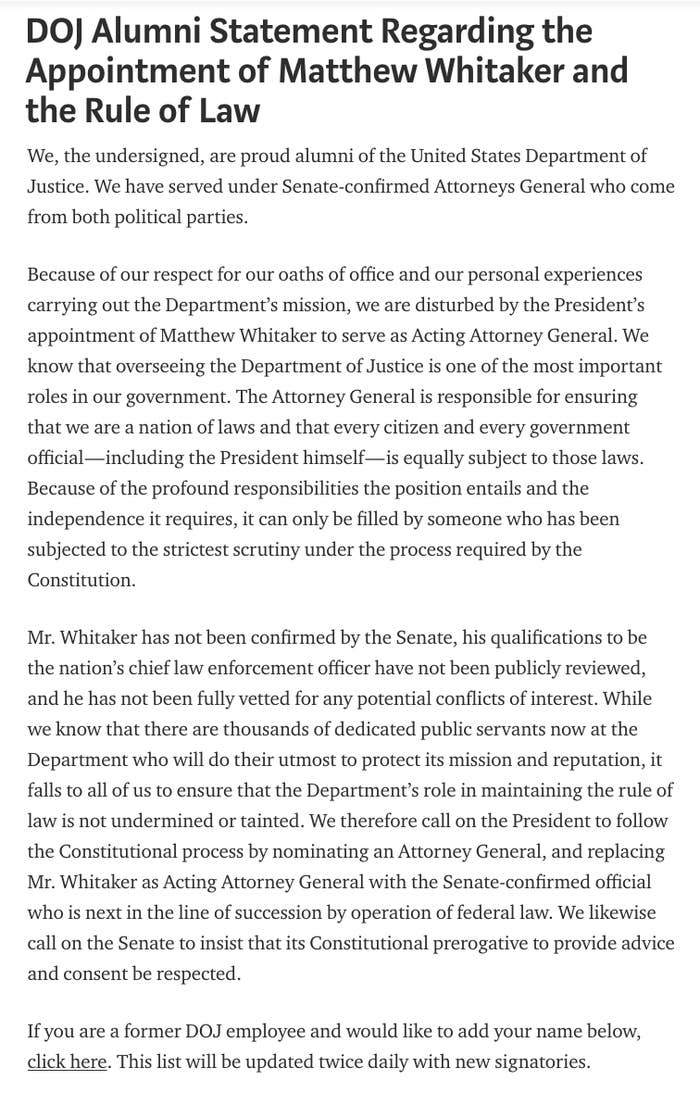 Whitaker took office Nov. 7 after Trump forced out former attorney general Jeff Sessions. Whitaker had been Sessions' chief of staff, but was not in a Senate-confirmed position. Whitaker's appointment is the subject of multiple legal challenges in the federal courts, as well as before the US Supreme Court; the Justice Department has defended it as lawful.
Jill Wine-Banks, a former Watergate prosecutor, said she signed the statement because of concerns not only about how Whitaker was appointed, but about whether he should step aside from any involvement in the investigation into Russian interference in the 2016 election. Whitaker has been critical of the probe in the past.
"I think there are a number of reasons not to support Whitaker and a number of reasons to think he should at least recuse himself," said Wine-Banks, now an MSNBC contributor.
Protect Democracy spokesperson Aditi Juneja said the group first sent out the statement to former Justice Department officials Nov. 29. Roy Austin, a former senior Justice Department official in the Civil Rights Division under the Obama administration, told BuzzFeed News that the statement continued to spread via word of mouth over the past few days among department alumni.
"I don't expect much from this administration but I think the public should know that those of us who served at the Department of Justice care deeply about the institution even though we're no longer there, and I hope the public and Congress demand that the right thing be done," said Austin, now an attorney in private practice in Washington, DC.
Trump has not announced a nominee for attorney general. The statement signed by former DOJ officials calls on the president to choose a nominee and go through the Senate confirmation process. One of the legal challenges to Whitaker's appointment was filed by Democratic senators who argue that the appointment circumvented the Senate's "advice and consent role" on nominees.
A Justice Department spokesperson did not immediately return a request for comment.