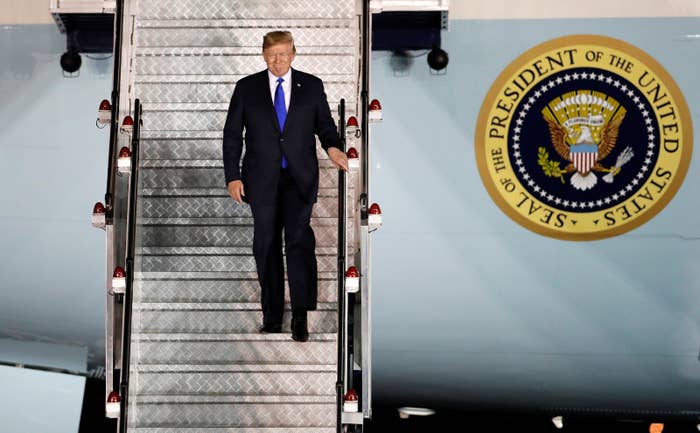 The Justice Department argued Monday that President Donald Trump could continue to profit from foreign governments patronizing his hotel in Washington, DC, without violating the US Constitution, as long as he didn't explicitly provide something in return.
The fact that foreign officials were quoted in media reports saying they would spend money at the Trump International Hotel in DC in order to please the president did not matter, Justice Department lawyer Brett Shumate argued. A payment could only be considered an unconstitutional "emolument" if there was an exchange involved, he said, either for an official act by Trump or a service similar to something an employee would do.
"A federal officeholder does not violate the constitution by owning an interest in a company that may do business with a foreign government," Shumate said.
A federal judge in Maryland heard arguments on Trump's latest effort to knock out a lawsuit filed by the District of Columbia and Maryland accusing the president of violating the Constitution's Foreign Emoluments Clause and Domestic Emoluments Clause. The foreign emoluments clause states that "no Person holding any Office of Profit or Trust under [the United States] shall, without the Consent of the Congress, accept of any present, Emolument, Office, or Title, of any kind whatever, from any King, Prince, or foreign State." The domestic emoluments clause says the president will be paid for his service and "shall not receive within that Period any other Emolument from the United States, or any of them."
US District Judge Peter Messitte, sitting in Greenbelt, Maryland, ruled in March that DC and Maryland had standing to sue the president. In this next phase, Messitte will decide what an "emolument" is, and whether the word applies to the Trump hotel's dealings with foreign governments and US agencies. Messitte said at the end of the two-hour hearing that he planned to issue an opinion by the end of July.

The arguments touched on 18th-century dictionary definitions, 19th-century constitutional debates, and the business dealings of former presidents from George Washington to Barack Obama. Lawyers for DC and Maryland argued that an "emolument" is a "profit, gain, or advantage," a broad definition that they said would cover payments by foreign governments or officials to the DC hotel, as well as actions by the General Services Administration favorable to the Trump Organization.
Shumate argued for a narrower definition, saying DC and Maryland's interpretation would mean that former presidents and a range of federal officials had violated the clauses over the past 200 years. An "emolument" is a benefit that the president receives in exchange for a personal service that he performs either in his official capacity — such as signing a treaty — or via an employer-employee relationship, such as being on a foreign government's payroll, he said.

The Maryland case only concerns the Trump hotel in Washington; in March, Messitte ruled that DC and Maryland only had standing to sue over their local interests in the operations of the DC hotel. Trump's other properties and business dealings are not at issue, but they are part of a separate lawsuit claiming violations of the Foreign Emoluments Clause filed by nearly 200 Democrats in Congress. A judge in the US District Court for the District of Columbia heard arguments on Trump's motion to dismiss that lawsuit last week.

A federal judge in New York dismissed a third lawsuit filed by a government watchdog group, Citizens for Responsibility and Ethics in Washington (CREW), after finding that CREW lacked standing to sue. The group is appealing that decision. CREW is cocounsel with Maryland and DC in the Maryland emoluments clause case.
On Monday, Messitte asked Shumate if a benefit received in exchange for an official act wasn't simply bribery, which was already an impeachable offense. If that was the government's position, Messitte said, did that mean the Justice Department was arguing that Congress had crafted a constitutional provision that would give legislators the ability to approve bribery of the president?
Shumate replied that bribery required corrupt intent. Messite asked if that meant the emoluments clauses would allow the president to accept what amounted to a bribe if there was no corrupt intent. Shumate said that sort of benefit would fall under the Foreign Emoluments Clause even if there was no corrupt intent. As one example of the type of foreign emolument the framers had in mind, Shumate pointed to the fact that King Charles II, who ruled England in the mid-17th century, was also on the payroll of France — that was the type of benefit the clause was designed to prevent, he said, not profits from commercial transactions.
If Trump was accepting unconstitutional emoluments, Shumate said, so had George Washington — he bought land at auction from the US government; Ronald Reagan — he received a pension from the state of California; and Barack Obama — he received royalties from the sale of his books, including potentially from foreign governments. DC and Maryland's interpretation would lead to absurd results, Shumate said. For example, he said that under the broader definition of an emolument, presidents and senior federal officials couldn't own stock in businesses that profited from dealings with foreign governments.

What about the "blockbuster question" about whether foreign governments doing business with Trump properties with the express goal of pleasing Trump would be covered under the Foreign Emoluments Clause, Messitte asked. The potential for an exchange would not be enough, Shumate replied, saying there was no allegation that Trump had actually performed a service in exchange for business at the Trump hotel from foreign governments.
Messitte brought up the case of former Virginia governor Robert McDonnell, noting the difficulty prosecutors had in proving that money and gifts that McDonnell took from a local businessman amounted to bribery. A jury found McDonnell guilty, but the US Supreme Court vacated his conviction after finding that McDonnell's actions did not rise to the level of "official acts" under federal law.
"One way to combat the illegality would be — and it's not illogical — would be to say, just don't take it at all," Messitte said. "Why doesn't that make sense?"
Shumate said the emoluments clause was not a "comprehensive" conflict of interest provision or impartiality test.
Messitte asked if the Foreign Emoluments Clause would apply if the Trump hotel charged above-market rates for rooms. Shumate replied that it would not, absent an allegation that the president was doing something in return.
"It's just more profit," he said.
Stephanie Litos, a senior lawyer in the DC Office of the Attorney General, said the founding fathers would have been clearer if they wanted the emoluments clauses to only apply to certain types of benefits. She disputed that the examples of payments accepted by Washington, Reagan, and Obama would be unconstitutional emoluments — land bought at auction, an already-vested pension, and indirect book royalties would not qualify, she said — but even if they were, she argued that did not absolve the president.

Responding to Shumate's argument that a broader definition could lead to absurd results, Litos said there would always be "difficult questions at the margins," but money earned by Trump from foreign governments staying at his hotel or holding events was an easier call. Litos' cocounsel from the Maryland Attorney General's Office, state Solicitor General Steven Sullivan, argued that under the Justice Department's interpretation, Trump couldn't accept $5 for bringing a diplomat's bags up to their room, but he could accept thousands of dollars from a foreign government to hold events at the hotel.
"No one should have to doubt whether the president's actions are being taken to further his own bottom line or further the interests of the United States of America," she said.