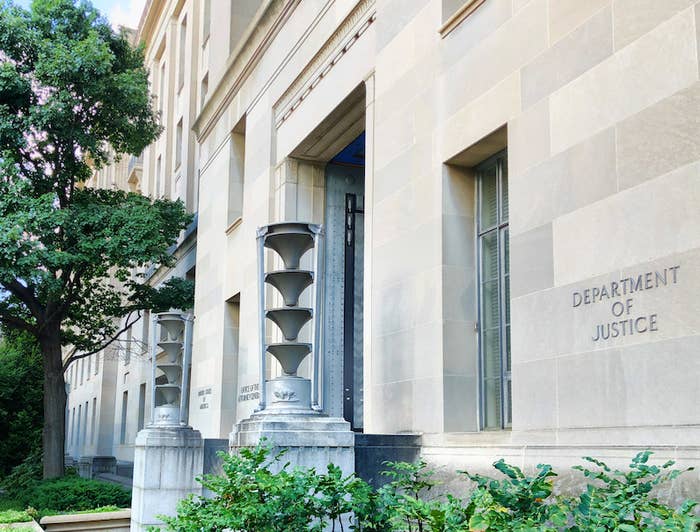 WASHINGTON — The Justice Department was on notice more than five years ago about sexual harassment claims against a now-retired senior official accused of sexual assault, according to a source with firsthand knowledge of the situation and supporting documents filed in court.
The Inspector General's Office on Tuesday night released a two-page report saying investigators "substantiated" allegations that a male senior official in the Office of Justice Programs (OJP) had sexually assaulted a female subordinate and harassed four others. The summary did not name the official and did not characterize the assault. Justice Department representatives declined to provide that information.
But the source with firsthand knowledge confirmed to BuzzFeed News that the official is Edison Aponte, who was an associate deputy director in OJP, an arm of the Justice Department that administers law enforcement grants and publishes research on criminal justice issues. Aponte had worked at the Justice Department since 1994, according to his LinkedIn profile.
An exhibit in an unrelated federal court case filed in June 2017 also references Aponte by name and details harassment allegations similar to some of the information included in the inspector general's report published Tuesday. That exhibit — a May 2017 email from the head of the union that represents OJP employees, Marilyn Moses — indicates that there was a pending inspector general investigation into Aponte's behavior.
The report released by the Inspector General's Office Tuesday said that investigators "substantiated" claims that Aponte sexually harassed five subordinates at the Justice Department — one was pressured into a sexual relationship in exchange for a job, one was sexually assaulted, and two others were subjected to "sexually inappropriate conduct." The fifth was involved in a consensual long-term sexual relationship, but investigators concluded it was sexual harassment because their "respective professional positions undermined the consensual nature of their personal relationship."
According to the report, investigators concluded Aponte violated the law, but criminal prosecution was "declined." It did not include any details.
The court exhibit does not include a timeline for the allegations against Aponte, but in an email sent Tuesday night to OJP staff, which was obtained by BuzzFeed News, Matt Dummermuth, the current head of the office, wrote that the inspector general's investigation began in 2016.
The source with firsthand knowledge told BuzzFeed News one woman whose situation was described in the court exhibit had reported harassment by Aponte to an OJP official more than five years ago. The court exhibit is an email written by Moses, the president of AFSCME Local 2830, which represents OJP employees. Moses wrote in the email that the woman was raped by Aponte, but there were no additional details provided, including when the woman made that allegation, when the alleged rape occurred, or if she reported it to law enforcement. Moses declined to comment.
The inspector general's report does not characterize the substantiated allegation of sexual assault as rape and the office declined to comment to BuzzFeed News. BuzzFeed News does not identify victims of sexual assault or harassment without their consent and has attempted to contact the woman.
Reached by phone Wednesday, Aponte said he could not confirm that the inspector general's report was about him, said goodbye, and hung up.
BuzzFeed News also spoke with another woman who previously worked with Aponte at the Office of Justice Programs, Kim Ball, who said that he made sexually suggestive comments to her more than a decade ago; she was not one of the women involved in the inspector general's investigation.
"He said, 'Oh, wouldn't you like to do that with me.'"
Ball, now the director of the Justice Programs Office at American University, told BuzzFeed News that she did not have direct knowledge of the allegations described in the inspector general's report, but still remembered one interaction she had with Aponte early in her tenure at OJP. Ball did not remember the date, but said that at a meeting around 2005 or 2006 — she joined the office in 2004 — officials were having a discussion about birthdays, and Ball said she was born in 1969.

"He said, 'Oh, wouldn't you like to do that with me.' I looked at him and said no," Ball said.
Ball also said Aponte would stand too close to her at times and made her feel uncomfortable — that the "personal space zone sometimes was inappropriate."
Ball said she didn't tell anyone else about the comment, although there were other senior officials in the room when it happened, nor did she report other interactions with Aponte that made her uncomfortable. She noted that she was still early in her tenure at OJP, and there were few women in leadership positions.
"It strikes me — an agency that is responsible for awarding millions of dollars to support protecting women, and then they do such a poor job in-house of doing it," Ball said.
The Inspector General's Office's report released Tuesday said that Aponte had retired, but did not specify when. According to the source with firsthand knowledge, Aponte left the department less than two months ago. The source said Aponte had been on administrative leave during the investigation and was also permitted to work remotely.
In Tuesday's email to OJP staff, Dummermuth wrote that as soon as Aponte (who was not named in the email) learned about the Inspector General's Office's findings, he said that he was stepping down.
"Upon receipt of the [Inspector General's Office's] finding of specific misconduct, the supervisor immediately notified OJP of his decision to leave federal service, leaving OJP with no ability to take disciplinary action for such misconduct," Dummermuth wrote.
Dummermuth wrote that he was "proud" of the individuals who came forward, but also wrote that, "While expectations are high to quickly address these difficult situations, it is the case that these types of investigations at times can require some time to resolve."
In response to the Tuesday report, Justice Department spokesperson Kerri Kupec released a statement saying that "The Department of Justice does not tolerate sexual harassment, abuse, or assault in the workplace in any form. As the findings stated, the official accused of this conduct is no longer employed by the Department. The Department of Justice is committed to cooperating with state and local authorities to ensure these matters are investigated fully and expeditiously and will take appropriate action against those who engage in this wholly unacceptable behavior."
A department spokesperson declined to comment Wednesday.
Information in the June 2017 court filing that names Aponte matches several of the allegations in the inspector general's report. The exhibit includes the account of a woman who says Aponte made sexual advances while she was seeking a promotion, and that she felt pressured to enter into a relationship with him. It also includes the allegations of the woman who accused Aponte of following her home and raping her — the same woman who first complained about Aponte more than five years ago, according to the source with firsthand knowledge.

According to the court filing, in May 2017, Moses, the union president, sent an email to lawyers involved in a discrimination lawsuit filed against the Justice Department by Timothy Jeffries, who claimed he was denied a promotion because of his race and gender. In the email, Moses wrote that there were "old and new developments" that might be relevant to Jeffries' case, since Aponte was involved in the decision-making process about several promotions Jeffries sought.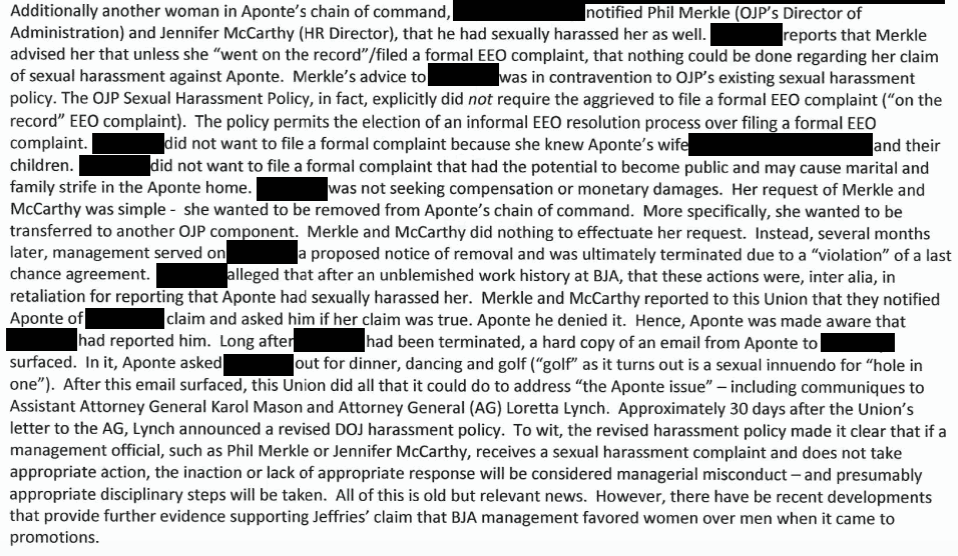 Moses wrote that the woman who accused Aponte of rape had previously reported him for sexual harassment, but was allegedly told by an OJP official that nothing could be done unless she filed a formal complaint with the Equal Employment Opportunity Office. Moses wrote that wasn't true, and that OJP policy allowed for informal resolution. Aponte was eventually notified about the woman's allegation of harassment and denied it. According to Moses's email, the woman was fired, and claimed it was in retaliation for complaining about Aponte.
The email contains little information about the rape allegation or when the woman made it. BuzzFeed News has attempted to contact the woman for comment.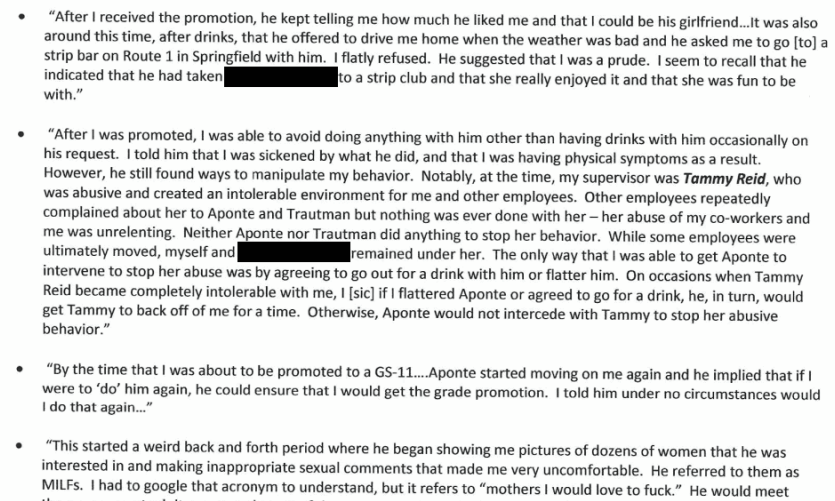 Moses also wrote in the email about another woman referred to as "Ms. A," who had filed an Equal Employment Opportunity Office claim against Aponte; she also noted that an Inspector General's Office investigation was underway. According to the email, Aponte was Ms. A's supervisor and would often tell her he could help her advance in her career, and eventually became "aggressive" in asking her out. Ms. A said she felt "trapped" into agreeing to go out with him if she wanted a promotion — she had financial difficulties that Aponte knew about, as was true of other women that he allegedly harassed, according to Moses's email.
Moses wrote that Ms. A said Aponte initiated sexually explicit conversations with her, such as asking what sexual positions she enjoyed. She said she believed he was "linking sexual favors and keeping him entertained with the likelihood" of a promotion. She said he told her in advance about questions she would be asked at her interview, and that he had chosen people for the interview panel who would be in her "favor." According to the email, Ms. A got the job.