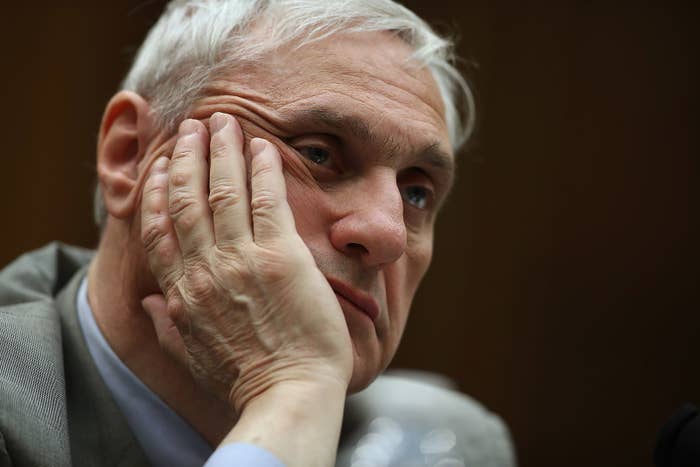 The federal judiciary last month proposed a series of changes to its internal rules on sexual harassment and how the courts respond to complaints against judges. Former law clerks, ethics experts, and law students say they don't go far enough.

The courts have been grappling with how best to police themselves in the wake of sexual misconduct allegations against former prominent federal appeals judge Alex Kozinski, who resigned in December after a number of his former clerks accused him of inappropriate behavior. The proposed rules changes include requiring judges to report misconduct by their colleagues — and making it a disciplinable offense not to — adding stronger language defining and condemning harassment, and making clear that rules about court confidentiality don't prohibit employees from reporting misconduct.
In the federal courts, judges run the discipline process, including handling sexual misconduct complaints against their colleagues. The #MeToo movement presents the latest test of whether these systems are strong enough to hold federal judges with lifetime tenure accountable and protect those working alongside them. (There is no binding code of conduct or disciplinary process for the US Supreme Court.)
At a public hearing Tuesday, witnesses testified that the draft changes were a good first attempt, but needed to be stronger and more specific. Kendall Turner and Jaime Santos, lawyers who have led a group of former federal law clerks pushing for reforms, testified that the judiciary should be more transparent about complaints against judges and how they're resolved, bring in outside investigators to handle certain complaints, and do more to involve victims in the process.
Santos also argued that the judiciary needs to finish sexual misconduct investigations even if the judge involved steps down, noting that former judges could still reenter public life via teaching, writing op-eds, or representing clients pro bono in court.
"The lack of an investigation, examining the scope of the misconduct that occurs, makes it possible for that to happen without everyone kind of knowing the full circumstances, and that's harmful to victims and that's also harmful to the public," Santos said.
Yale Law School students testified as well, calling on the judiciary to give information about judges who commit misconduct to law schools — which play a critical role in placing students for clerkships — as well as state bar associations and other outside groups. They also suggested hiring officials who aren't judges to vet complaints or putting complaints before three-judge panels, and urged officials to include examples in the rules about what behavior qualifies as harassment.
Renee Knake, a legal ethics expert at the University of Houston Law Center, proposed adding a prohibition on consensual romantic relationships between judges and clerks and other employees, saying it would remove the risk of unwanted overtures and situations where a clerk or court employee felt pressured to agree to a date. She noted many law schools have similar policies. Knake also pitched an annual anonymous survey that includes past and current law clerks.
"No one should have to endure sexual harassment as a rite of passage into the legal profession," said Knake, who told the judges that when she was in law school she was warned to avoid clerking for a judge known for mistreating clerks.
Carol Needham, a legal ethics expert at the Saint Louis University School of Law, pointed to proposed new language stating that judges "should" perform their "duties with respect for others, and should not engage in behavior that is harassing, abusive, prejudiced, or biased." Needham suggested changing "should" to "shall" or "must," saying that sentiment shouldn't be "aspirational."
Turner noted that the proposed rules require judges to report misconduct to the chief judges of their district court and regional circuit court, but don't address what happens if a chief judge is the subject of a complaint. Kozinski was the former chief judge of the 9th Circuit.
Chief Judge Lawrence O'Neill, who leads the federal district court for the Eastern District of California, defended some of the ways that judges currently handle intra-court problems, and pushed to keep discretion over how chief judges respond to complaints against their colleagues. He told the story of a law clerk who told him that her judge had made a "lewd" remark to her. O'Neill said that when he talked to a lawyer who worked for the judge, the lawyer began to cry and revealed that she thought the judge was suffering from early stages of dementia.
After a difficult conversation with the judge, O'Neill said, the judge resigned the next day.
But Santos told the committee that O'Neill's story illustrated to her why the judiciary should not embrace these types of informal solutions. There should have been an investigation into whether other women were harmed, whether anyone enabled the judge when they shouldn't have, and whether the court should adopt systems to address this sort of situation in the future, she said.
US District Judge Sarah Evans Barker, who sits in Indiana and is a member of the judiciary's Committee on Judicial Conduct and Disability, also pushed back against the idea that informal systems like the one described by O'Neill were enough. Not every judge has the "command" of someone like O'Neill in handling these sorts of situations, she said.
"When we pull back from obligations to do something, we invite people to be neglectful of the complaint or to wish it away or minimize it in some way," Barker said.