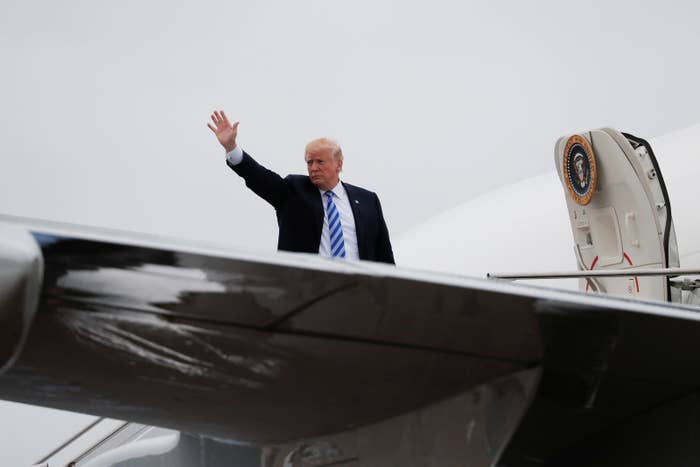 Damien Schiff, one of President Donald Trump's judicial nominees from last year who faced criticism for, among other things, writing that Justice Anthony Kennedy was a "judicial prostitute," withdrew from consideration for renomination earlier this year, Schiff told BuzzFeed News.
Schiff's status had been unclear since January. He was voted out of the Senate Judiciary Committee last July for a seat on the US Court of Federal Claims, but he didn't get a final Senate vote before his nomination expired at the start of the new congressional session in 2018. Some of Trump's judicial nominees were held over into the new session under an agreement with Senate Democrats, but Schiff wasn't. He also wasn't among the expired nominees renominated by Trump.
The White House wouldn't comment at the time about whether he was still under consideration. Asked about the situation in January, Schiff told BuzzFeed News that it was his understanding the administration would prioritize certain judicial nominations and "address other judicial vacancies at a later time." He did not say he had withdrawn or was considering pulling his name.
On April 26, the White House announced a new slate of judicial nominees, including for the Court of Federal Claims. On Monday, when the White House officially submitted those names to the US Senate, the announcement specified that the Court of Federal Claims nominee, Richard Hertling, was chosen for the seat that Schiff was up for last year.
In an email to BuzzFeed News on Monday, Schiff wrote, "Earlier this year, I notified the White House that I did not wish to be considered for a renewed nomination."
Schiff, a senior staff attorney at the Pacific Legal Foundation, a libertarian legal advocacy group, did not specify when he withdrew or the reason, and he did not immediately respond to follow-up questions.
A White House official said Schiff decided to withdraw after he was offered greater leadership opportunities within the Pacific Legal Foundation following the death of another senior attorney at the organization, M. Reed Hopper. The official did not recall when Schiff alerted the White House about his decision, but said it was a few months ago. A White House spokesperson did not immediately return a request for comment.
Trump has not yet renominated Stephen Schwartz, whose nomination to the Court of Federal Claims also expired in January. Schwartz did not immediately return a request for comment. The White House official said no decision has been made about renominating Schwartz, but he has not withdrawn his name from consideration.
Schiff was one of Trump's earliest lower court nominees. He faced scrutiny over several blog posts he had written, including a 2007 post in which he wrote, "It would seem that Justice Kennedy is (and please excuse the language) a judicial prostitute, 'selling' his vote as it were to four other Justices in exchange for the high that comes from aggrandizement of power and influence, and the blandishments of the fawning media and legal academy." Schiff's critics also highlighted parts of his record that they said showed he harbored anti-LGBT bias.

There were signs that Schiff's nomination might encounter problems from within the Republican ranks as well as from the left. Louisiana Sen. John Kennedy voted for Schiff's nomination when it was before the Senate Judiciary Committee, but Kennedy later asked questions of other nominees that suggested he disapproved of Schiff's blogging.
The Trump administration had a record-breaking year in 2017 getting federal judges confirmed and has picked up the pace this year in sending more names to the Senate. In an interview last week on The Hugh Hewitt Show, Senate Majority Leader Mitch McConnell said his goal was to confirm all nominees voted out of committee by the end of the calendar year.