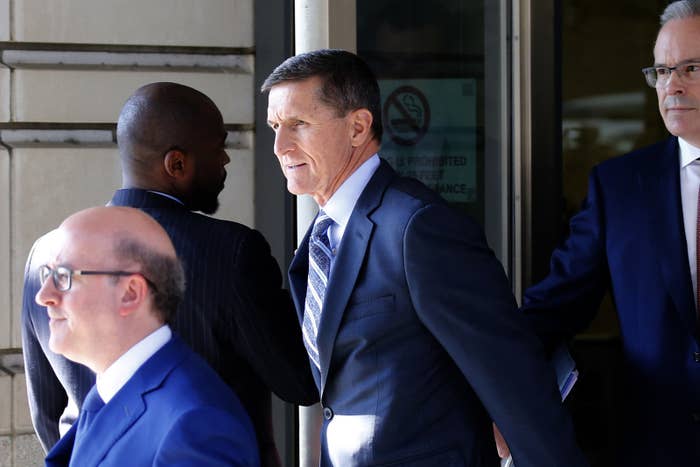 WASHINGTON – Michael Flynn, Trump's former national security adviser, decided to delay his sentencing on Tuesday after a judge harshly criticized him for lying to the FBI and acting as an unregistered agent for Turkey, and warned that he might improve his odds of a better sentence if he finished cooperating with the government first.
It was a surprising turn of events two hours after what was supposed to be Flynn's sentencing hearing began. Throughout the proceedings, US District Judge Emmet Sullivan repeatedly asked Flynn if he wanted to go ahead with sentencing, given his lawyers' comments questioning the conduct of the FBI officials and agents who handled his questioning in January 2017, and the fact that Flynn might not be finished cooperating.
Flynn, wearing a dark suit and red and blue striped tie, each time said he wished to proceed. But following a particularly rough string of criticism from the judge about the crimes he'd admitted to, Flynn asked for a break to speak with his lawyers. When they returned, Flynn's lawyer Robert Kelner said they wanted to postpone sentencing to give Flynn time to complete his cooperation. The judge agreed. The parties are now due to file a report with the court on the status of his case by March 13.
Flynn's change of heart came after Sullivan warned him that he couldn't guarantee Flynn wouldn't get prison time, given the seriousness of his crimes. Sullivan noted that Flynn had lied to the FBI while serving as a senior official in the White House, and had acted as an unregistered agent for the Turkish government. (The judge initially implied that Flynn did work for Turkey while he was in the White House, but later said he misspoke; the prosecutor said Flynn's work for Turkey ended in November 2016.)
"Arguably, that undermines everything this flag over here stands for," Sullivan said, gesturing to an American flag displayed behind his chair. "Arguably you sold your country out."
Sullivan continued: "I'm not hiding my disgust, my disdain for this criminal offense."
Flynn at that point took up the judge's offer of additional time to consult with his lawyers. Before the judge took a break, however, he asked special counsel prosecutor Brandon Van Grack if Flynn could have been charged with treason for his conversations with now-former Russian ambassador Sergey Kislyak in December 2016, after then-president Barack Obama had entered sanctions against Russia for interfering in the election.
Van Grack replied that given the evidence prosecutors had, treason was not something the government considered charging Flynn with at the time. Sullivan pressed him, asking if they could have charged Flynn with that crime. Van Grack demurred, saying he was hesitant to answer that question because the offense was so serious.
The judge also asked if Flynn had violated any law in his communications with Kislyak. Van Grack said the facts potentially supported a charge under the Logan Act — a federal law that generally prohibits private citizens from having unauthorized communications with a foreign government in order to influence foreign relations — but it wasn't one of the charges the government had considered. Sullivan noted that no one had ever been charged under the law.
After the recess, Sullivan said that he hadn't meant to imply that Flynn might have committed treason — he said he was just probing the extent of Flynn's offenses and "was just curious." Van Grack said the government had no reason to believe Flynn committed treason.
At the beginning of the hearing, the judge said there was a "great deal" of information in the case that was not public. He asked Van Grack if Flynn was still cooperating with the government, and Van Grack replied that it "remains a possibility." Sullivan said judges were normally reluctant to sentence a defendant until they were done cooperating, since the judge couldn't take into account the full extent of the value of that cooperation.
Van Grack did reveal that Flynn had provided "substantial assistance" that led to criminal charges unsealed yesterday against two individual accused of acting as unregistered agents for the Turkish government, including Bijan Rafiekian, a former business partner of Flynn's. In asking the judge later on in the hearing to delay sentencing, Kelner said that they expected Flynn to be asked to testify in that case, which was brought by federal prosecutors in Virginia, not the special counsel's office.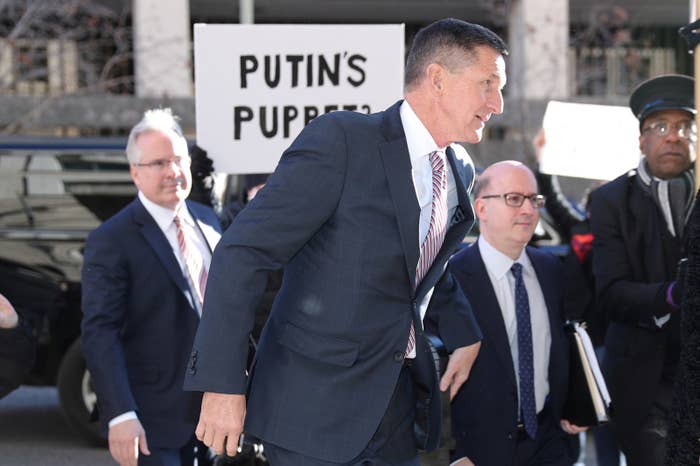 Flynn pleaded guilty on Dec. 1, 2017, to one count of making false statements. He admitted lying to FBI agents about his communications in December 2016 with Kislyak while he was serving on Trump's presidential transition team. (He was later accused of lying to Vice President Mike Pence about those contacts as well and resigned.) Flynn agreed to cooperate with the government as part of his plea deal; over the past year, according to court filings, he's met with special counsel prosecutors and other Justice Department offices 19 times, for a total of nearly 63 hours.

Flynn was set to become the fifth person sentenced in connection with Mueller's investigation.
Sullivan's questions to Flynn about whether he wanted to proceed to sentencing Tuesday were spurred by comments that Flynn's lawyers made in a sentencing memo filed earlier this month. In those documents, Flynn's counsel implied he may have been coerced into lying because he didn't have counsel present and wasn't given a warning about the penalties for lying when he spoke to FBI agents on Jan. 24, 2017. Sullivan said those claims raised concerns in his mind about whether Flynn might want to challenge the government's conduct or withdraw his guilty plea.
Flynn told the judge he didn't want to withdraw his plea and had pleaded guilty because he was, in fact, guilty of lying to the FBI. Sullivan asked Flynn if he was aware on Jan. 24, 2017, that lying to the FBI was a federal crime. Flynn replied, "I was aware." Sullivan asked Kelner if Flynn was entrapped by the FBI. Kelner said Flynn was not.
Kelner said they'd noted the circumstances of Flynn's interview to distinguish his case from two other Mueller defendants who also pleaded guilty to lying and were eventually sentenced to minimal prison time, former Trump campaign adviser George Papadopoulos and Dutch lawyer Alex van der Zwaan. In those cases, Kelner said, the fact that those defendants had counsel and had been warned about lying were cited as aggravating factors, so Flynn's lawyers wanted to point out that those weren't part of his case.
At the end of the hearing, the judge offered a little more insight into how critically he considered breaches by high-ranking government officials. Kelner had drawn a comparison between Flynn's case and the criminal case against former CIA director and military veteran David Petraeus, who received probation and a fine for mishandling classified information. Sullivan said he didn't agree with Petraeus's sentence; he prefaced the remark by saying he probably shouldn't say anything.
"Substantial assistance"
Going into Tuesday's sentencing hearing, prosecutors had said they were comfortable with a light sentence for Flynn, including one that included no time behind bars, citing the "substantial assistance" Flynn had given to the government.

There was tension between Flynn's lawyers and prosecutors in their presentencing court papers, however. In Flynn's sentencing memo, his lawyers suggested he'd been coerced into lying to the two FBI agents he spoke to in January 2017. Flynn's lawyers wrote that unlike Papadopoulos and van der Zwaan, Flynn wasn't warned about the penalties for lying prior to his interview, and declined to have a lawyer from the White House counsel's office present after then–FBI deputy director Andrew McCabe told him he'd need to involve the Justice Department. The FBI agents involved later said Flynn seemed at ease.
Papadopoulos spent 12 days in prison; van der Zwaan was sentenced to 30 days.
Prosecutors had been complimentary of Flynn in their earlier court papers, but filed a response on Dec. 14 arguing no one was responsible for Flynn's decision to lie besides Flynn.
"A sitting National Security Advisor, former head of an intelligence agency, retired Lieutenant General, and 33-year veteran of the armed forces knows he should not lie to federal agents. He does not need to be warned it is a crime to lie to federal agents to know the importance of telling them the truth," prosecutors wrote.
Trump has come to Flynn's defense recently, tweeting last week that prosecutors gave Flynn a "great deal because they were embarrassed by the way he was treated." Trump went on to falsely claim that "the FBI said he didn't lie" — the FBI agents who interviewed Flynn reported that, at the time, they didn't see any signs Flynn was lying. But prosecutors later concluded that Flynn did, in fact, lie.
On Tuesday morning, Trump tweeted "good luck" to Flynn, writing it would be "interesting to see what he has to say, despite tremendous pressure being put on him."
"Incomplete information"
Flynn served as Trump's first national security adviser, but he resigned on Feb. 13, 2017, amid growing scrutiny of his contacts with Russia and whether he'd been truthful with administration officials. In his resignation letter, Flynn wrote that during the transition he "inadvertently briefed" Pence, then the vice president–elect, and others with "incomplete information" about his discussions with Kislyak during the transition.

At a congressional hearing several months later, former acting attorney general Sally Yates testified that she had warned the White House starting on Jan. 26, 2017, that it appeared Flynn had lied about his Russia contacts and that, as a result, the Justice Department feared he could be vulnerable to blackmail by Russia.
Flynn pleaded guilty to telling two sets of lies to FBI agents who interviewed him on Jan. 24, 2017, two days before Yates briefed the White House: First, he falsely told the agents that in December 2016 — as Trump, then the president-elect, was preparing to take office — he did not ask Kislyak to tamp down the Russian response to new US sanctions imposed as a result of Russia's interference in the 2016 election. In fact, according to the government, Flynn did ask Kislyak to not escalate the situation, and Kislyak later told Flynn that Russia would not to retaliate as a result of that request.
Second, Flynn falsely told agents that he did not ask Kislyak to try to delay a vote or vote down a United Nations resolution about Israeli settlements, also in December 2016. According to charging papers, Flynn, at the direction of a "very senior member" of Trump's transition team, did contact Kislyak with that request. Kislyak told Flynn the next day that Russia would not vote against the resolution.
Flynn also admitted to filing false information with the Justice Department about the extent of his work on behalf of the Turkish government, but prosecutors agreed not to separately charge him for that as part of the plea deal. Prosecutors said Flynn did disclose that he was working on a project in Turkey starting in August 2016, but he failed to notify US authorities that the Turkish government was overseeing it.