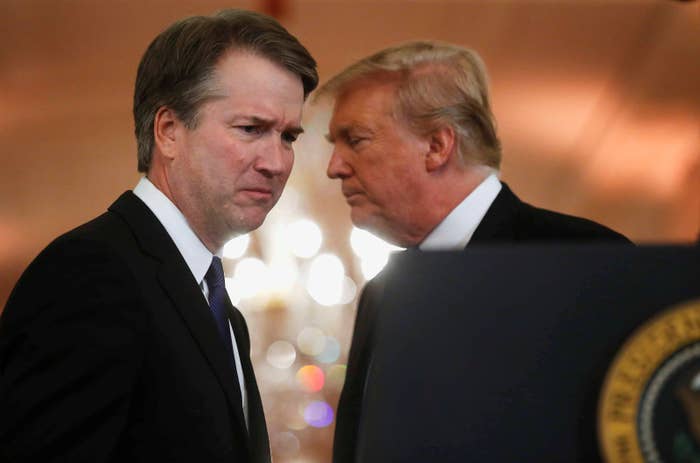 On June 27, Justice Anthony Kennedy announced his plan to retire from the US Supreme Court around midday. Later that same afternoon, White House counsel Don McGahn called Judge Brett Kavanaugh about replacing him.
That's according to the timeline that Kavanaugh, President Donald Trump's nominee to replace Kennedy, laid out in a Senate questionnaire released Saturday by the Senate Judiciary Committee. Kavanaugh's account sheds new light on the events that took place in the two weeks between Kennedy's announcement and Trump's East Room ceremony on July 9 introducing Kavanaugh as his nominee.
The White House announced in November that Trump had added Kavanaugh and four other judges to his Supreme Court shortlist. Kavanaugh did not indicate any contact with the White House before news of Kennedy's retirement broke late last month, however; the questionnaire asked him to describe his "experience in the entire judicial selection process."
Two days after the initial call with McGahn on June 27, Kavanaugh wrote that he then met in person with McGahn. That was a Friday. Two days later, on July 2 — a Monday — Kavanaugh met with Trump, along with McGahn. On Wednesday, two days later, he met with Vice President Mike Pence, again with McGahn and also with Pence's counsel present.
On July 8, a Sunday, Kavanaugh said he spoke with Trump by phone in the morning. That evening, Kavanaugh was at the White House to meet with Trump and first lady Melania Trump, when the president offered him the nomination and Kavanaugh accepted. Later that evening, he spoke again with McGahn.
That left 24 hours until Trump's public, televised announcement on the evening of July 9. The White House managed to keep Kavanaugh's nomination under wraps until minutes before the ceremony, although he was considered the frontrunner from day one.
The Senate questionnaire asked if Kavanaugh had been asked by anyone during the vetting process about a specific case "in a manner that could reasonably be interpreted as seeking any express or implied assurances concerning your position on such case, issue, or question." Kavanaugh wrote in response, "No."
Asked if he had made any representations to anyone about how he might rule in a particular case, Kavanaugh again answered, "No."
The future of Roe v. Wade, the Supreme Court's landmark 1973 decision that established a nationwide right to abortion, is a flashpoint in the fight over Kavanaugh's nomination. He's only handled one case about abortion in his 12-year tenure on the US Court of Appeals for the DC Circuit, and is expected to face robust questioning from Democrats about that case, as well as about his thoughts on Roe and abortion rights more broadly, when he has a hearing.

The judiciary committee also posted copies of Kavanaugh's speeches and writings over the years. Senate Democrats are pushing for the release of White House documents from Kavanaugh's tenure in the George W. Bush administration.
The committee hasn't announced a hearing date yet. The administration and Senate Republicans are aiming to get Kavanaugh confirmed before the Supreme Court returns for its next term in October. Last year, roughly a month passed between the release of Justice Neil Gorsuch's questionnaire and his multi-day hearing in March.