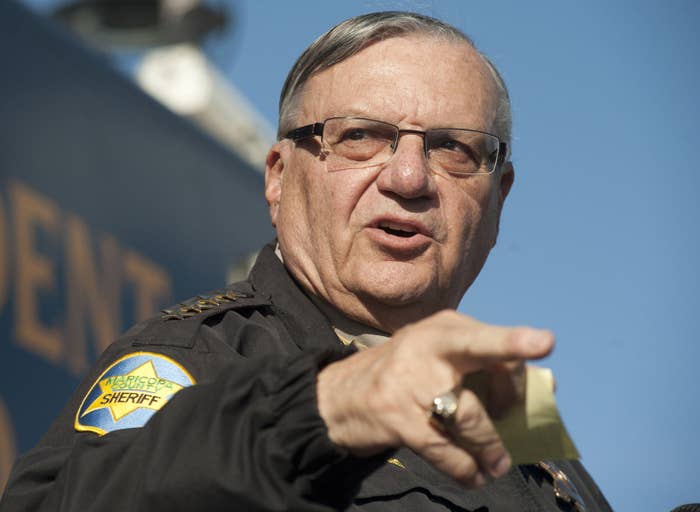 Former Maricopa County sheriff Joe Arpaio has asked the federal judge who found him guilty of criminal contempt to toss out his conviction, in light of his recent pardon from President Trump.
A presidential pardon does not automatically undo a criminal conviction. A pardoned person's criminal record continues to note their conviction, as well as the pardon, unless a judge expunges it from their record, according to the Justice Department.
Arpaio's lawyers filed court papers on Monday arguing that because Trump issued the pardon before Arpaio was sentenced and a final judgment was entered — and, as a result, before Arpaio could appeal his conviction and before the US Supreme Court ruled on an earlier challenge that Arpaio filed related to his trial — the court is "obligated" to vacate his conviction.
A Justice Department spokesperson said they are "reviewing the motion."

Arpaio was found guilty of criminal contempt for disobeying a judge's order that his office stop detaining people based solely on the suspicion that they were unlawfully in the United States — a practice that civil rights groups had long charged led to the racial profiling. He hadn't been sentenced yet.
Although the pardon means that Arpaio won't go to jail or face any other punishment, there are still "reputational issues at stake," said Diane Marie Amann, a law professor at the University of Georgia School of Law and a constitutional law expert.
"Someone who is pardoned lives without fear of prosecution or punishment, but also to some extent under a cloud of assumed guilt. If they want to get rid of that cloud, they will need to go to court," Amann said.
There could also be practical implications if Arpaio were ever convicted of another crime — a court could consider his conviction in handing down a sentence, regardless of the fact that he was pardoned.
Trump's pardon means that any challenge to Arpaio's conviction would be considered moot, and an appeals court wouldn't hear it, his lawyers said in Monday's filing. When an appeal becomes moot, courts in the past have tossed out the underlying conviction, they said. There were exceptions when a defendant was responsible for making their case moot, but that wasn't what happened in Arpaio's case, his lawyers said.

"This is strikingly true for the case at bar in which the Defendant did not even ask the President for a pardon before it was granted," Arpaio's lawyers wrote.
One of Arpaio's lawyers, Jack Wilenchik, told BuzzFeed News on Monday that Arpaio never had a conversation with Trump in which he asked for a pardon. Trump made no secret of his desire to pardon to Arpaio, who was an ally during the presidential campaign. Arpaio also did not petition the Justice Department, which can make recommendations to the president on clemency requests.

Arpaio still has a petition pending before the US Supreme Court. He had previously challenged a federal district judge's decision to reject his request for a jury trial, as opposed to a bench trial before the judge. By the time Trump issued the pardon, the Supreme Court justices hadn't said whether they would hear the case.
Wilenchik said that Arpaio's legal team won't take steps to withdraw the Supreme Court petition until the lower court judge, US District Judge Susan Bolton in Phoenix, rules on the motion to vacate Arpaio's conviction. If Bolton denies the request, Wilenchik said the challenge to the bench trial would still be relevant.
Wilenchik compared Arpaio's situation to that of a criminal defendant who died before there was a final judgment in their case.
"It's only fair, otherwise a defendant would have had a chance to appeal it and get it reversed," he said.