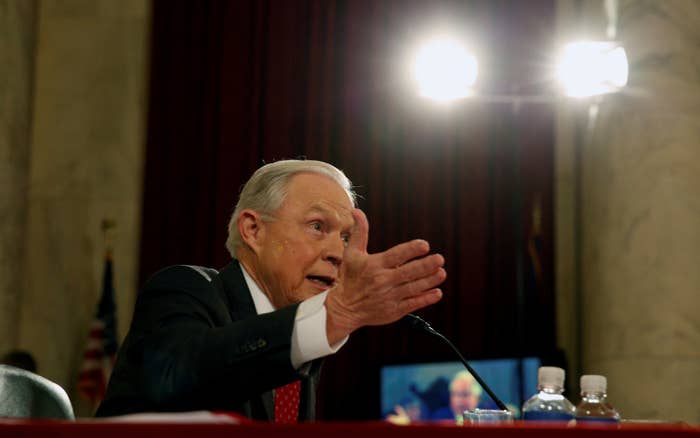 WASHINGTON — Attorney General nominee Sen. Jeff Sessions repeatedly confronted past allegations of racial insensitivity and prejudice during his confirmation hearing Tuesday, saying the "caricature" of him during his failed judicial nomination in 1986 was false.
The Senate rejected Sessions' nomination thirty years ago to serve on a federal district court in Alabama after former colleagues from his time as a federal prosecutor claimed they heard Sessions make objectionable comments, such as telling a black attorney to be careful what he said to "white folks," failing to denounce the sentiment that a white civil rights lawyer was a traitor to his race, and calling the NAACP "un-American."
Sessions on Tuesday denied making the comments about the NAACP and the civil rights lawyer, and generally said that he did not hold racial prejudices. South Carolina Sen. Lindsey Graham asked Sessions how it felt to be labeled a racist or bigot. Sessions replied that it did not "feel good."
While Sessions was in the middle of answering Graham's question, he was interrupted by protesters. Civil rights groups have objected to Sessions' nomination, criticizing his record on civil rights, voting rights, immigration, and LGBT issues. After the protesters were removed, Sessions continued with his answer. He said that he didn't prepare himself well for the 1986 confirmation hearing, calling it a "painful" experience.
"I hope my tenure on this body has shown you that the caricature that was created of me was not accurate," Sessions said.
Several protesters who disrupted Tuesday's hearing accused Sessions of racism. He did not address the demonstrators directly, although he did joke at one point that he was helping to clear the room.
Maine Sen. Susan Collins, who introduced Sessions, said in her remarks that former Pennsylvania senator Arlen Specter said in 2009 that he regretted his vote against Sessions' judicial nomination. Sessions brought that up later in the hearing when asked by Sen. Dianne Feinstein, the ranking member of the Senate Judiciary Committee, about a letter signed by more than 1,400 law professors opposing his nomination as attorney general.
The law professors wrote that there was nothing in Sessions' record of public service that showed "that he is a different man than the 39-year-old attorney who was deemed too racially insensitive to be a federal district court judge."
Sessions said that he supported civil rights enforcement when he was the US attorney for the Southern District of Alabama. He denied harboring the racial "animosities" he was accused of at the time.
Minnesota Sen. Al Franken asked Sessions about several civil rights cases that Sessions listed in his written questionnaire as matters that he personally handled. Franken cited a Jan. 3 op-ed in The Washington Post by three former Justice Department civil rights lawyers who said that Sessions "had no substantive involvement in any of" those cases.
Sessions said that as the US attorney he signed off on the cases and supported the lawyers pursuing them. He and Franken sparred over whether that qualified as personal involvement. Sessions said that he apologized if it was a mistake to include the cases on his form, but did not believe it was.