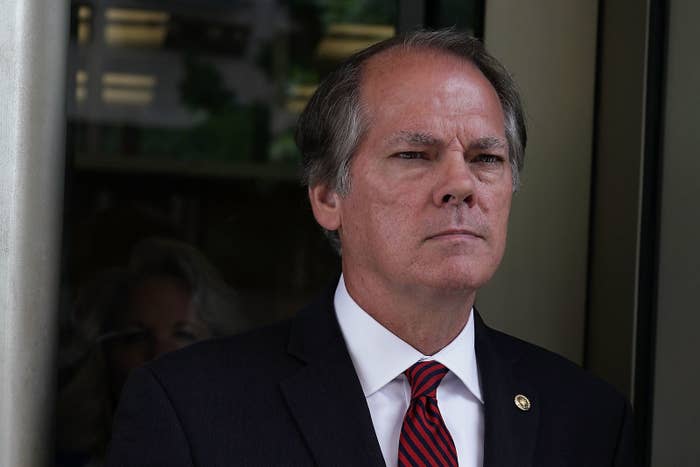 WASHINGTON — James Wolfe, the former head of security for the Senate Intelligence Committee, was sentenced on Thursday to spend two months in prison for lying to the FBI about his communications with reporters.
US District Judge Ketanji Brown Jackson said that given Wolfe's former position as a senior government official tasked with safeguarding government secrets, his crime was that much more serious than other defendants who also pleaded guilty to lying and received less time behind bars, or none at all.
"This court routinely sentences people who come from nothing, who have nothing, and whose life circumstances are such that they really don't have a realistic shot of doing anything other than committing crimes," Jackson said. "The unfortunate life circumstances of those defendants don't result in a lower penalty, so why should someone who had every chance of doing the right thing, a person who society rightly expects to live up to high moral and ethical standards and who has no excuse for breaking the law, be treated any better in this regard."
Wolfe will be allowed to self-surrender to the federal Bureau of Prisons; his lawyer asked that he be allowed to serve his time at a federal correctional facility in Cumberland, Maryland. Wolfe and his lawyers did not speak with reporters after the hearing — he shook hands with security officers at the courthouse entrance and then got into an awaiting car. After Wolfe finishes his prison sentence, he'll spend four months on supervised release and must do 20 hours of community service each week. He'll also have to pay a $7,500 fine.
Wolfe faced a recommended sentencing range of zero to six months in prison, but prosecutors had asked for an upward departure from those guidelines, and argued he should spend two years in prison. Jackson denied that request, saying the government was relying on uncharged, noncriminal — albeit "inappropriate" — conduct by Wolfe in making the push for a stiffer sentence. Having an extramarital affair, having contacts with reporters, and even giving nonpublic information to reporters were not crimes, the judge said.
"Mr. Wolfe's reporter contacts, the previous activities, were certainly potentially harmful and entirely inappropriate but those acts themselves were not criminal," Jackson said. "And in this court's view, the risks associated with that conduct should not drive the sentence that is supposed to be imposed in this case, and especially not to the degree that the government suggests."
Wolfe delivered an emotional statement to the judge before he was sentenced, apologizing to his family, law enforcement, the court, and his friends and former colleagues on the Senate Intelligence Committee. His voice cracking, he told Jackson that he lied to FBI agents to "protect my wife, my sons, and selfishly I lied about those to protect myself and my job." He noted that his contacts with reporters went against what he had stressed to staffers on the Senate committee, although he underscored that he had not compromised classified information or jeopardized national security.
"Your honor, I am so sorry, I am beyond embarrassed, I am beyond humiliated, I am beyond mortified," Wolfe said. "Those actions and my false denials were critical lapses in judgment and a personal failure on my part. It is because of what have done, no one else, that I am before this court today. I have acknowledged what I have done, broken the rules of the committee, and then lied about it."
Wolfe's case was not part of special counsel Robert Mueller's investigation, but the judge compared his situation to two defendants in the Mueller probe who also pleaded guilty to making false statements — former Trump campaign adviser George Papadopoulos, who spent 12 days in prison, and Dutch lawyer Alex van der Zwaan, who was sentenced to 30 days. Jackson concluded that Wolfe's position as head of security for the Intelligence Committee was an "aggravating" factor.
The public shame he had endured, and the loss of his job and reputation, were not punishment enough, the judge said, but were rather the "natural consequence of having chosen to break the law."
"You made blatant false statements directly to FBI agents who questioned you about matters of significance in the context of an ongoing investigation. And if anything, the fact that you were a government official tasked with responsibility for protecting government secrets yourself seems to make you more culpable than van der Zwaan and Papadopoulos, who held no such positions," Jackson said.
Wolfe pleaded guilty in October to one count of making false statements to the FBI, although as part of his plea deal he acknowledged the government had proof of his other contacts with reporters as well. The government dismissed two other counts against him as part of the agreement.

The indictment returned by a federal grand jury in June listed four unnamed reporters with whom Wolfe allegedly had contact. One of them, based on the details of the indictment, is New York Times reporter Ali Watkins, who previously worked at BuzzFeed News and Politico and covered the Senate Intelligence Committee. In investigating Wolfe, the government secretly seized years' worth of Watkins' phone and email records, the Times reported in June. Watkins and Wolfe reportedly had a romantic relationship.
Prosecutors alleged that Wolfe provided nonpublic information to multiple reporters, including that a person identified as "MALE-1" had been served with a subpoena to appear for the Senate Intelligence Committee. Former Trump campaign adviser Carter Page confirmed to BuzzFeed News that he is the "MALE-1" referred to in charging papers.
During Thursday's sentencing hearing, Jackson said that a person identifying himself as "MALE-1" had submitted a letter to the court in advance of sentencing, and she planned to make it public after sentencing. However, the judge also said she wouldn't give the letter weight because it didn't address sentencing factors and the government hadn't identified it as a victim impact statement. Page told BuzzFeed News in an email that he did submit a letter, but wouldn't provide it out of deference to the court's decision about when to put it on the public docket.
Because of Wolfe's position in the Senate and the fact that his case centered on contacts with reporters, the case had the potential to raise thorny legal questions for the judge to resolve about whether and how committee members and journalists could be subpoenaed. Wolfe pleaded guilty before any of those issues came up, however.
Wolfe unsuccessfully argued early on that the judge should enter a gag order restricting government officials — including President Donald Trump — from talking about his case, pointing to comments Trump made shortly after his arrest implying Wolfe had been charged with leaking classified information. The judge found such an order wasn't necessary to ensure Wolfe received a fair trial.
Wolfe had asked for no prison time. His lawyers pointed to his long career of public service, and noted that he had not been charged with leaking classified information. They wrote in a sentencing memo earlier this month that he had lied to FBI agents in an effort to hide an affair he was having with a reporter, and had already endured a "very public shaming."
"His initial denials of those contacts reflected an understandably human, but nonetheless improper, attempt to conceal his extramarital personal relationship with a reporter and to preserve his job. But his personal indiscretions and his contacts with certain reporters in which he shared limited, unclassified information about matters occurring before the Committee violated no federal law," Wolfe's lawyers wrote.
As part of Wolfe's sentencing materials, his lawyers included a letter of support from past and present members of the Senate Intelligence Committee — Chair Richard Burr, Vice Chair Mark Warner, and Sen. Dianne Feinstein, a former chair — and former director of national intelligence James Clapper.
Prosecutors from the US Attorney's Office in Washington strongly disagreed with Wolfe's request, and instead asked the judge for a two-year prison sentence, well above the estimated sentenced guidelines range of zero to six months. They argued that even though there was no evidence Wolfe leaked classified information, "his conduct nonetheless disrupted an important governmental function and endangered national security."