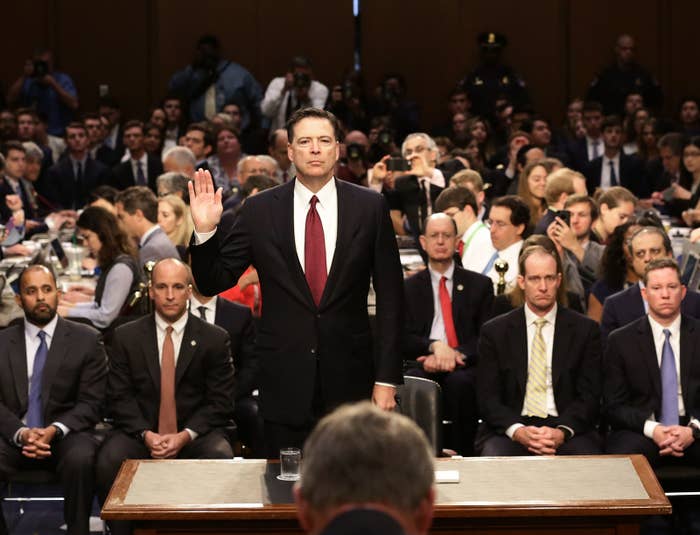 Former FBI director James Comey testified last week that soon after he was fired in mid-May, he asked a friend to share the contents of a memo in which he described a conversation with President Trump that Comey had found troubling.

"Didn't do it myself, for a variety of reasons," Comey told the Senate Intelligence Committee on June 8. "But I asked him to, because I thought that might prompt the appointment of a special counsel."
With the news on Wednesday that special counsel Robert Mueller III is reportedly looking into whether Trump committed obstruction of justice, it appears Comey got what he was hoping for.
According to the Washington Post, Mueller's investigation as special counsel into Russian interference in the 2016 election has expanded to include whether Trump took steps to interfere with that probe. Trump and other officials have repeatedly denied that there was any collusion between his campaign and the Russian government, but an obstruction probe that focuses inward on the administration opens up a whole new front of legal and political risks for the president.
Although he was brought on to lead the Russia investigation, Mueller is allowed to look beyond it. When Deputy Attorney General Rod Rosenstein tapped Mueller as special counsel — Attorney General Jeff Sessions recused himself from investigations related to the election — the appointment order said that Mueller was authorized to investigate Russian interference as well as "any matters that arose or may arise directly from the investigation." That latter statement is a broad catch-all.
Defense lawyers told BuzzFeed News that Wednesday's report did not come as a surprise, given the amount of information that had already publicly surfaced. Shanlon Wu, a defense lawyer in Washington and a former federal prosecutor, said that it made "perfect sense" that Mueller's investigation at this point would encompass any allegations of obstruction.
"It would be the normal course if you were looking at this current situation and you have the former director of the FBI saying, 'Oh, the president said this to me, I was feeling uncomfortable about it,' that [Mueller] would include a look at that," Wu said.
Comey testified that he was concerned by conversations he had with Trump in which the president asked for his loyalty and seemed to be asking that Comey back off of investigating former national security adviser Mike Flynn. Comey stopped short of directly accusing Trump of obstruction, however.
Asked by Senate Intelligence Committee Chairman Richard Burr at the June 8 hearing if Comey thought that Trump's actions amounted to obstruction, Comey said it wasn't his place to answer that question, and dropped a not-so-subtle hint that he expected questions of obstruction to be part of Mueller's investigation.
"I took it as a very disturbing thing, very concerning, but that's a conclusion I'm sure the special counsel will work towards, to try and understand what the intention was there, and whether that's an offense," Comey said.
The Washington Post also reported that Mueller's team was looking into conversations that Trump reportedly had with Director of National Intelligence Daniel Coats and National Security Agency Director Mike Rogers about the Russia investigation.
Mark Corallo, a spokesman for Trump's personal attorney, Marc Kasowitz, released a statement in response to the Post story condemning the outflow of information about the investigation.
"The FBI leak of information regarding the president is outrageous, inexcusable and illegal," Corallo said in an email to BuzzFeed News. He declined to comment further on the substance of the Post's story.