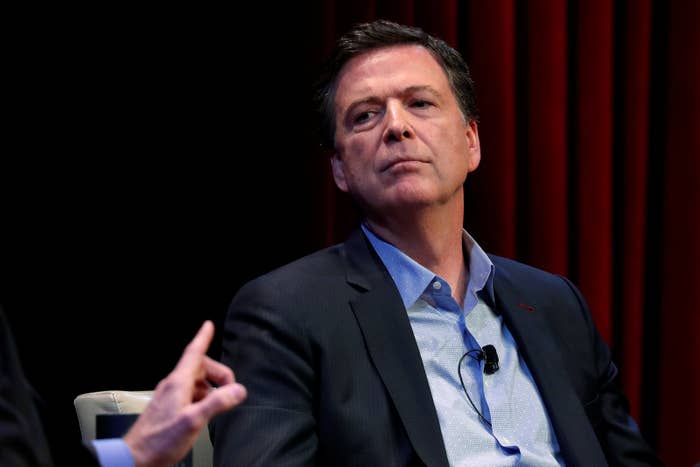 WASHINGTON — Former FBI director James Comey is going to court to fight a subpoena issued by House Republicans who want him to testify behind closed doors.
In court papers filed Thursday, Comey's lawyers argued that Comey isn't trying to avoid testifying — he offered to answer questions at a public hearing, they said — but they contend House Republicans only want him to testify in a nonpublic setting so that they can "peddle a distorted, partisan political narrative about the Clinton and Russian investigations through selective leaks."
The House Judiciary Committee issued a subpoena to Comey on Nov. 21 directing him to appear for a deposition on Dec. 3. Comey's lawyers are asking a judge to toss out that subpoena.
"Let the American people watch," Comey tweeted after his lawyers filed the challenge.
The House Judiciary Committee and House Committee on Oversight and Government Reform had asked Comey in September to voluntarily appear for a nonpublic interview, according to court filings. The committees wanted to question him about the investigation into Hillary Clinton's use of a private email server while she was secretary of state, Clinton's handling of classified information, and the 2016 election.
Comey declined the invitation, and his lawyers said he told the committee that he "welcomed the opportunity" to testify at a public hearing. The House Judiciary Committee then issued the subpoena.
A spokesperson for House Judiciary Committee chair Bob Goodlatte did not immediately return a request for comment.
In the petition filed Thursday in the US District Court for the District of Columbia, Comey's lawyers accused members of the Judiciary and Oversight committees of selectively leaking information from other closed-door interviews, and said witnesses are "powerless to counter or contextualize the distortions of their testimony."
"Mr. Comey may lack standing to complain about the grievous harm that the Joint Committees' practice has done to public discourse on matters of grave national concern, but he very much has standing to challenge the Joint Committees' plan to make him the next victim of their unauthorized and abusive tactics," Comey's lawyers wrote.
Comey's lawyers noted that courts historically have given significant deference to congressional investigations, but they argued that courts have intervened when legislators abused their authority or broke Congress's own rules. They contend that House rules require proceedings to be open unless they would jeopardize national security, compromise law enforcement information, or defame someone. None of those exceptions apply to Comey's testimony, his lawyers say.
"The subpoena, which calls for a closed, non-public deposition of Mr. Comey, exceeds a proper legislative purpose, is issued in violation of House rules, and unduly prejudices and harasses the witness," Comey's lawyers wrote.