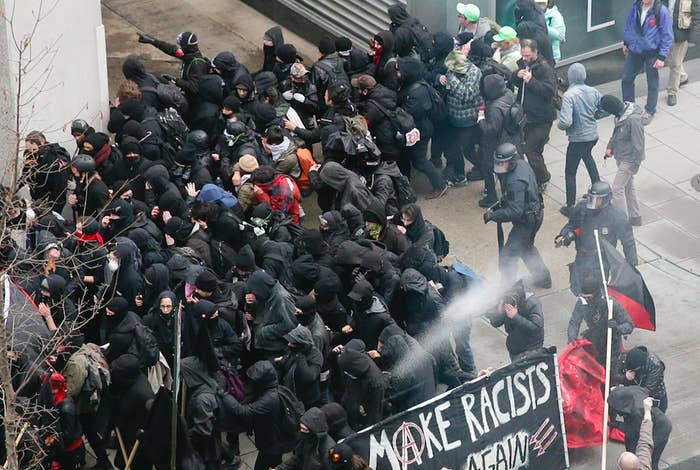 Federal prosecutors lost a major case last year against six defendants accused of rioting and destroying property in connection with anti-Trump protests on Inauguration Day. They're back in court this week to try again.
The US Attorney's Office in Washington, DC, is in a very different position now trying a new group of defendants than it was at the start of the first trial in November. There were 188 defendants with cases pending at the time — still a sizeable chunk of the 234 people arrested in downtown Washington on Jan. 20, 2017. Prosecutors had secured a string of guilty pleas, including one that resulted in jail time.
Now, the government is trying to bounce back from a high-profile loss. After a DC Superior Court jury acquitted the first group, prosecutors announced they were dropping charges against 129 remaining defendants, saying they would focus on defendants who allegedly engaged in "identifiable acts of destruction, violence, or other assaultive conduct," who planned violence, or who participated in "black bloc" tactics to aid the property destruction that day.
The latest trial — jury selection began Monday — will test whether that strategy pays off. In the first trial, there was no evidence the defendants were involved in destroying property. According to Defend J20 Resistance, a group supporting the defendants, prosecutors are expected to accuse some of the defendants on trial now of participating in the violence.
"The first trial and its result sent a powerful message that the prosecution's 'guilt-by-association' theory is problematic," said Scott Michelman, a senior lawyer with the American Civil Liberties Union of DC, who is involved in a civil lawsuit against police over the Inauguration Day arrests. "What I hope to see continuing is that juries take a critical look at the prosecution's actual evidence, as opposed to their rhetoric."
One defendant, Elizabeth Lagesse, who is also a plaintiff in the ACLU's lawsuit, filed a motion last month asking the judge to dismiss her case, arguing the government continued to press charges against her in retaliation for her public criticism of the prosecution and her involvement in the ACLU suit. Lagesse's lawyer contends the government doesn't have evidence that she directly engaged in property destruction. The government hasn't filed a response yet. Her trial is scheduled for June.
There are four defendants on trial now, each facing eight charges: one felony count of inciting or urging to riot, five felony counts of destruction of property, and two misdemeanor counts for engaging in a riot and conspiracy to riot.
The felony charges carry maximum penalties of 10 years in prison and a $25,000 fine. The misdemeanors have maximum penalties of 180 days in prison and a $1,000 fine.
Free speech and civil liberties activists have kept up support for the defendants in the year and a half since the Inauguration Day arrests. At a rally in DC on May 11, former WikiLeaks whistleblower and current US Senate candidate Chelsea Manning called for the remaining cases to be dropped.
"This is not about the J20 defendants so much as it is about everyone's ability and right to be able to fight back," Manning said.
"Black bloc" strategy
The majority of protests in DC during President Donald Trump's inauguration were peaceful and didn't lead to arrests. But the demonstration at issue in the criminal cases — billed as an "anti-capitalist" and "anti-fascist" march — turned violent, with some participants breaking the windows of stores and cars; the government has estimated more than $100,000 in property damage. Police chased the group for several blocks, eventually corralling a large group at the corner of 12th and L Streets in northwest Washington and arresting them en masse.
Twenty defendants have taken plea deals so far. One person pleaded guilty to a felony charge and was sentenced to four months in jail; the rest pleaded guilty to misdemeanors and did not go to jail.
During the first trial, prosecutors didn't present evidence that the six defendants directly caused any property damage. Instead, the government's theory was that they supported the alleged riot via their participation in a so-called black bloc, providing cover for those who did break windows.
A black bloc is generally defined as a group of protesters who wear black clothing and otherwise disguise their appearance, making it harder for law enforcement to identify them. Prosecutors have argued that the Jan. 20 demonstrators deliberately used the black bloc tactic to carry out the property destruction. Defense lawyers have countered that wearing black and protesting — absent evidence of violent activity — is constitutionally protected speech.
The government has signaled that it plans to devote more resources in future trials to trying to explain the concept of a black bloc to jurors, writing in an April filing that jurors from the first trial said during a post-trial debriefing that a black bloc expert would have been helpful.
But so far, efforts to get an expert in court to assess what happened on Inauguration Day haven't been successful.
The second trial was supposed to start in March but got delayed amid a fight over the government's proposed black bloc expert. Prosecutors planned to present testimony from a witness who had gone undercover with "an anarchist extremist group in the New York area." The witness, according to the government, would testify that the black bloc tactic was used on Jan. 20, and that the tactic was only used when people within the group planned to engage in violent activity.
Prosecutors asked that the witness, referred to by the pseudonym Julie McMahon, be allowed to testify anonymously because revealing her identity could put ongoing law enforcement operations at risk and potentially put her in danger. DC Superior Court Chief Judge Robert Morin denied the request, ruling in April that McMahon couldn't testify using an alias.
Morin also limited the scope of what McMahon could say — she could talk generally about black blocs, the judge ruled, but she couldn't look at videos of the Inauguration Day protests and offer an opinion about whether or not it involved a black bloc.
The US Attorney's Office asked to delay two trials scheduled for April, saying they involved similar circumstances as the first trial and that the government needed more time to find a similar expert who wouldn't face the same risks. The judge agreed, and the schedule skipped ahead to the group scheduled for May.
Opening arguments are expected to begin later in the week.