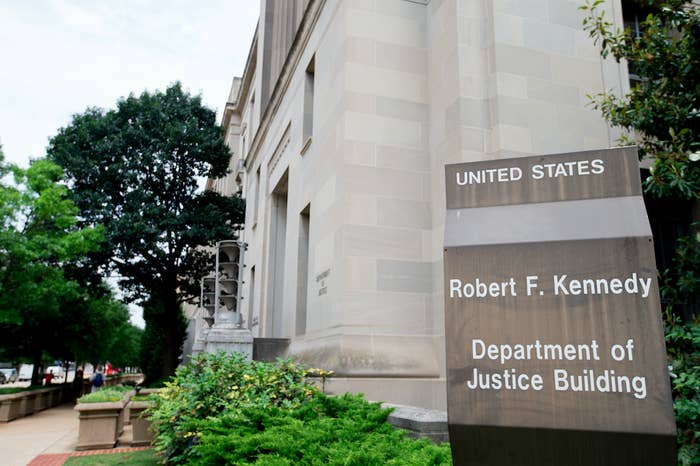 The inspector general for the US Department of Justice released a report on Thursday identifying "significant weaknesses" in how one of the department's largest offices responds to allegations of sexual harassment and misconduct.
The inspector general's office found that DOJ's Civil Division lacked internal policies for reporting, tracking, and investigating complaints. Although the report found relatively few reported allegations — it identified 11 over a roughly five-year period — it described several cases of incomplete investigations and penalties that seemed too low.
In one case, a male attorney accused of groping two female attorneys received a written reprimand for "inappropriate touching" but no suspension or loss in pay or grade, despite the fact that he'd been disciplined in the past for sending inappropriate emails of a "sexual nature."
In another case, a male attorney was twice accused of peering into the offices of female attorneys who were pumping breast milk. The inspector general's office found that the second time an allegation was made, it was not reported to the human resources office. A supervisor "accepted the male attorney's explanation of the incident as an honest mistake and imposed on him an informal disciplinary action of oral counseling," according to the report.
Had it been reported, the inspector general's office wrote, there might have been a deeper investigation. The female attorney later reported it to human resources, according to the inspector general's report, and when did she included documentation of other "inappropriate behavior" by the male attorney dating back several years.
In a separate memo released on Thursday, DOJ Inspector General Michael Horowitz wrote to Deputy Attorney General Rod Rosenstein and other senior officials that the problems in the Civil Division underscored "potential systemic issues" with how sexual harassment and misconduct allegations were handled across the department. Horowitz pointed to earlier reports by his office finding inadequate reporting by various DOJ offices, although he did note that those offices had since made efforts to improve.
In response to the report, Rosenstein said in a statement that, "It is fortunate that there are relatively few substantiated incidents of sexual harassment, but even one incident is too many."
"We will review the Inspector General's recommendations and consider whether additional guidance is required to ensure that all misconduct allegations are handled appropriately, in support of our goal of a workplace in which everyone is treated fairly," he said.
The inspector general's office, which operates independently of the Justice Department, reviewed allegations of sexual harassment and misconduct in the Civil Division from approximately 2011 through the first half of 2016. The report analyzed 11 allegations reported during that time period, but noted that due to a lack of consistent reporting standards, the Civil Division couldn't identify the exact number of allegations and how they were resolved.
The report identified a series of administrative and substantive problems with how the division responded to misconduct claims, including that case files were only kept as paper records, so there was no system to track them, except by memory; that supervisors would address issues without reporting them to the human resources office; and that case files were incomplete.
A chart summarizing 10 case files showed that in one instance in which a DOJ employee was accused of an inappropriate relationship and stalking, the inspector general's office couldn't determine the nature or timeline of any investigation and whether the allegation was found true or not.
In another stalking case, an attorney admitted to stalking a female attorney, hacking into her personal email account, and catfishing her. He received a written reprimand, a lower title, and was banned for one year from entering the same building as the attorney he stalked, but he wasn't suspended and didn't have his pay docked. After the one-year ban was over, he was assigned to a different section within the Civil Division. The inspector general's office said the case raised potential "criminal concerns," but there was no evidence that anyone referred it to the inspector general's office or law enforcement.
The report also identified cases in which employees who were under investigation for misconduct or who were already facing discipline received performance awards. The inspector general's office expressed concern that awards in these types of cases would send a message that there were no "meaningful" consequences for committing misconduct.