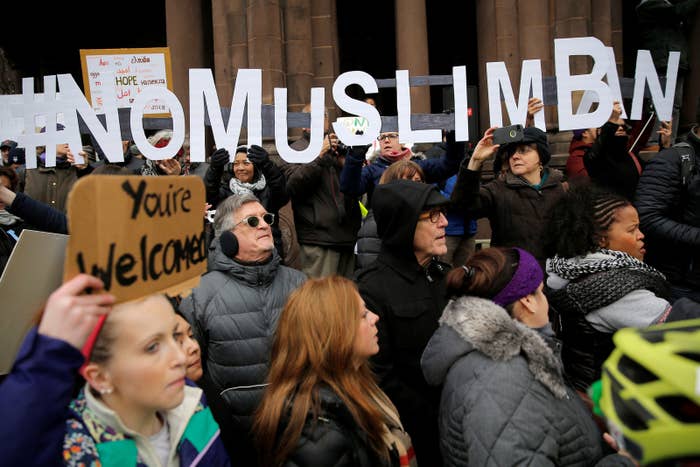 WASHINGTON — After President Trump on Friday signed a sweeping immigration executive order, federal employees, lawyers, and many others scrambled overnight and into the weekend to understand what exactly parts of it meant.
As a new president with only part of his cabinet confirmed — notably, not his attorney general or secretary of state nominees — Trump did so without significant parts of his legal and policy infrastructure in place.
And aside from arguments that Trump's immigration order is unconstitutional, critics have charged that the text is poorly worded and confusing, raising questions about the extent to which lawyers who understand US immigration law and policy and constitutional law scrutinized it before Trump signed it.
"One of the reasons there's so much chaos going on right now, in fact, is that nobody really knows what the order means on important points," Benjamin Wittes, a senior fellow in governance studies at the Brookings Institution, wrote on the blog Lawfare.
The fact that five federal judges so far have temporarily blocked enforcement of pieces of the order suggests that it's on shaky legal footing, said Harold Koh, a professor at Yale Law School who served as the legal adviser to the State Department from 2009 to 2013.
"When you have garbage in, you get garbage out," Koh said, referring to reports that the order may not have gone through robust interagency legal vetting.
A senior Justice Department official told BuzzFeed News on Sunday that the White House did seek a review by the Office of Legal Counsel "for form and legality" of the executive orders that Trump has signed so far. The Office of Legal Counsel historically has done a "form and legality" review for all executive orders, and also answers specific legal questions posed by the White House and federal agencies.
The DOJ official would not say if the Office of Legal Counsel found that Trump's immigration order was lawful on its face, a narrow question that isn't the same as whether DOJ lawyers believe an order could survive a court challenge. Even if the Office of Legal Counsel did find that the order was unlawful or otherwise problematic, that wouldn't stop Trump from signing it. Its findings are binding on agencies, but not the president.
A senior administration official told reporters on Sunday evening that the Office of Legal Counsel approved Trump's executive orders. Trump hasn't announced a nominee to run the office, but in the meantime it's being led on an interim basis by Curtis Gannon, who was brought in by the new administration as the principal deputy assistant attorney general. Gannon, a former law clerk to Justice Antonin Scalia, had worked in the US solicitor general's office since 2007.
The broad order signed Friday takes a number of actions: The order halted the entire US refugee program for 120 days; ended it indefinitely as to Syrian refugees; and blocked travelers to the United States from Syria, Iraq, Iran, Sudan, Somalia, Libya, and Yemen for 90 days. It caused immediate confusion as foreign-born travelers, including those with permission to come to the United States, were held at US airports, spurring protests nationwide.
In the recent past, when major immigration actions were signed, there's been a fair amount of legal process in the lead up to the actual signature.
In November 2014, President Obama announced a series of executive actions on immigration, including programs that would defer deportation for potentially millions of undocumented immigrants. The legal vetting that those programs went through before they were rolled out spanned multiple federal agencies over the course of many weeks, according to former Obama administration officials involved.
The White House asked the Office of Legal Counsel for a formal opinion about several questions of law related to the proposed immigration actions, which included a program known as Deferred Action for Parents of Americans, or DAPA, and the expansion of an earlier program for undocumented immigrants who were brought to the US as children, known as Deferred Action for Childhood Arrivals, or DACA. The legal counsel's office wrote a 33-page memorandum, which was made public. The office concluded that DAPA was lawful for parents of US citizens or lawful permanent residents, but not for the parents of individuals who benefited from DACA. A federal judge in Texas halted the 2014 executive actions pending a court challenge.
There is no such public memo explaining legal findings about Trump's immigration order — though that isn't necessarily unusual. The Office of Legal Counsel doesn't always release its conclusions to the public, especially if they aren't formal written opinions.
That the administration was in its first week doesn't mean it didn't have time to ask for a formal legal opinion; on Jan. 20, the office published a legal opinion that the Trump administration asked for about whether Trump's son-in-law Jared Kushner could work in the White House without violating anti-nepotism laws. (Kushner could, the office concluded.)
Trump isn't the first president to sign controversial, legally significant executive orders in his first days in office. Two days after Obama was sworn in, he signed a series of orders to close the US detention facility at Guantánamo Bay, Cuba, and to prohibit the Central Intelligence Agency from using torture or other harsh interrogation techniques.
The legal vetting for those executive orders in the weeks before Obama's inauguration was "massive and extensive," Koh said. Koh wasn't at the State Department yet, but said he was one of a number of legal experts consulted during the transition period about what Obama wanted to do.
The Obama administration submitted his early executive orders for review by the Office of Legal Counsel, according to former officials familiar with that process. The office didn't publish any written opinions at the time.
The Trump administration hasn't publicly described the type of legal review the immigration order went through before Trump signed it. The White House did not return a request for comment on Sunday evening. A senior administration official told reporters on Sunday that the "top drafters" were "the top immigration experts from Capitol Hill." According to news reports, career employees at the Justice Department, State Department, and Department of Homeland Security said they were not consulted.
Rudy Giuliani, an adviser to Trump and former prosecutor, said in an interview with Fox News on Jan. 28 that Trump had asked him to find a way to "legally" develop an immigration policy in line with Trump's calls during the campaign for a temporary ban on Muslim immigration. Giuliani didn't specify when the discussion with Trump took place, but said he brought in former federal judge Michael Mukasey, along with at least two members of Congress, to help with the effort. He said they focused on "danger" to the United States instead of religion.
Giuliani and Mukasey were not immediately available for comment on Sunday.
Besides the Office of Legal Counsel, other lawyers across the federal government are typically brought in to provide input on significant executive actions, according to a former senior DOJ official during the Obama administration.
Lawyers from the White House and agencies with a stake in the action, including the Justice Department, Department of Homeland Security, and the State Department, were involved in crafting the immigration executive actions in 2014, according to a former senior Department of Homeland Security official involved in the legal review. He said that officials consulted not just with political appointees but also career government lawyers and agency employees with institutional knowledge.
"Here, the rush to get it out seems to have essentially avoided lawyers altogether," Koh said.