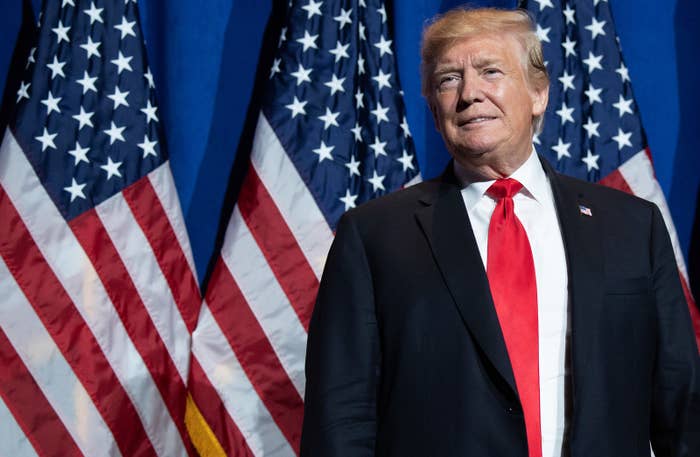 WASHINGTON — A federal judge in Washington, DC, on Monday rejected President Donald Trump's efforts to block a subpoena issued by House Democrats to his longtime accounting firm.
US District Judge Amit Mehta wrote in a 41-page opinion that the House Oversight Committee had presented "facially valid legislative purposes" in subpoenaing Mazars LLP for financial records related to Trump and his eponymous businesses.
"It is not for the court to question whether the Committee's actions are truly motivated by political considerations," Mehta wrote.
At a court hearing last week, Trump's attorney William Consovoy told the judge that they would appeal if they lost. Mehta denied Consovoy's request to delay his ruling pending an appeal, finding that any risk of "irreparable harm" — that is, once Congress got the records, there was no going back — was outweighed by the public interest in Congress getting access to records it sought.
"The court is well aware that this case involves records concerning the private and business affairs of the President of the United States. But on the question of whether to grant a stay pending appeal, the President is subject to the same legal standard as any other litigant that does not prevail," Mehta wrote.
House Oversight Committee Chair Elijah Cummings said in a statement that Mehta's ruling was "a resounding victory for the rule of law and our Constitutional system of checks and balances."

"Congress must have access to the information we need to do our job effectively and efficiently, and we urge the President to stop engaging in this unprecedented cover-up and start complying with the law," Cummings said.
Consovoy did not immediately return a request for comment.
Trump is fighting congressional subpoenas into his personal finances on two fronts. In addition to the case in Washington, he's also filed a lawsuit in federal court in Manhattan to block a subpoena to Deutsche Bank and Capital One. A judge is scheduled to hear arguments in that case on May 22.
In requesting documents from Mazars, Cummings cited testimony from Trump's former personal lawyer Michael Cohen, who told the committee in February that Trump's accountants had prepared financial statements that misstated the president's assets and liabilities. Mazars replied that it could not voluntarily produce the records, and the committee issued a subpoena in mid-April.
Trump sued Cummings and Mazars in federal court in Washington soon after, seeking a preliminary injunction blocking the committee from enforcing its subpoena while the case went forward; the committee was later substituted as a party in the case instead of Cummings individually. The committee agreed to postpone the subpoena deadline for seven days until after the judge ruled on Trump's motion for an injunction.
Mehta heard arguments on May 14. He told both sides that he intended to rule on the merits of the case, instead of Trump's motion for a preliminary injunction, finding that there wasn't any other evidence either side could present and that they'd both made robust arguments on the legal question before him.
Consovoy argued that Congress had little power to investigate a sitting president's personal affairs, and that the Oversight Committee was unlawfully taking on a law enforcement role in trying to root out any wrongdoing by the president. Douglas Letter, general counsel to the House of Representatives, argued that under US Supreme Court precedent, Congress didn't have to spell out what possible future legislation might come out of an investigation. As long as an investigation could lead to legislation, that was enough, he said.
The judiciary is often hesitant to jump into fights between the executive and legislative branches, and Mehta wrote that courts had "grappled for more than a century" in deciding the scope of Congress's investigative authority. As long as Congress was investigating a subject on which "legislation could be had," members were acting within their constitutional limits, he wrote.
He noted that the House had argued that the financial records from Trump's accounting firm would help the committee consider whether Trump may have violated the law or ethics rules, whether they should change ethics and financial disclosure laws, and whether Trump was complying with the Constitution's emoluments clauses, which broadly prohibit government officials — including the president — from accepting things of value from foreign and domestic governments.
Mehta wrote that his job would be easier if the committee had passed a resolution clearly laying out its legislative purpose, but it wasn't a "constitutional prerequisite to start an investigation." He found that each of the subject areas identified by the committee was one that could lead to legislative action.
"It is simply not fathomable that a Constitution that grants Congress the power to remove a President for reasons including criminal behavior would deny Congress the power to investigate him for unlawful conduct — past or present — even without formally opening an impeachment inquiry," the judge wrote.
Mehta noted that in the past 50 years, Congress had twice investigated a sitting president for alleged criminal activity before starting impeachment proceedings — Richard Nixon during the Watergate scandal, and Bill Clinton during the Whitewater scandal.
"The former investigation included within its scope potential corruption by President Nixon while in office, while the latter concerned alleged illegal misconduct by President Clinton before his time in office. Congress plainly views itself as having sweeping authority to investigate illegal conduct of a President, before and after taking office," Mehta wrote. "This court is not prepared to roll back the tide of history."
He noted later that there had been times when exposing criminal behavior by a president or high-ranking executive branch official led to legislation, such as the government transparency and oversight laws passed in the aftermath of Watergate. He also found that Trump's argument that Congress was constrained from passing laws that regulate the president's finances or conflicts of interest "flies in the face of decades of legislation covering the President."
As for Trump's argument that statements by Democrats pledging to inundate the administration with subpoenas once they took control of the House after the November midterm election undermined their arguments in court, the judge found that wasn't enough to outweigh the "legitimate" legislative purposes identified by the committee.
"In short, as long as there is a facially valid legislative purpose for the investigation, Congress acts within its constitutional authority. That is the case here," the judge wrote.