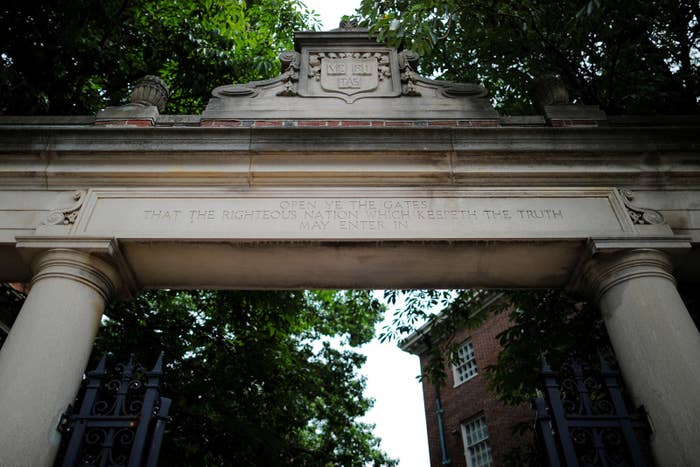 A federal judge ruled Friday that a lawsuit accusing Harvard University of discriminating against Asian American applicants should go to trial, rejecting both Harvard's effort to get the case tossed out and the challenger's effort to get an early judgment.
US District Judge Allison Burroughs found that the record presented to her at this stage of the case didn't clearly come out in favor of one side. Experts reached "contradictory conclusions" about whether Harvard's admissions data showed proof of intentional discrimination, the judge wrote, and the credibility of experts and other witnesses was a matter for trial, not a ruling on the written record.
The challenger, a group called Students for Fair Admissions, has argued that Harvard's admissions policies run afoul of what the US Supreme Court has ruled is permissible when it comes to affirmative action in higher education. The group got a boost over the summer when the Justice Department filed a "statement of interest" backing its claims against Harvard. The Justice Department is separately investigating admissions practices at Harvard and offered its opinion in the case because Harvard receives federal funding.
"There is ample record evidence that Harvard's use of race is not narrowly tailored in the way that the US Supreme Court has required," a DOJ official, speaking on condition of anonymity, told reporters at the time.
The president of Yale College confirmed earlier this week that the Justice Department and the Department of Education's Office for Civil Rights are also investigating Yale's admissions policies, with a focus on Asian American applicants.

Burroughs' opinion on Friday didn't reference the Justice Department's filing. She focused her analysis on the evidence that both sides had submitted to the court in the hopes of getting a pretrial resolution. On whether Harvard impermissibly used a quota system, the judge wrote that the school and Students for Fair Admissions "again present plausible but conflicting interpretations of the admissions data and testimonial evidence."
Burroughs reached a similar conclusion in considering Students for Fair Admissions' claims that Harvard gave race more weight than the Supreme Court had ruled schools could in its admissions decisions, and that Harvard had failed to consider "race-neutral alternatives" to achieving a diverse student body. Again, the judge wrote, facts were in dispute and "the experts have reached plausible but conflicting conclusions."
The judge noted that she had warned both sides earlier this year that the case involved a "fact-intensive inquiry," and that if the briefs on whether she should grant summary judgment included factual disputes, she would likely deny the motions and proceed to trial. In Friday's opinion, she wrote that of the 900 paragraphs that Students for Fair Admissions submitted that supposedly contained "undisputed facts," approximately 700 included facts that were at least partly in dispute.
Harvard released a statement saying the school agreed the case should be resolved at trial.
"Thorough and comprehensive analysis of the evidence makes clear that Harvard College does not discriminate against applicants from any group, including Asian Americans, whose share of the admitted class has grown significantly by 27% since 2010. We look forward to making our case at trial next month," the school said.
A Justice Department spokesperson declined to comment. A representative of Students for Fair Admissions did not immediately return a request for comment.
The trial will be a bench trial, which means there won't be a jury — the judge will hear the evidence and make a decision. The trial is scheduled to begin Oct. 15.

UPDATE
Updated with comment from Harvard University.