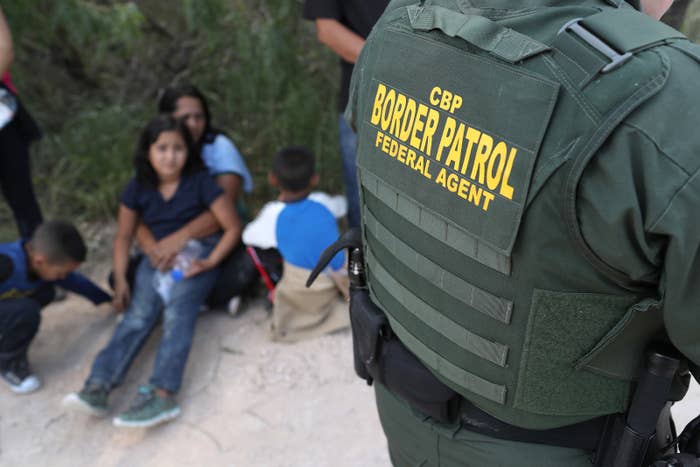 Three months after a court-ordered deadline for US officials to reunify families separated at the southern border, the government revealed late Thursday that it had identified more separated kids not included in previous tallies.
The Office of Refugee Resettlement, an agency within the Department of Health and Human Services that manages the care of separated or unaccompanied migrant children, had identified 14 kids in its custody who were separated from a parent at the US–Mexico border, according to a new court filing.
The report does not include an explanation for why these children were not previously identified. The government wrote that ORR recently finished another review of its records to make sure children in its custody were accurately categorized, and concluded that the 14 children should be "re-categorized."
Department of Health and Human Services spokesperson Evelyn Stauffer said in an email to BuzzFeed News that the second review included new information added to ORR's records after the department had come up with its original count of the number of separated kids. Stauffer wrote that the second review was performed "in an abundance of caution, and with the intent to comply fully with the court's order."
Lee Gelernt, the lead attorney from the American Civil Liberties Union representing separated families in court, said in a statement, "Given the lack of a plan or system to keep track of families, it's no surprise the original numbers were inaccurate."
Earlier this month, the Department of Homeland Security inspector general's office released a report finding that agencies were unprepared to deal with the effects of the Trump administration's "zero tolerance" policy — a practice of referring all adults accused of illegally crossing the border for criminal prosecution, which meant they were separated from children who came with them. The report found that there was no "central database" to track separated parents and children, and that agencies struggled to reunify families.
On Friday, government watchdog group Citizens for Responsibility and Ethics in Washington filed a lawsuit in federal district court in Washington, DC, accusing the Department of Homeland Security of violating federal record-keeping laws in how it documented enforcement of the "zero tolerance" policy and management of family separations.
Federal officials now say there are 47 separated children still in ORR custody who are potentially eligible to be reunified with a parent.

The latest filing came in a class action in federal district court in San Diego brought by the ACLU earlier this year on behalf of parents separated from their children at the border. On June 26, US District Judge Dana Sabraw ordered the government to reunify all eligible families, meaning the parent didn't have a criminal history or was otherwise deemed unfit or a danger to the child.
Of 14 newly identified children, the government said that seven are eligible for reunification with a parent. The other seven have parents with criminal histories that disqualify them from being reunited, according to the government. The ACLU has argued that not all criminal histories should be disqualifying, but Sabraw has so far rejected those challenges.
Under Sabraw's order, children under 5 years old had to be reunified within two weeks, and children between 5 and 17 had be reunified by the end of July. More than 1,400 families were reunified by Sabraw's deadline, but hundreds of children remained separated and in federal custody. Many parents had been deported and federal officials didn't know where they were. The government also deemed a number of parents ineligible because they were incarcerated or had a criminal history or because there were other red flags.

Working with the ACLU, the government has continued to track down deported parents and either arrange for children to be sent to their home countries for reunification, or secure waivers from parents that allow children to stay in the United States to pursue asylum claims. Some children have been placed with sponsors.
As of Oct. 23, 2,104 separated children had been reunified with a parent and 300 children were released from ORR care under other circumstances, such as getting a sponsor or turning 18, according to the latest report.
Sabraw has required the government to file regular status reports detailing its reunification efforts. In recent weeks, he's expressed optimism about the government's progress. Another status report is due Nov. 8, and the lawyers are due back in court on Nov. 9.
UPDATE
Updated with comment from a Department of Health and Human Services spokersperon and information about a lawsuit filed against the Department of Homeland Security.