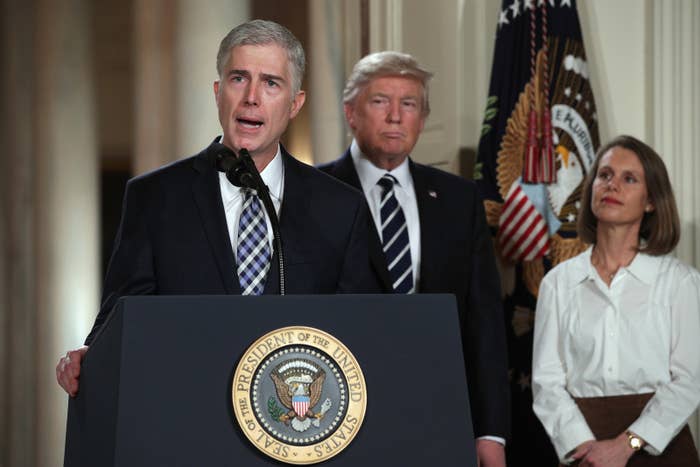 WASHINGTON — Judge Neil Gorsuch, President Trump's nominee for the US Supreme Court, would join the high court's millionaires' club if he's confirmed. A review of his latest financial disclosure report shows an extensive set of financial holdings.
But Gorsuch would differ from some of his new colleagues in that he doesn't own stock in any individual companies. Corporate holdings have forced justices to recuse from cases in the past. In January, Chief Justice John Roberts Jr. withdrew from a case he heard arguments in in December after realizing he owned stock in a company involved.
Gorsuch, a judge on the US Court of Appeals for the Tenth Circuit since 2006, will have to continue filing financial disclosures if he's confirmed, but he won't have to follow other rules that apply to lower court judges.
For instance, the justices don't have to separately report privately-funded seminars they attend that are specifically geared towards judges — events that judicial watchdogs contend are problematic because they give interest groups an opportunity to present information to judges on issues that could come up in litigation. (The change, if the past is any guide, likely won't make a big difference for Gorsuch, who did not report attending any privately funded seminars since at least 2014.)
More broadly, however, the justices are not bound to follow the Code of Conduct for US Judges, a set of ethics rules that build on federal laws addressing conflicts of interest on the bench. The justices have said that they adhere to the rules, but they aren't required to do so.
Gabe Roth, head of the court watchdog group Fix the Court, said in a recent report about ethics rules and the Supreme Court that "whoever President Trump nominates to fill the high court vacancy will have more responsibility yet less accountability."
According to the latest financial disclosure report that Gorsuch filed in August, which covers his finances in 2015, he has few financial entanglements that could create conflicts of interest with cases if he's confirmed. He teaches at the University of Colorado Law School, earning an annual salary of $26,000; federal judges are allowed to teach and earn income for doing so, subject to certain amount restrictions.
Gorsuch's reported financial assets in 2015 were worth at least $3.3 million. The actual number could be much higher, since judges report the value of their financial holdings in ranges. Those assets included a brokerage account, retirement fund, IRA account, and a money management account that held a number of municipal bonds.
Gorsuch said he didn't accept any gifts in 2015, and had no financial liabilities. A member of the bar in Colorado since 1994, he has no history of disciplinary action.
Gorsuch took just two trips in 2015 where his host paid for his travel expenses. He went to Renaissance Weekend in Jackson Hole, Wyoming, a retreat that takes a place a few times a year for "innovators" in various fields across the political spectrum, including the law, according to its website. He also traveled to London to participate in a legal exchange through the American College of Trial Lawyers, a professional organization.
His disclosure reports in recent years show that he rarely took the type of paid-for travel that would require reporting. In 2012 and 2013, he attended the annual convention of the Federalist Society, a conservative lawyers group.
The late Justice Antonin Scalia, whose seat Gorsuch would fill, was a frequent traveler, reporting numerous trips where his expenses were paid for by outside groups each year. He died while visiting a ranch owned by John Poindexter, according to news reports at the time, who also owns the manufacturing company J.B. Poindexter & Co. Months before Scalia's trip, the Supreme Court considered but ultimately declined to hear a case that involved J.B. Poindexter.
Scalia's stay at the ranch highlighted gaps in the financial disclosure rules, since although rooms at the ranch sell for several hundred dollars a night, the federal Ethics in Government Act doesn't require public officials to report "personal hospitality" from the owner of a property.