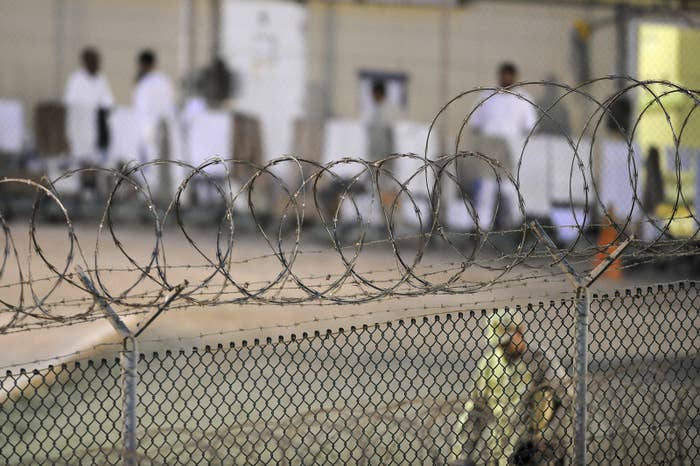 WASHINGTON — Jan. 16, 2017, will mark Moath al-Alwi's 15th anniversary as a detainee at Guantánamo Bay. His lawyer argued in court this week that his continued "indefinite" imprisonment is unlawful.
Al-Alwi is one of 59 detainees still held at Guantánamo Bay. Pakistani authorities turned him over to the US in late 2001 on suspicion of ties to al Qaeda and the Taliban. The Obama administration recently moved ahead with plans to transfer out another 17 or 18 detainees, according to The New York Times, but in the meantime al-Alwi is challenging his detention in court.
Al-Alwi's attorneys say that the nature of the conflict in Afghanistan in 2016 is so different from when he was captured 15 years ago and detained as an enemy combatant that the United States no longer has legal authority to hold him.
Guantánamo Bay detainees have so far unsuccessfully tried to convince judges that President Obama's public statements in 2014 and 2015 that the US combat mission in Afghanistan was over meant that they should be released. Three federal judges in Washington rejected variations of this argument, finding that there are still "active hostilities" in Afghanistan that give the US legal authority to hold enemy combatants.
Al-Alwi's lawyers are hoping for a different outcome before the latest judge to consider the argument, US District Judge Richard Leon, who heard arguments on Tuesday on the government' s request to dismiss al-Alwi's case.
Leon ruled in 2008 that al-Alwi's detention was lawful given evidence of his ties to al Qaeda and the Taliban. The judge on Tuesday expressed doubts about al-Alwi's latest challenge and questioned whether it was Congress' job, and not the courts', to decide how to handle detentions if US anti-terrorism efforts continued without a definite end date.
City University of New York School of Law professor Ramzi Kassem, one of al-Alwi's lawyers, told Leon that although there was still fighting in Afghanistan, the conflict today was different from the US military operation fifteen years ago. Operation Enduring Freedom, the unilateral US mission that led to al-Alwi's capture, was over, he said. The US is now involved in Operation Freedom's Sentinel, which has a more limited mission in support of Afghan forces.
If there was still fighting in Afghanistan, why did the official title of the operation or a change in the scope of operations make a difference, Leon asked Kassem. Kassem replied that the legal authority for al-Alwi's detention was tied to a particular conflict. US forces were involved in anti-terrorism efforts around the world, he said, but they weren't claiming the same detention authority.
Even if the judge did find that the conflict in its current form was a continuation of hostilities in 2001, Kassem said the circumstances were so different from past wars the US had fought that the court should revisit whether the open-ended nature of US anti-terrorism efforts meant that al-Alwi could be held indefinitely.
The government argues that as long as there are "active hostilities" in Afghanistan, al-Alwi's detention remains lawful. Justice Department lawyer Andrew Warden on Tuesday pointed to the three earlier decisions from judges in the DC court rejecting similar arguments to those raised by al-Alwi.
Kassem argued that al-Alwi's case was different because he was also pursuing the broader argument about what the indefinite nature of US anti-terrorism efforts means for the government's ability to hold detainees.
"There has to be a limit somewhere," Kassem told the judge.
Previous decisions by Leon's colleagues on the DC court don't bind the judge. There hasn't been a ruling on the post-2014 "active hostilities" issue from the US Court of Appeals for the DC Circuit — which Leon and other district judges would have to follow — because detainees in those cases were transferred out of Guantánamo Bay before the appeals court could consider their arguments.