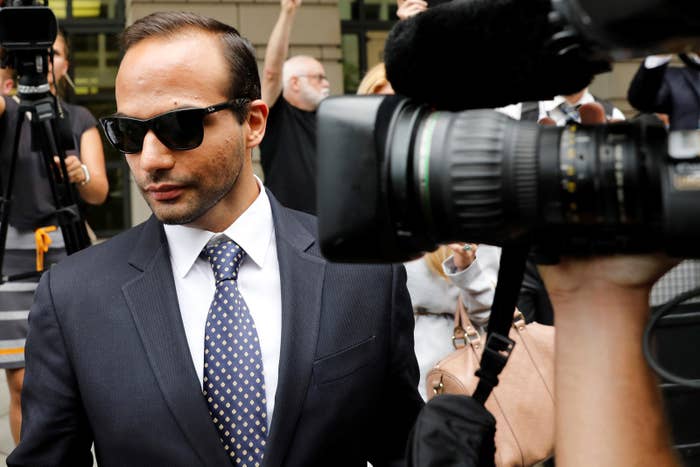 WASHINGTON — A federal judge on Sunday rejected former Trump campaign adviser George Papadopoulos's efforts to delay serving his 14-day sentence for lying to the FBI.
Papadopoulos is due to report to the federal Bureau of Prisons on Nov. 26. A week and a half ago, however, his new team of lawyers filed papers asking US District Judge Randolph Moss to allow him to stay free until a legal challenge to special counsel Robert Mueller's appointment — a challenge raised in an entirely separate case — concluded. In a 13-page opinion, Moss found Papadopoulos failed to show that a delay was "warranted."
"The language of the statute is plain and unavoidable: in order to qualify for bail pending appeal, the defendant must (unsurprisingly) have 'filed an appeal or a petition for a writ of certiorari,'" Moss wrote. "Nothing in the text of the Bail Reform Act contemplates postponing the execution of a defendant's sentence pending resolution of an appeal brought by a different party in a different case."

Papadopoulos pleaded guilty to one count of lying to federal investigators about his contacts in the spring of 2016. While he was an adviser to Trump's campaign, he communicated with a professor in London who told him that the Russians had "dirt" on then–Democratic presidential candidate Hillary Clinton, as well as other people he believed had ties to Russia.
At his sentencing hearing before Moss on Sept. 7, Papadopoulos said he'd made a "terrible mistake" and that he was "deeply embarrassed and personally ashamed" that he may have hurt the FBI's investigation. His lawyer at the time, Tom Breen, went even farther, telling the judge that Papadopoulos was "a fool" who made "stupid, stupid mistakes."
Saying he was impressed by Papadopoulos's show of remorse, Moss sentenced him to 14 days in prison — half the time that Dutch lawyer Alex van der Zwaan, another defendant in the Mueller investigation who pleaded guilty to lying to the FBI, received when he was sentenced earlier this year.
Papadopoulos had been relatively quiet leading up to his sentencing, mostly tweeting praises of his wife and family, inspirational quotes, and the occasional general reference to the events of the past year. On Aug. 20 — around the time that his wife, Simona Mangiante Papadopoulos, was publicly suggesting that her husband might try to withdraw his guilty plea — he tweeted, "Been a hell of a year. Decisions."
After his sentencing, however, it was Papadopoulos unleashed. In the weeks that followed, he did a string of interviews and tweeted avidly about his theories that foreign spies infiltrated Trump's campaign. There were also signs that he wasn't ready to go to prison without a fight, notwithstanding the terms he agreed to as part of his plea deal. On Nov. 13, the lawyers who had represented him throughout his criminal case asked the judge to let them bow out, saying that Papadopoulos "has hired other counsel to assist him with any issues related to the criminal case following his sentencing."
His now-former lawyers didn't provide any details about what those "issues" might be, but three days later, his new lawyers filed a motion asking the judge to allow Papadopoulos to remain free as a legal challenge to Mueller's appointment filed by former Roger Stone associate Andrew Miller played out. Miller has been fighting an effort by special counsel prosecutors to force him to testify before a grand jury. A federal district judge rejected Miller's arguments that Mueller's appointment was unlawful, and the US Court of Appeals for the DC Circuit heard arguments on Nov. 8.
Papadopoulos's lawyers argued that the DC Circuit's decision in Miller's case "may directly impact the validity of Mr. Papadopoulos' prosecution and conviction."
"If the appeal is successful, then the Special Counsel lacked constitutional authority to prosecute Mr. Papadopoulos in the first instance," his lawyers wrote. "Given that the appeal in [Miller's case] has been fully briefed and argued, a modest stay of his incarceration pending the outcome of that appeal should be granted."
The special counsel's office filed its opposition to Papadopoulos's request on Nov. 21. Prosecutors argued that Papadopoulos had no solid legal grounds to get out of his prison time and was just looking for a way to delay it, noting that some of his post-sentencing tweets, some of which were later deleted, "appear to be inconsistent with his stated acceptance of responsibility at sentencing." On Nov. 9, for instance, he tweeted, "Biggest regret? Pleading guilty[.]"
Prosecutors wrote that Papadopoulos had plenty of time to challenge Mueller's appointment in his own case, and that the issue wasn't a "close" one — multiple judges have rejected legal and constitutional challenges to Mueller's appointment and his exercise of authority.
"The defendant received what he bargained for, and holding him to it is not a hardship," the special counsel's office wrote.
Moss wrote in his opinion on Sunday that Papadopoulos failed to show that the DC Circuit was likely to conclude in Miller's case that Mueller's appointment was invalid, or even that it was a "close question," noting the multiple opinions from other judges on the subject.

"Based on the reasoning contained in those opinions, the Court concludes that the prospect that the D.C. Circuit will reach a contrary conclusion is remote," Moss wrote.
The judge added that even if the DC Circuit sided with Miller, it wasn't clear that it would affect Papadopoulos's conviction — as part of the plea deal, Papadopoulos waived the right to challenge the conviction, unless there was new evidence, and Moss wrote that Papadopoulos hadn't clearly articulated what that new evidence might be. Papadopoulos couldn't "plausibly argue" that a DC Circuit opinion was new evidence, he wrote.
Papadopoulos's lawyers and a spokesperson for the special counsel's office did not immediately return requests for comment.
After Papadopoulos gets out of prison, he'll be on supervised release for 12 months. His sentence also included paying a $9,500 fine and completing 200 hours of community service.