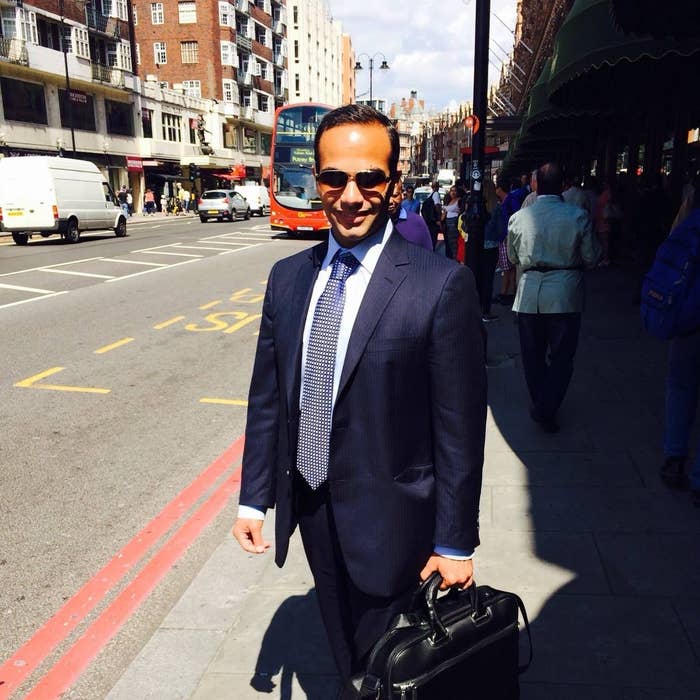 George Papadopoulos, the former Trump campaign adviser who was the first person to plead guilty in special counsel Robert Mueller's investigation into Russian interference in 2016's election, was sentenced on Friday to 14 days in prison.
Papadopoulos pleaded guilty last year to lying to FBI agents about his communications in the spring of 2016 with a London professor who told him the Russians had "dirt" on Hillary Clinton. Papadopoulos admitted misleading the FBI about the timing of his communications with the professor and other individuals he believed had connections to Russia, in order to distance them from his work for the campaign.

Addressing Papadopoulos after announcing the sentence, US District Judge Randolph Moss said he knew the case and the sentence were "painful," but he hoped Papadopoulos saw this as the beginning of the second chance that Papadopoulos had talked about wanting in his comments to the judge earlier in the hearing. Papadopoulos nodded.

The judge said that going into the hearing, he was prepared to sentence Papadopoulos to 30 days in prison, but was impressed by his show of remorse. Papadopoulos didn't appear to react with emotion as the sentence was announced, but embraced his wife in the well of the courtroom after the hearing ended. He did not speak with reporters after exiting the courthouse; he and his wife put on sunglasses and silently walked through the press scrum to a black SUV.

After serving his prison time, Papadopoulos will spend a year on supervised release and will have to do 200 hours of community service and pay a $9,500 fine.

Papadopoulos told the judge that he made a "terrible mistake." When he interviewed with the FBI on Jan. 27, 2017, and lied, it was a week after President Donald Trump's inauguration, and his life was a "whirlwind," he said.
"I was young and ambitious and wanted to serve my country at the highest levels," he said. He went on to say that he considered himself a "patriotic American," and he was "deeply embarassed and personally ashamed" that he may have hindered the FBI's investigation.
During the hearing, Papadopoulos's lawyer Tom Breen said that his client was "a fool" who made "stupid, stupid mistakes." Breen suggested that when Papadopoulos interviewed with the FBI in January 2017, he was influenced by Trump's claims at the time that the investigation into Russian interference in the election was fake and a "witch hunt."
"The president of the United States hindered this investigation more than George Papadopoulos ever could," Breen told the judge.
Speaking with reporters after the hearing, Breen was asked if Papadopoulos told anyone on the Trump campaign after learning that the Russians had "dirt" on Hillary Clinton. Breen said Papadopoulos did not recall telling anyone.
"To his knowledge, he does not recall doing that, and if he did, he does not recall who it would be that he had told that to. That was not his primary interest. His primary interest was to do what he thought the campaign wanted him to do, which was put Russian officials together with United States officials to work on some better relationship with Russia," Breen said.
Papadopoulos's mother, Kiki Papadopoulos, also spoke with reporters after the hearing. She said she was "fine" with the verdict and thought the judge was "very fair."

"He looked at everything, he analyzed everything. I think what he came up with was very fair," Kiki Papadopoulos said.
Shortly after the sentence came down, Trump tweeted, "14 days for $28 MILLION - $2 MILLION a day, No Collusion. A great day for America!" The president appeared to be referring to the cost of Mueller's investigation, but the special counsel's office has reported expenses totaling $7.7 million between May 17, 2017, and March 31, 2018.
Papadopoulos had asked for no jail time. His lawyers argued in court papers last month that Papadopoulos lied to save his own career and out of a "perhaps misguided" sense of loyalty to his "master" — Breen made clear on Friday that was a reference to Trump and the campaign — not as part of a deliberate effort to "derail" the investigation into Russian interference in the 2016 presidential election.

"[Papadopoulos] was the first domino, and many have fallen in behind," his lawyers wrote. "Despite the gravity of his offense, it is important to remember what Special Counsel said at George's plea of guilty: he was just a small part of a large-scale investigation."
Prosecutors argued that Papadopoulos should serve some time behind bars, even if it was minimal — they didn't ask for a specific sentence, but argued a period of incarceration between zero and six months would be appropriate. Papadopoulos's lies "caused damage" to the Russia probe and hindered agents investigating the professor, Joseph Mifsud, Mueller's office wrote in in its sentencing memo. The government noted that another defendant who had pleaded guilty to lying in the Mueller investigation, Dutch lawyer Alex van der Zwaan, had been sentenced to one month in prison.
In his arguments on Friday, special counsel prosecutor Andrew Goldstein noted that Papadopoulos only came clean to investigators after he was confronted with evidence that he had lied. He described Papadopoulos's cooperation with the government as "begrudging."
"He chose to leave his lies standing as they were," Goldstein said.
Papadopoulos's lawyers tried to distance their client from van der Zwaan — the only other defendant so far to be sentenced in the Mueller investigation — arguing that Papadopoulos's crime was "far less egregious." Van der Zwaan was an "experienced lawyer," while Papadopoulos had no legal training, his lawyers said. Van der Zwaan gave false information in the midst of Mueller's investigation, while Papadopoulos was interviewed in January 2017, months before Mueller's appointment and before the full scope of the investigation became clear, they argued.

In announcing the sentence on Friday, Moss said that he thought van der Zwaan's sentence was relevant, but that there were differences between the two cases that both helped and hurt Papadopoulos. On the one hand, the judge said, the information that Papadopoulos lied about was more directly tied to the national interest, and made the case more serious. On the other hand, while the judge in van der Zwaan's case wasn't impressed with his show of contrition, Moss found that Papadopoulos seemed "genuinely remorseful."
The judge did have harsh words for Papadopoulos for saying that he had lied in the hopes of securing a job in the Trump administration.
"His motive was not the best motive that one can imagine in these circumstances," Moss said. "This was not a noble lie."
Papadopoulos will not go to prison right away. He'll have an undefined period of freedom — his lawyer said the usual time period is 50 to 60 days — before he must self-surrender. In the meantime, his lawyer asked that he be allowed to travel to New York and California, where he's looking to relocate from Chicago. The government and the judge didn't object to that.

Papadopoulos first tried to join Trump's campaign in 2015, according to court papers, but when that effort he failed, he linked up with Ben Carson's campaign instead. After Carson dropped out of the race, Papadopoulos again applied to work for Trump's campaign, and this time succeeded — he became a foreign policy adviser in March 2016, with a focus on improving US relations with Russia.
Papadopoulos was out of his league, though, bringing no experience with US–Russia diplomacy, according to his lawyers. Papadopoulos's lawyers said that when he first met Mifsud in early March 2016, the professor didn't seem interested in him until realizing he was part of the campaign. On March 24, 2016, Papadopoulos met with Mifsud in London, and was introduced to a woman who Mifsud said was related to Russian President Vladimir Putin — Papadopoulos later learned that was false — and had connections to senior Russian officials.
At a March 31, 2016, meeting that included then-candidate Donald Trump, Trump "nodded with approval" when Papadopoulos said he had connections that could help arrange a meeting between Trump and Putin, according to Papadopoulos's sentencing memo.
Mifsud connected Papadopoulos with a person who said they had connections to the Russian Ministry of Foreign Affairs, and that person and Papadopoulos discussed setting up a meeting between the campaign and Russian officials. Papadopoulos kept the campaign updated on his efforts to set up meetings, including between Trump and Putin, his lawyers said. A Trump-Putin sitdown didn't happen — prosecutors noted in court papers that other campaign officials who were aware of Papadopoulos's work said that Trump would not be traveling to Russia.
On April 26, 2016, Papadopoulos met Mifsud for breakfast in London, where the professor told him that he had learned during a recent trip to Russia that the Russians had "dirt" on Clinton, and had thousands of Clinton emails. The charging papers don't state whether Papadopoulos told anyone about the "dirt," but prosecutors did say that the next day Papadopoulos communicated with campaign officials about the possibility of Trump traveling to Russia.
Papadopoulos spoke with FBI agents on Jan. 27, 2017. His lawyers say he was caught off guard and thought they wanted to talk to him about a Russian businessman with a connection to the Trump dossier. When the questioning shifted to the campaign and contacts with Russia, his lawyers wrote that he felt "conflicted" because he wanted to help the agents but also distance himself from the probe.
Papadopoulos pleaded guilty to one count of making false statements on Oct. 5, but the case was sealed until Oct. 30 — the same day the indictment against former Trump campaign chair Paul Manafort and his former deputy Rick Gates was also unsealed. Papadopolous agreed to cooperate with Mueller's office as part of his plea deal, delaying sentencing until that cooperation was complete. His lawyers said prosecutors last interviewed him in December, but he agreed to three extensions this year at the government's request.
In arguing for a sentence of probation, his lawyers noted that Papadopoulos had been under government supervision for more than a year.
"Moreover, even a sentence of probation will leave George with a federal felony conviction following him for the rest of his life," his lawyers wrote. "That conviction, standing alone, is a significant punishment."