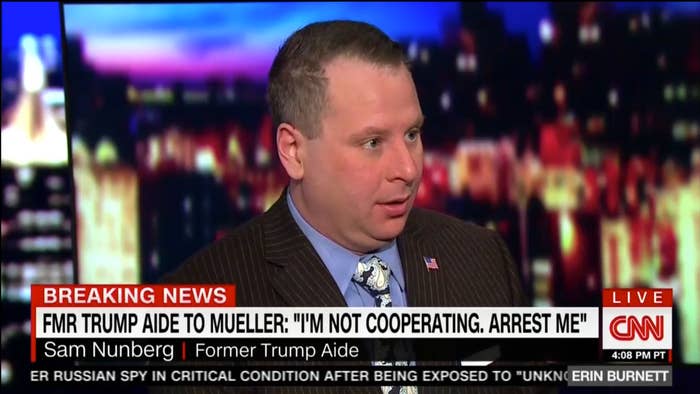 In a series of increasingly bizarre interviews that culminated with a question about whether he had been drinking, former Trump aide Sam Nunberg said Monday that he would not comply with a subpoena from a grand jury that is investigating Russian meddling in the 2016 election.

Nunberg participated in multiple televised, sometimes meandering interviews on MSNBC, NY1, and CNN, repeatedly calling demands to hand over emails related to the investigation and testify before a grand jury "ridiculous." He also speculated that special counsel Robert Mueller, who is leading the Russia investigation, might have incriminating information about Trump and added that the president's team is "doing a terrible job."
Nunberg was fired from Trump's campaign in August 2015 after racist Facebook messages that he allegedly wrote surfaced. Nunberg told media outlets on Monday that he had been subpoenaed to provide documents and to appear in Washington, DC, on March 9 to testify before the grand jury.
"Screw that," he told Gloria Borger on CNN.
"I'm objecting to it because I shouldn't have to spend that much time," he later told CNN's Jake Tapper. "I shouldn't have to go back down to a grand jury. I spent — I'm spending a lot of money on legal fees. A lot of other people are. And, granted, Donald Trump caused this, because he's an idiot. Because he decided to give an interview to Lester Holt the day after he fired James Comey and then he decided to have the Russians in the Oval Office. You have to explain that one to me, 'cause I'll never understand it."
Later in the evening, talking to Ari Melber at MSNBC, Nunberg said that Trump was "the most disloyal person [you're] ever gonna meet."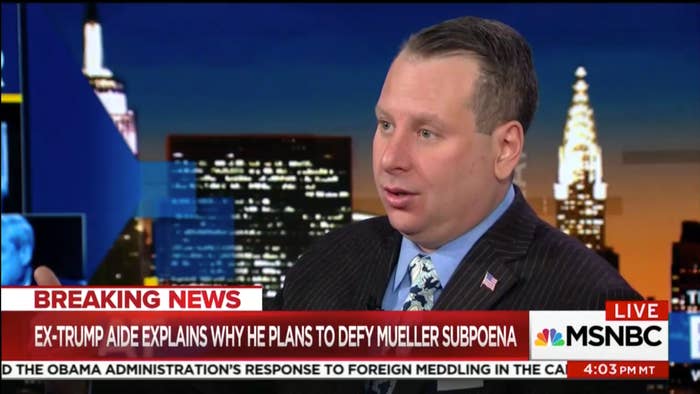 The comments were among many Nunberg made Monday that prompted widespread speculation about his mental state. During Nunberg's final televised interview of the day, CNN anchor Erin Burnett referenced that speculation, and asked if he had been drinking during the day.

"Talking to you, I have smelled alcohol on your breath," Burnett said.

"Well I have not had a drink," Nunberg replied.
Asked moments later if Nunberg had taken "anything else," he said he had not consumed anything besides his antidepressant medication.
"They can say whatever they want. I don't care," Nunberg added about rumors that he could have been intoxicated.
Earlier in that same interview, Nunberg had criticized White House press secretary Sarah Huckabee Sanders, saying she "should shut her fat mouth." Nunberg repeatedly targeted Sanders on Monday, and during his interview on MSNBC appeared to threaten the press secretary.
"And I'm warning her by the way to shut her mouth," Nunberg said.

The remark came in response to a question about Nunberg's erratic comments and the fact that, according to Melber, some people "might be worried" about him.
At other points Monday, Nunberg appeared to mock and challenge the idea that he could be jailed for not complying with the subpoena.
"I think it would be funny if they arrested me," he said.

Under federal court rules in criminal cases, a person who fails to obey a grand jury subpoena "without adequate excuse" can be held in contempt of court. Asked if he was worried about that, Nunberg told Katy Tur on MSNBC, "Let's see what Mr. Mueller does."
A spokesperson for the special counsel's office declined to comment on Nunberg's statements. Nunberg did not immediately return a request for comment by BuzzFeed News.
Asked by Tur if he thought the special counsel's office had "something on the president," Nunberg replied, "I think they may."
"I think he may have done something during the election. But I don't know that for sure," Nunberg said. Asked to elaborate, he added, "I can't explain it unless you were in there."
Sanders, in response, said Nunberg was "incorrect."
Nunberg said he was "not a fan" of the president — Trump "screwed" him and former Trump adviser Roger Stone over during the campaign, he said — but after going over the grand jury subpoena, he agreed with Trump's assessment that the investigation was a "witch hunt."
"Why do I have to spend 80 hours going over my emails? That I've had with Steve Bannon and with Roger Stone? Why does Bob Mueller need to see my emails when I send Roger and Steve clips and we talk about how much we hate people?" Nunberg said.
Nunberg told MSNBC that he decided "a couple hours ago," as he was going through his emails, not to comply with the subpoena. He told CNN's Borger that he had started going through his emails over the weekend, and that he was supposed to turn them in on Monday afternoon. He said he had not been contacted about the subpoena by the White House, Trump, any member of Trump's legal team, Stone, or Steve Bannon.
At another point in the interview with MSNBC, however, Nunberg said he hadn't gone through his emails since he was contacted by the special counsel's office. The Washington Post published a document that Nunberg provided that appeared to be part of a subpoena for records. It is dated Feb. 27, and asks for "all documents" since Nov. 1, 2015, that relate to President Trump, former Trump campaign foreign policy adviser Carter Page, campaign manager Corey Lewandowski, former White House communications director Hope Hicks, former Trump security aide and bodyguard Keith Schiller, Trump lawyer Michael Cohen, former Trump campaign manager Paul Manafort, former deputy campaign manager Rick Gates, Stone, and Bannon.
The document does not include a request for Nunberg to testify before the grand jury.
Last month, multiple news outlets reported that Nunberg would sit down with the special counsel's office. On Monday, he confirmed that he had sat down with Mueller's team, calling them "very professional." On MSNBC, Tur asked Nunberg about the fact that last week he had said the Russia investigation was not a waste of time. He replied that receiving the subpoena had changed his mind.
Nunberg told Melber that he thought Mueller's team was trying to build a criminal case against Stone. Nunberg said he was told he was not a target of the investigation and would be given immunity.
"They're trying to set up a perjury case against Roger Stone, and I'm not going to have it. Roger's my mentor, Roger is like family to me, and I'm not going to do it," Nunberg said.
Nunberg said the special counsel's office investigators had asked if he heard people speaking Russian around Trump Tower and if he had heard about efforts by the Trump Organization to develop a property in Moscow. On CNN Monday, he said he had not. Nunberg also said he was told that Russian singer Emin Agalarov had offered to send up women to Trump's room during the Miss Universe pageant in 2013 in Russia, and that "Trump flat-out refused it. Trump's too smart to have women come up to his room."
"Donald Trump did not collude with the Russians. It is the biggest joke to ever think Donald Trump colluded with the Russians," Nunberg told MSNBC. To Borger on CNN, he said, "Mueller thinks that Trump is the Manchurian candidate, and I will tell you, I disagree with that."

Nunberg told Tapper that Page "was colluding with the Russians." He also said Page "wasn't really an adviser," but rather "a name on a list."
Nunberg said it wasn't true when Trump said he didn't know about a June 2016 meeting at Trump Tower between Donald Trump Jr., Manafort, the president's son-in-law Jared Kushner, and a Russian lawyer, Natalia Veselnitskaya. Prior to the meeting, Trump Jr. had been promised compromising material on Hillary Clinton, according to emails that were later released.
"You know it's not true. He talked about it the week before. And I don't know why he did this. All he had to say was, yeah, we met with the Russians. The Russians offered us something and we thought they had something and that was it. I don't know why he went around trying to hide. He shouldn't have," Nunberg said.
He told CNN that investigators wanted him to say that Stone was telling people that Stone was colluding with Julian Assange, the founder of WikiLeaks. Nunberg said that did not happen.
In a statement to CNN, Stone said: "I was briefly part of the Trump campaign and have been the president's friend and adviser for decades; and would expect that Mueller's team would at some point ask for any documents or emails sent or written by me. But let me reiterate, I have no knowledge or involvement in Russian Collusion or any other inappropriate act." A lawyer for Stone referred BuzzFeed News to the statement posted by CNN.
Nunberg has a reputation for bold pronouncements and occasional fictions. "Mueller is going to go over every financial dealing of Jared Kushner and the Trump Organization," he told Vanity Fair after Mueller's team indicted former Trump campaign chair Paul Manafort. He said on MSNBC last month that he is "sure" Donald Trump Jr. told his father about what happened during a meeting with Kremlin-connected officials, something the White House has denied. Just last week, he suggested to BuzzFeed News that Trump's reelection campaign is no sure thing.
And last November, he admitted to Politico that he was the source of an anecdote in a story in the New Yorker about former New Jersey Gov. Chris Christie fetching McDonald's for Trump. Nunberg told Politico he'd made up the story to dig at Christie. The New Yorker subsequently said he was not the source.
At the end of his interview with Tapper, Nunberg asked, "Jake, I'm definitely the first person to ever do this, right?"
Nunberg would not be the first person to be found in contempt for refusing to comply with a grand jury subpoena. In 2005, former New York Times reporter Judith Miller was jailed for refusing to testify before a grand jury investigating government leaks. In 2006, the personal trainer of former professional baseball player Barry Bonds also spent time in jail after he was found in contempt for refusing to testify before a grand jury in a steroids investigation.
Matt Berman, Chris Geidner, and Thomas Frank contributed to this report.