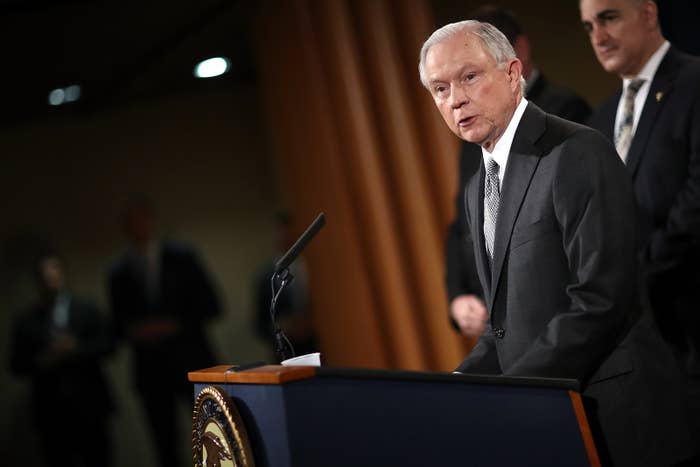 In directing prosecutors to pursue the most serious charges possible in criminal cases, Attorney General Jeff Sessions will end up dictating some of the decisions of a group of public officials who aren't under his command: federal judges.
The Justice Department on Friday released a memo from Sessions outlining a new charging policy for prosecutors. Sessions wrote that prosecutors should pursue "the most serious, readily provable offense," striking Obama-era policies that gave prosecutors discretion to not bring charges that carried mandatory minimum sentences for certain nonviolent offenders.
The federal judiciary has a long-standing policy of opposing mandatory minimums and several former federal judges told BuzzFeed News that the new policy isn't supported by the latest research on what works in bringing down crime rates. And, they say, the Justice Department's re-embrace of charges that carry mandatory minimum sentences will hamstring judges from making decisions rooted in the facts of a case, as opposed to preset minimums widely blamed for mass incarceration.
"The judges are not going to be happy," said Kevin Sharp, who stepped down from the bench in April after six years as a federal judge in Tennessee. "Now you're telling them, gosh, you don't need a judge, you need a calculator, that's all you need. There are people who deserve life in prison. But we ought to be able to analyze that under the factors that judges use for sentencing."
When prosecutors bring a charge that carries a mandatory minimum sentence, judges have no discretion to hand down a sentence below that minimum. Sessions wrote in his memo to prosecutors this week that the new charging policy "affirms our responsibility to enforce the law, is moral and just, and produces consistency." If a prosecutor wants to bring a charge that is not "the most serious, readily provable offense," they'll have to get approval from a supervisor or another senior DOJ official.
All of the former federal judges that BuzzFeed News spoke to were nominated by Democratic presidents, but mandatory minimums in drug cases are unpopular across the federal judiciary. In a 2010 survey of federal judges nationwide by the US Sentencing Commission, the majority of judges who responded said they believed that mandatory minimum sentences were too high in drug cases involving crack cocaine and marijuana.
Former Manhattan federal judge Shira Scheindlin, who retired in 2016 and now works at a private law firm, said the sentiments expressed by judges in the 2010 survey remain true today. Mandatory minimums empower the executive branch and diminish the power of the judiciary, she said.
"It's most unfortunate because as everyone knows, this country has the highest per capita prison population in the world and we know that this is partly a result of mandatory sentencing, where the judges don't have discretion," Scheindlin said. "We know that our sentences are longer than they need to be for the purposes that one thinks of when one imposes a sentence."
Retired Massachusetts federal judge Nancy Gertner said she was disappointed with the new policy. President Obama's clemency initiative — he granted 1,715 commutations and 212 pardons — highlighted the "preposterous" sentences that low-level drug offenders faced because of mandatory minimums, she said.
"We now know all the facts that led to [former attorney general Eric] Holder's change in the policy, all the facts that led to a bipartisan effort to undo the war on drugs and to lower sentences — all of the facts supporting that are completely ignored in this letter," said Gertner, who retired from the bench in 2011 and is now a professor at Harvard Law School.
Even if judges oppose the new DOJ policy, there isn't much they can do in response. Judges are generally loathe to publicly criticize the political branches, and in many instances are prohibited by ethics rules from speaking out on topics that may come before the courts — several judges contacted on Friday by BuzzFeed News declined or didn't respond to interview requests.
Judges have put their opposition to mandatory minimums in writing, though. Asked about the new DOJ policy, US District Judge Emmet Sullivan in Washington pointed BuzzFeed News to an opinion he wrote in 2015. In that ruling, Sullivan urged prosecutors to consider alternatives that keep people charged with nonviolent offenses out of prison. Sullivan advocated for the use of deferred prosecution agreements, in which defendants get a chance to demonstrate good behavior in exchange for having charges dropped at a later date.
"The decision [of] how to proceed in each case is within the expertise and constitutional responsibility of the Executive Branch, and this Court has neither the desire nor the authority to dictate charging decisions," Sullivan wrote in 2015. "The Court is, however, extremely dismayed that despite all of the focus on providing tools for prosecutors to reduce over-incarceration, attack the root causes of crime, and mitigate where possible the collateral consequences of criminal convictions, deferred-prosecution agreements for individuals and other similar tools have gone largely unmentioned."
Sullivan declined to comment on Sessions' memo.
US District Judge Mark Bennett in Iowa has written op-eds in recent years criticizing mandatory minimums. On May 4, he published a piece that pointed out how the war on drugs disproportionately affected communities of color, and articulated his own internal struggles in handing down mandatory sentences that he thought were "unjustly harsh." Bennett did not return a request for comment on Friday.
Sessions' new policy has "taken away from judges what exactly they are supposed to do," said Sharp, who joined a private law firm after leaving the bench. "Sentencing requires you to fashion a sentence that is sufficient but not more harsh than necessary to comply with the purposes of sentencing, which is not all to punish. … Now all of that is gone."