Five Protesters Who Disrupted The Supreme Court Will Spend A Few Days In Jail
A judge on Monday sentenced protesters arrested for staging a demonstration at the US Supreme Court in 2015.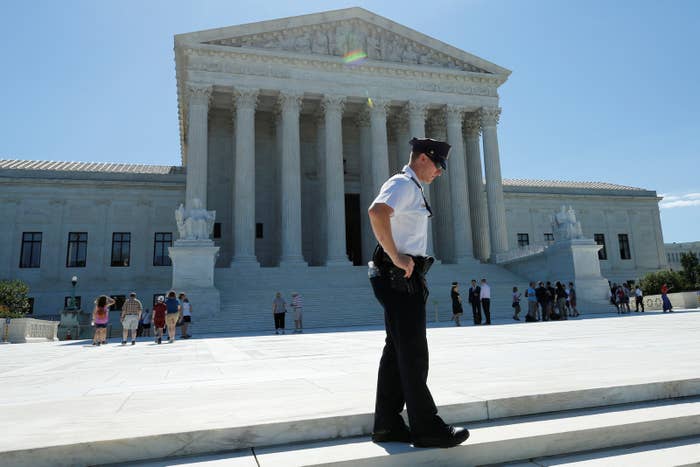 Five protesters arrested for staging a demonstration at the US Supreme Court in 2015 were sentenced to jail time on Monday.
Four of the defendants will spend one weekend behind bars, with the fifth person sentenced to two weekends. Although the sentences were minimal, they sent a message — after a spate of disruptive protests in recent years — that future would-be high-court demonstrators may risk jail by following a similar path.
The protesters faced a maximum of a year in jail, but in reality the stakes were lower. The US attorney's office in Washington, DC, had asked for a sentence of 10 days in jail for each defendant. Lawyers for the defendants asked for no jail time beyond the two days they spent in custody after their arrest.
Still, given earlier cases in which protesters arrested for similar conduct received no jail time — beyond what they'd already served after their arrest — the case represented a test of whether and when demonstrators could go to jail for this type of civil disobedience. A Texas man, Rives Grogan, was sentenced to 21 days in jail in 2015 for interrupting Supreme Court proceedings, but defense lawyer Jeffrey Light said on Monday that Grogan's case was different because he had been arrested numerous times for protest activity, and because his conduct at the Supreme Court had been more "inflammatory."
The demonstration took place on April 1, 2015. The defendants stood up one by one at the start of Supreme Court proceedings to make statements or sing in protest at the Citizens United decision, and the influence of money in politics more generally. An audio recording of the proceedings captured the late justice Antonin Scalia saying, "Give them stiff, stiff sentences."

The five defendants pleaded guilty in May to two misdemeanor charges.
US District Judge Christopher Cooper said on Monday that he did not doubt the sincerity of the defendants' beliefs, and that he applauded their commitment to participating in the political process; several defendants told the judge about their involvement in lawful demonstrations and other political activity. However, they were not in court because of their beliefs, Cooper said.
"We are here for one reason and one reason only, which is where and when and how you chose to share those views," Cooper said.
Cooper noted that the April 2015 demonstration was one of several disruptions to take place at the Supreme Court in the span of a year coordinated, or at least inspired, by the same organization — 99Rise, now known as Democracy Spring. The judge noted that previous cases in which demonstrators received no jail time hadn't deterred protests.
The legitimacy of an independent judiciary is undermined when the rules are "flouted," the judge said. He said that although the April 2015 protest occurred before the start of oral arguments, it still interfered with the right of lawyers to argue on behalf of their clients without having to worry if there would be another disruption.
Four of the defendants gave statements to the judge at Monday's hearing saying that they were motivated to join the demonstration because of their concerns about the growing influence of money in politics. One of those defendants, Matthew Kresling, of Los Angeles, told Cooper that if protests were an annoyance, "it's an annoyance in the same sense that a fire alarm is."
After the hearing, Democracy Spring campaign director Kai Newkirk, who was sentenced in 2014 to time served after he was arrested for disrupting Supreme Court proceedings, said that there were no current plans for more protests at the high court. However, he said that the "corruption of our democracy" remained a problem that demanded action.
"The emergency that the protesters were addressing has only gotten worse since they did it," Newkirk said after attending the sentencing.
Richard Saffle, one of the defendants, told BuzzFeed News after the hearing that he was glad to have had the opportunity to address the court, and noted that the sentences could have been "a lot worse."
"We knew it could come to that," he said, referring to the jail time.
Andrew Clarke, one of the defense lawyers handling the case, said he thought Cooper was "very fair."
A spokesperson for the US attorney's office declined to comment.