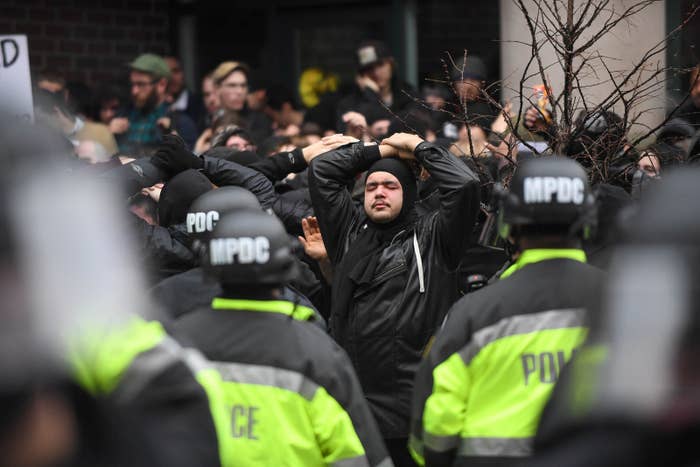 A week after failing to secure any convictions in the latest trial against people arrested during mass Inauguration Day protests in Washington, DC, federal prosecutors on Wednesday dismissed charges against six more defendants.

Of the 234 people arrested during demonstrations on Jan. 20, 2017, 39 are still facing charges. Prosecutors have yet to win at trial, and evidence-related setbacks led them to drop a number of cases in recent weeks. The government is pressing ahead with the remaining cases, however — prosecutors said in court papers this week that they plan to challenge a judge's ruling against them on the evidence issue.
Before the first trial started in the fall, the US attorney's office in Washington appeared to be building momentum, having secured 20 guilty pleas, including one that landed a defendant in jail for four months. Since that first trial, however, they've suffered a series of losses.
A DC Superior Court jury fully acquitted the first trial group in December. Then, prosecutors dismissed 129 cases, saying they would focus on the most serious offenders. While the second trial was underway last month, the government dropped seven more cases after getting in trouble with a judge for how prosecutors handled evidence.
The second trial concluded last week, with the jury acquitting one defendant on all counts and acquitting or deadlocking on charges against the other three defendants. Prosecutors could decide to retry the three defendants who were not fully acquitted.
On Wednesday, prosecutors filed papers saying they were dismissing charges against six defendants who were scheduled for trial on June 25. The government said it planned to challenge an earlier ruling from the judge about the evidence-related issues, but that dismissing the next trial group in the meantime would be "appropriate."
A spokesperson for the US attorney's office did not immediately return a request for comment.
Elizabeth Lagesse, one of the defendants set for trial on June 25 whose case was dismissed, told BuzzFeed News that it was "jolting" for it to be suddenly over.
"It's obviously really satisfying to feel pretty vindicated that this was ridiculous and should have ended a long time ago," said Lagesse, who is also a plaintiff in a pending civil lawsuit against DC police over how officers handled the mass arrests last January. "I think I'm gonna spend a couple of days and just read something other than a legal document, and maybe go out and do some karaoke, and then honestly probably get back to work because there's still almost 40 people that have to deal with this."
A challenge for the government has been convincing jurors that defendants who were not accused of actually causing any property destruction on Jan. 20, 2017, should still be held criminally liable. None of the defendants in the first trial were accused of directly engaging in property destruction. Prosecutors argued there was such evidence against three of the four defendants in the second trial — jurors who spoke with the Huffington Post said there was a lack of consensus about whether the government proved that people dressed in black depicted in the evidence as taking part in property destruction were the defendants.
The jurors also told the Huffington Post that they talked about the concept of jury nullification — a juror previously told the judge that they saw the term written on a wall in the bathroom — but that it wasn't a strong factor in their decision making.
DC Superior Court Chief Judge Robert Morin ruled last month that the government wrongly withheld the full version of a video of a pre-protest planning meeting secretly recorded by an operative of Project Veritas, a right-wing investigative organization. The issues surrounding that video led to the discovery of other undisclosed Project Veritas videos, prompting Morin to find that prosecutors had committed a "serious violation."
Morin sanctioned the government for the violation by restricting what legal theory prosecutors could argue at trial for why the larger group of arrestees were responsible for the criminal conduct of certain individuals. In the court papers filed Wednesday, prosecutors said they planned to ask Morin to reconsider his ruling.