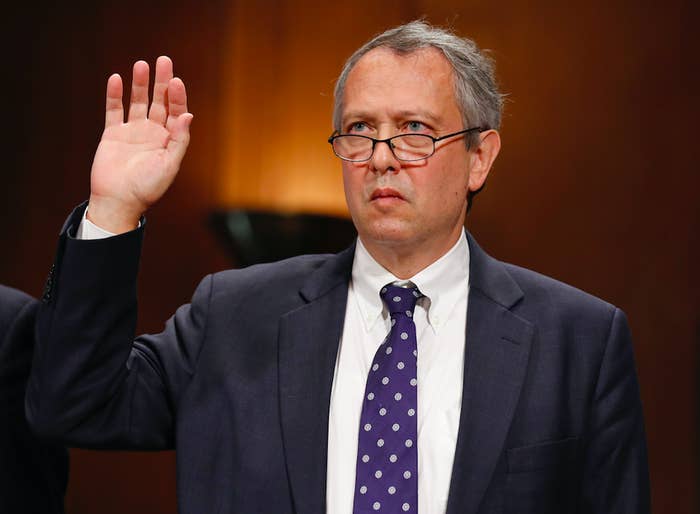 WASHINGTON — Republicans have failed to muster enough votes to confirm one of President Donald Trump's most controversial judicial nominees to date, Thomas Farr, likely ending the nomination.
Farr was on track this week for a final vote in the Senate, but on Thursday Republican Sen. Tim Scott said he would oppose the nomination. With Republican Sen. Jeff Flake already committed to voting no, and Democrats united against Farr, Republicans do not have the votes to put Farr on the bench.
In a statement, Scott cited a 1991 Justice Department memo that detailed Farr's role in two Senate campaigns accused of engaging in voter suppression tactics. The State first reported that Scott would vote no.
"This week, a Department of Justice memo written under President George H.W. Bush came to light that shed new light on Mr. Farr's activities. This, in turn, creates more concerns. Weighing these important factors, this afternoon I concluded that I could not support Mr. Farr's nomination," Scott said.
Flake has pledged to oppose all judicial nominees until Senate Majority Leader Mitch McConnell allows a vote on a bill that would add new protections for special counsel Robert Mueller. But on Thursday, the Washington Post reported that Flake said that even if McConnell brought up a Mueller bill, he would still vote against Farr.
Farr's nomination to the US District Court for the Eastern District of North Carolina was aggressively opposed by Democrats and civil rights groups, who pointed to his involvement in Senate campaigns dating back to the 1980s that were accused of engaging in voter suppression, as well as his more recent work defending North Carolina's redistricting plans and voter ID law.
Assuming his nomination is withdrawn, Farr would be the second Trump judicial nominee this year to see his nomination fail on the eve of its confirmation. Earlier this year, Scott broke ranks and refused to support Oregon federal prosecutor Ryan Bounds' nomination to the US Court of Appeals for the 9th Circuit just as the Senate was preparing to vote; Bounds withdrew his nomination.
The White House and a spokesperson for McConnell did not immediately return requests for comment.
Civil rights groups cheered the likely end of Farr's nomination.
"Today's defeat of Farr's nomination validates the Senate's independent role as a check on this administration's anti-civil rights agenda. Farr's history of restricting voting rights, defending employment discrimination, and affiliating with white supremacists disqualifies him from a lifetime seat on the federal bench," Vanita Gupta, president of the Leadership Conference on Civil and Human Rights, said in a statement.
Farr, a lawyer in North Carolina, was nominated in July 2017 for a seat on the US District Court for the Eastern District of North Carolina. It's the longest-running vacancy in the entire federal judiciary — the seat has been open since Dec. 31, 2005. Farr was nominated for the same spot in late 2006 under former president George W. Bush, but he never had a hearing and his nomination failed to move forward while Democrats controlled the Senate.

Former president Barack Obama unsuccessfully tried to fill the seat twice — his two nominees were blocked by North Carolina Sen. Richard Burr.
The controversy over Farr was multifold: In 1984 and 1990, Farr was involved in the Senate campaign of the late senator Jesse Helms. The Justice Department accused Helms's 1990 campaign of engaging in voter suppression tactics targeted at black voters by sending out postcards before the election that contained inaccurate and misleading information about voter eligibility. Members of Helms' campaign signed a settlement with the Justice Department in 1992.
A 1991 Justice Department memo obtained by the Washington Post indicated that Farr was involved in early discussions about the postcard effort in 1990, when he represented the North Carolina Republican Party, and had been involved in coordinating "ballot security" efforts for the 1984 campaign, which included mailing postcards to predominantly black districts with the goal of using returned postcards to prove certain voters weren't properly registered in the precinct where they were voting.
A Democratic Senate aide told BuzzFeed News in an email that after a procedural vote on Farr's nomination Wednesday, Democratic Sen. Jeff Merkley had been working to lobby Republicans "he thought might be persuadable," including Scott. The aide said Merkley highlighted the 1991 memo as well as other documents that he shared with Scott's office. Merkley made a similar last-minute push on Bounds' nomination, which he opposed along with Bounds' other home-state senator, Sen. Ron Wyden.
Then there was Farr's role as a lead attorney for North Carolina in legal fights over the state's redistricting plans and voter ID law, which was struck down by a federal appeals court in 2016 after the judges found it was enacted with "racially discriminatory intent."
There was also the fact that Farr is a white man, and the Eastern District of North Carolina — which serves a region with a large black population — has never had a black judge on the bench. Obama's two nominees were black women.
There were signs earlier this year that Farr's nomination might be in trouble. He had a hearing in September 2017 and was voted out of committee the following month, but his nomination then sat with no action for more than a year, often an indication that the majority party is struggling to muster the needed votes.
At a Senate Judiciary Committee hearing on Oct. 10, North Carolina Sen. Thom Tillis suggested some Republicans had concerns about Farr. Tillis said he had an outside prosecutor look into Farr's background because some of his Republican colleagues were "hearing things" from Democrats. He didn't identify the prosecutor or specify what they investigated, but said the prosecutor concluded that "the inference that you would draw from comments from some of the people on the other side of the aisle are false, they're not supported by the facts."
"All I wanted to do was communicate to reasonable-minded people in my own caucus the facts, the reality. And in that particular case I think we've been successful in doing that," Tillis said.
On Wednesday, the Senate narrowly voted to end debate on Farr's nomination and go to a final vote. Flake voted no, as he'd promised to do on all judicial nominees until McConnell held a vote on a bill to boost protections for Mueller. With Republicans holding just a one-vote majority, Flake's vote meant a second GOP "no" would sink the nomination.
Scott was the last member to vote on Wednesday, and his delay in coming to the floor briefly led to speculation that he was weighing a vote against Farr as well. Scott voted in favor of proceeding to a final vote on Farr, but there were soon reports that he was undecided about whether to vote to confirm him.
With the vote at 50–50, Vice President Mike Pence stepped in to cast the tie-breaking vote in favor of holding a final vote on Farr. It was the second time a vice president has broken a tie related to a judicial nomination, according to an article published the Cardozo Law Review this year. On Thursday, Pence once again broke a tie on a judicial nominee, casting the deciding vote to move Jonathan Kobes, nominated for the US Court of Appeals for the 8th Circuit, forward to a final vote.
UPDATE
This story has been updated with information about Sen. Jeff Merkley's role in lobbying Republican senators.
UPDATE
This story has been updated with a comment from Vanita Gupta.