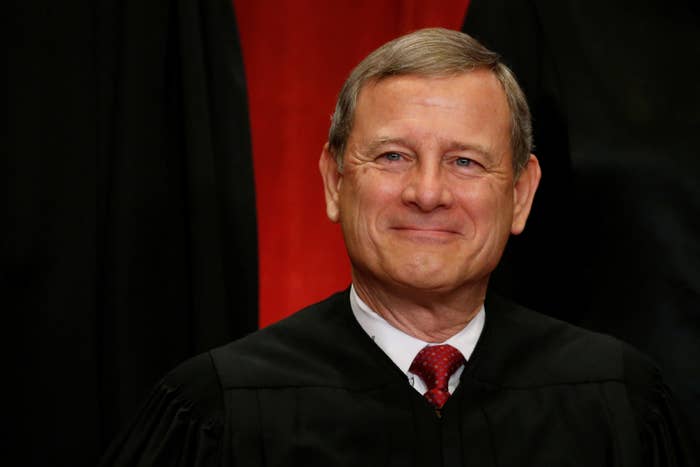 Chief Justice John Roberts Jr. sat on a stage Friday morning in front of several hundred judges and lawyers and talked about his process, his relationships with the other justices, and why he finds Bob Dylan's lyrics relevant to the law.
He did not talk about President Trump. Or the travel ban. Or any number of other hot-button issues swirling around the court.
It was to be expected. The Supreme Court justices, and federal judges in general, typically avoid talking about politics and issues that might come through the courts. Roberts was participating on Friday in a talk with two other judges — Chief Judge Merrick Garland of the US Court of Appeals for the DC Circuit, a former Supreme Court nominee, and Chief Judge Beryl Howell of the US District Court for the District of Columbia — and they were not going to ask him questions they knew he couldn't, or wouldn't, answer.
Roberts spoke at the DC federal court system's conference, which takes place every two years. It's a gathering of not only federal and local judges from Washington, but also lawyers from across the DC legal community, including the US Department of Justice and the White House.
Spotted at this year's conference, which took place in Lancaster, Pennsylvania: Deputy Attorney General Rod Rosenstein, Associate Attorney General Rachel Brand, acting Solicitor General Jeffrey Wall — the lawyer who has been arguing the travel ban cases — and White House Counsel Don McGahn.
None of those bold-faced names spoke at the conference, and Rosenstein demurred when BuzzFeed News caught up with him to ask if he had any comment on Trump's characterization of the special counsel investigation into Russian interference in the 2016 election as a "witch hunt." Rosenstein was responsible for appointing special counsel Robert Mueller III to lead the Justice Department investigation.
Roberts generally has avoided making public comments about Trump's criticisms of federal judges. During the campaign last year, Trump accused the California federal district judge presiding over the Trump University fraud case of being biased because of his Mexican heritage. This year, as numerous federal district and appeals judges across the country blocked enforcement of the administration's first and second versions of the travel ban, Trump lashed out on Twitter.
Trump has also criticized Roberts' colleague, Justice Ruth Bader Ginsburg. After Ginsburg publicly criticized Trump last summer — remarks she later said she regretted — Trump tweeted that she should resign because "her mind is shot."

The closest that Roberts came to talking about politics on Friday was when Garland asked how Roberts felt about attending the State of the Union address. Not all of the justices attend, but Roberts goes each year. Roberts said that it was exciting, but also awkward.

"I have always gone, there have been occasions on which I wished I hadn't," Roberts said. He remarked later: "To the extent the State of the Union has evolved into a political pep rally, it's very awkward for us to be there."
The Supreme Court put out its final batch of opinions for the term on Monday, and announced that after the summer it would take up the travel ban fight and a case about a Christian baker who refused to make a wedding cake for a gay couple. Barring any emergency action, the justices don't return to the bench until the fall.
Roberts is an alumnus of the DC Circuit, having served on that court from 2003 to 2005. Each of the justices are assigned federal court regions to handle any emergency action that comes up, and Roberts is the DC Circuit's justice.
Roberts traditionally comes to the DC Circuit conference and delivers remarks at the closing session. He wasn't at the last conference in 2015 because the high court had scheduled an extra day to announce opinions, including the blockbuster same-sex marriage decision in Obergefell v. Hodges.