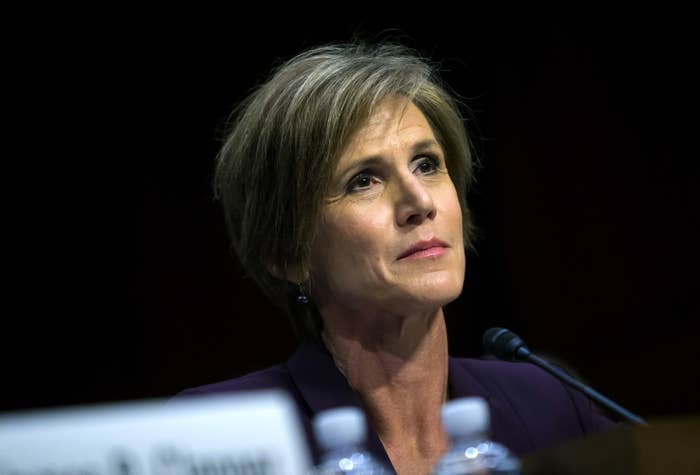 Internal Justice Department emails released on Tuesday by a conservative watchdog group shed new light on the support that former acting attorney general Sally Yates got from within the department after she announced that she wouldn't defend President Donald Trump's first travel ban in January.
Judicial Watch, the group that obtained the messages through a Freedom of Information Act request, is pointing to the cache as proof of anti-Trump bias at the Justice Department — as well as within the special counsel's office investigating Russian influence in the 2016 election.
One of those emails to Yates came from Andrew Weissmann, who at the time was the head of the Justice Department's criminal fraud section and is now a member of special counsel Robert Mueller's team.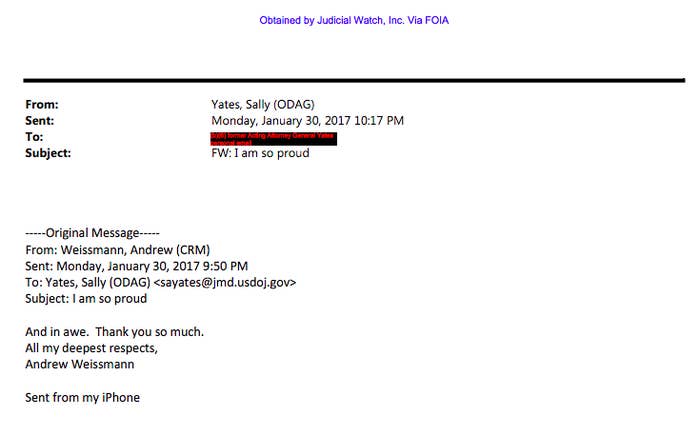 "I am so proud" was the subject line on Weissmann's email to Yates, sent at 9:50 p.m. on Jan. 30. The body of the email read: "And in awe. Thank you so much. All my deepest respects, Andrew Weissmann."
A spokesman for the special counsel's office declined to comment on behalf of the office as well as Weissmann. Judicial Watch President Tom Fitton said in a statement that Weissmann's email was "astonishing and disturbing."
"How much more evidence do we need that the Mueller operation has been irredeemably compromised by anti-Trump partisans?" Fitton said. "Shut it down."
Kathleen Clark, a legal ethics expert at Washington University School of Law, told BuzzFeed News that she didn't think that Weissmann's email presented a conflict of interest with his work on the special counsel's team. Weissmann expressing admiration for Yates was not necessarily evidence of bias, Clark said.
"Weissmann wasn't taking a swipe at Trump," Clark said.
Yates was fired by Trump on Jan. 30 after she announced to Justice Department officials via a one-page memo that she was not convinced that the travel ban executive order that Trump signed on Jan. 27 was lawful. The emails released by Judicial Watch show that messages of support came into her inbox from across the Justice Department throughout the evening. Some of the emails came from US attorneys, while others came from career officials and prosecutors across the country.
Judicial Watch highlighted several of those emails, including one from a DOJ appellate attorney, Jeffrey Clair, who wrote, "Thank you AG Yates. I've been in civil/appellate for 30 years and have never seen an administration with such contempt for democratic values and the rule of law. The President's order is an unconstitutional embarrassment and I applaud you for taking a principled stand against defending it."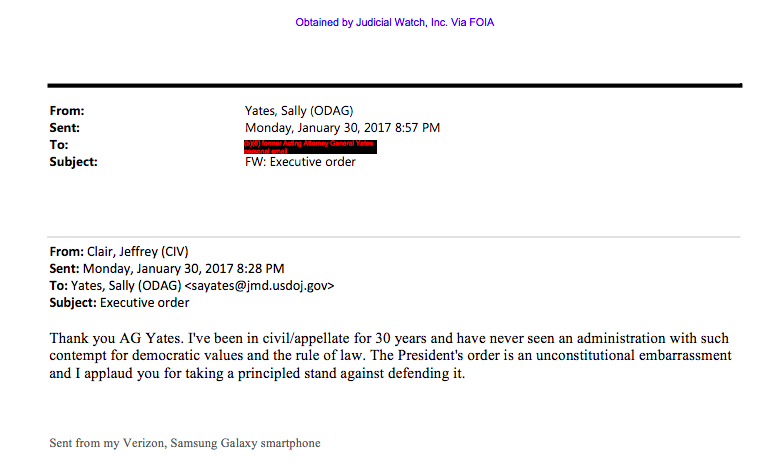 Clair did not respond to a request for comment. A Justice Department spokeswoman declined to comment on the emails.
The collection of emails includes messages that establish a clearer timeline of when Yates announced her decision not to defend the travel ban and her subsequent firing.
In an email time-stamped on Jan. 30 at 5:53 p.m., an official forwarded a message from Yates to a group of senior Justice Department officials, who were directed to "make sure that others who are working on these matters are made aware of her direction as well." The email released by Judicial Watch doesn't include an attachment, but the subject line is the same as a message sent 20 minutes later to US attorneys that did include the Yates memo on the travel ban.
Yates herself received an email time-stamped at 9:05 p.m. from White House official John DeStefano, which included as an attachment the notice that Trump was removing her from office. News reports indicate that the notice was hand-delivered to Yates at 9:15 p.m., and she's said in public statements since then that it was her understanding that emails from the White House had bounced back. A White House official told BuzzFeed News that the 9:05 p.m. email was the first notice sent to Yates.
In the days leading up to her firing, the cache shows that in addition to the substantive work of being acting attorney general — reviewing major court cases and fielding calls from stakeholders in and out of government, for instance — Yates was also addressing some of the more mundane tasks associated with settling in as the head of the department. On Jan. 25, she fielded emails about her official portrait. "Thanks so much for doing such a great job and making me feel so comfortable," she wrote to a member of the administrative support staff.
On the afternoon of Jan. 27, a few hours before the White House announced the travel ban executive order, an official asked Yates to weigh in on a plan for how to handle her use of Twitter going forward.
After the travel ban order was signed, she was sent copies of the flurry of emails that came in from lawyers who raced to court to challenge the ban, as well as messages exchanged among DOJ officials about how to handle questions from reporters about whether and to what extent the Justice Department reviewed the travel ban before Trump signed it. Multiple federal courts blocked the first travel ban, and Trump signed two successive travel ban orders that also faced court challenges. The third and latest travel ban is being litigated in several courts; the US Supreme Court ruled on Monday that the ban could take effect as the legal challenges play out.
In the hours after Yates alerted the Justice Department about her position on the first travel ban and after she was fired, messages continued to come in from DOJ attorneys and staff. "I am 100% behind you and your decision today," an assistant US attorney in California wrote her.
Another attorney in Pennsylvania wrote, "God bless you!"