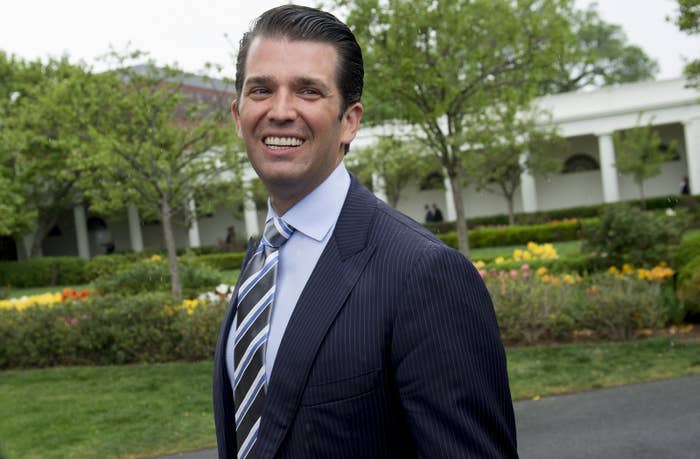 Donald Trump Jr. and Paul Manafort, President Trump's former campaign chairman, will testify "openly" before the Senate Judiciary Committee, chairman Chuck Grassley said late Friday, but it was not immediately clear when that will happen.
Trump Jr. and Manafort were among a list of witnesses asked to testify at a July 26 hearing before the Senate Judiciary Committee on "attempts to influence the 2016 election." The committee announced late Friday that Trump Jr. and Manafort, through their lawyers, had agreed to provide documents to the committee and to be interviewed by committee members and staff "prior to a public hearing."
Grassley said in a tweet shortly after that Trump Jr. and Manafort "will appear openly" in addition to their private conversations with members and staff, but did not specify when. A spokesperson for the committee's ranking Democrat, California Sen. Dianne Feinstein, said that Trump Jr. and Manafort would not appear at the July 26 hearing.
Feinstein, a little less than 30 minutes later also suggested a public hearing would be forthcoming.
Later in the evening, however, Grassley added some confusion into the mix by tweeting again — this time saying that Trump Jr.'s testimony "albeit not public will be on the record."

A spokesperson for Feinstein clarified that the plan is for "[d]iscussions about documents and interviews, followed by open hearing" and that "[a]ll interviews, hearings, etc are on the record." (Attempts to reach Grassley staff for clarification were not successful on Friday night.)
Trump Jr. has been under scrutiny amid recent revelations that he met during the campaign last year with a Russian lawyer after he was offered incriminating information on Hillary Clinton. According to emails that Donald Trump Jr. released earlier this month, he was told that the lawyer was connected to the Russian government, and that the information was being provided as "part of Russia and its government's support of Trump." Trump Jr. replied: "[I]f that's what you say I love it."

Also Friday evening, the committee issued a subpoena to Glenn Simpson, the cofounder of Fusion GPS, a Washington, DC-based research firm that commissioned the unverified Russian dossier on President Trump, after he declined to testify. The dossier was first published by BuzzFeed News in January.

Simpson had been asked to testify alongside Manafort and Trump Jr. at the July 26 hearing. Trump Jr. and Manafort's cooperation means that the committee will not issue subpoenas requiring their appearance next week, although Grassley and Feinstein said in a joint statement that they reserved the right to do so in the future.
Simpson declined to voluntarily testify at the July 26 hearing, according to a July 21 letter to the committee from Simpson's lawyers that was released by the committee. Simpson would not be available due to "long held vacation plans," the letter said, but his lawyers added that they were "profoundly disturbed that the scope of the proposed hearing has expanded, due to private and partisan agendas."
The letter from Simpson's attorneys was first reported by Politico.

Simpson's lawyers claimed that the hearing's stated purpose of exploring the Foreign Agents Registration Act was a "pretext" for looking into Fusion's "reported work, on behalf of other clients, to investigate the ties of Donald J. Trump, his campaign and their associates to Russia."
Simpson's lawyers said that he would invoke his First and Fifth Amendment rights if subpoenaed.