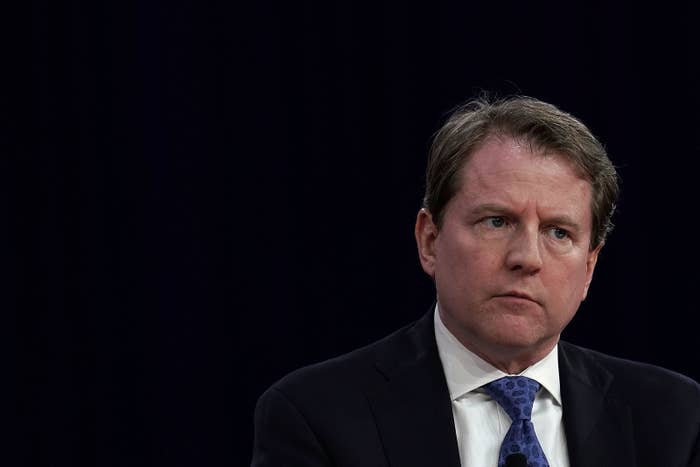 White House counsel Don McGahn will leave his post in the fall, Trump tweeted Wednesday.
McGahn's coming departure will mark the exit of one of the few remaining senior White House officials who have been with Trump from the beginning of his presidential bid.

McGahn survived in the White House even as his campaign-era colleagues left or were fired. But his relationship with Trump has had its bumps, and his involvement with the campaign and in the tumultuous first year of the administration put him at the center of incidents and controversies of interest to special counsel Robert Mueller.
Asked about McGahn at the White House Wednesday, Trump told reporters that his White House counsel is an "excellent guy."
"Don McGahn's a really good guy," he continued. "Been with me for a long time, privately before this he represented me. He has been here now, it will be almost two years. A lot of affection for Don. And he'll be moving on, probably the private sector, maybe the private sector, and he'll do very well. But he's done an excellent job."
McGahn joined Trump's campaign early on — reports placed him as legal counsel to Trump's nascent presidential bid in February 2015, when McGahn was still a partner at the law firm Jones Day.
A former chair of the Federal Election Commission and a partner at a large international law firm in Washington, McGahn has represented the inside-the-beltway Republican establishment that Trump's campaign mostly distanced itself from. Jones Day's involvement with Trump's campaign caused consternation among some firm attorneys, according to Above the Law, but the firm ultimately embraced the relationship — on Trump's Inauguration Day, it touted the fact that a dozen lawyers were joining the administration.
McGahn's top priorities in the White House have been twofold: the nomination and confirmation of young, conservative judges to lifetime appointments in the federal courts, and the rollback of federal regulations. He has been successful on both fronts, although the regulatory reversals often ended up in court. In Trump's first year in office, the US Senate confirmed Trump's nominee to the US Supreme Court, Justice Neil Gorsuch, along with a record-setting 12 appeals court judges, and six district court judges.
In his first month in office, Trump signed an executive order requiring agencies to get rid of two regulations for every new one implemented; that executive order is being challenged in court. Regulatory rollbacks of note over the past year included net neutrality, the contraception care coverage requirement for employers, and a slew of environmental rules; those reversals are being challenged in court, too.
"The greatest threat to the rule of law in our modern society is the ever-expanding regulatory state," McGahn said in November, addressing the annual convention of the Federalist Society, a conservative lawyers group. "And the most effective bulwark against that threat is a strong judiciary."
Trump's tweet regarding McGahn's planned exit comes two weeks after the New York Times reported that McGahn had interviewed at least three times with investigators for Mueller's probe and given them extensive details. The president tweeted after that story was published, defending his White House counsel.

But the president's lawyers, the Times also reported, did not know exactly what McGahn had told investigators. Trump also told reporters Wednesday at the White House that he was not concerned about what McGahn has said to Mueller's team.
The White House has not announced a replacement for McGahn, but a source told BuzzFeed News in May that McGahn saw a potential successor in Emmet Flood, who at the time had just joined the White House as a lawyer representing Trump and his administration in the Russia probe.
This is a developing story. Check back for updates and follow BuzzFeed News on Twitter.

Additional reporting contributed by Tarini Parti.